Commentary
ACC lacking victories in BCS era
In 2003, when the Atlantic Coast Conference had finally completed its first stage of expansion, league commissioner John Swofford said the addition of Miami and Virginia Tech made his conference possibly "stronger than at any point in its history."
It was a fleeting moment.
[+] Enlarge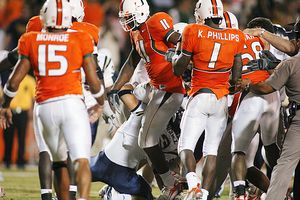 Marc Serota/Getty ImagesMiami hasn't lived up to expectations since joining the ACC.
Considering the ACC's 1-9 record in BCS bowl games over the past decade -- the worst record of the six BCS conferences -- expansion didn't exactly turn the league into the superpower many expected. Instead, the nine other teams have sandwiched their new members into a 12-layer Dagwood of mediocrity. Here's their lack of progress report:
• Miami, the program expected to give the league an instant upgrade, has lost more games (19) in four seasons as a member of the ACC than it did in its last seven seasons as a Big East member. Since expansion, the Hurricanes have fired a coach, embarrassed the league with the infamous FIU brawl, and played some bad football. Miami was 12-13 in its past two seasons, and Randy Shannon began his career in 2007 with a pitiful 2-6 conference record that included a win over Duke.
• Virginia Tech deserves credit for its 42-11 record since joining the conference, and the Hokies have won two of the past four ACC titles. But losses to LSU and Kansas last season once again showed the league tripping as it walked across that national stage.
• Boston College is 30-9 in three seasons since joining the conference but couldn't win the ACC title with Matt Ryan.
The ACC hasn't had a legitimate contender for the national title since 2000, when Florida State lost to Oklahoma in the Orange Bowl. The Seminoles are 31-20 since expansion, have finished 7-6 each of the past two seasons, and enter 2008 with a plethora of suspensions.
"We've had some opportunities early on during the BCS with teams in the championship game and now have teams in our league -- Virginia Tech and Miami -- that have been in those championship games, although prior to joining our league," Swofford said earlier this month at the league's annual spring meetings in Amelia Island, Fla. "I wish we'd won more of them at this point, but when you go back and look at those games, it's not like our teams were overmatched at all. We had a lot of great games.
"You look at that Florida State-Penn State triple overtime game, the opportunity for Wake Forest to be in the FedEx Orange Bowl as champion of this league. It gives you opportunities we had periodically as a league but not regularly."
Now they're regularly blowing that opportunity.
"I think you feel like you need to represent your conference, and that's very important, but quite frankly, at the end of the year, bowl games to some extent are the luck of the draw," said Wake Forest coach Jim Grobe, whose team made history in 2006 before falling to Louisville 24-13 in the Orange Bowl. "Sometimes you play teams that you don't match up with as well. Sometimes you may have some injuries at the end of the season that affect you. Over a long period of time, it's a little bit easier to draw inferences, but in the short term it's hard to really gauge what the strength of your conference is by a few bowl games."
A decade should be considered a fair evaluation period, but Grobe isn't the only coach who wants more time.
"No. 1, I think if you play enough, the ACC is going to uphold its end of the deal," Virginia Tech coach Frank Beamer said. "I don't think there's any question about the ACC and their ability to compete."
There's not. The question is whether the league can win. And so far, it's only happened once in BCS history -- when Florida State beat Virginia Tech in the 1999 Sugar Bowl. If the ACC is going to be the powerful conference its officials once envisioned, Florida State and Miami have to resurrect their once-proud programs -- a task unlikely to happen as early as 2008, in the fifth season post-expansion.
"Ultimately you have to compete and you have to win games," Swofford said. "I'm fully confident our teams are going to be doing that."
If they do, the ACC might actually be "stronger than at any point in its history" -- expansion included.
ACC's Top 10 Players Of BCS Era
ACC's Top 10 Games Of BCS Era

1. Chris Weinke, Florida State: Weinke won the Heisman Trophy in 2000 and finished his career with a 32-3 record as a starter. He set 26 school records, including the FSU and ACC records for career passing yards with 9,839.

2. Philip Rivers, NC State: Rivers started all 51 games over his four years and finished as the second-leading passer in NCAA history with 13,494 career passing yards and 13,582 yards in total offense. As a senior, Rivers led the nation with a 72 completion percentage and 170.49 pass efficiency rating.

3. Peter Warrick, Florida State: Led the Seminoles to the national championship in 1999, and had more touchdown receptions (32) than any other player in FSU history.

4. Joe Hamilton, Georgia Tech: The Heisman Trophy runner-up led the Yellow Jackets to an 18-5 record over his last 23 games, including 1998 ACC title. Hamilton is the ACC's leader in total offense with 10,640 yards, and became the first player in NCAA Division I-A history to top 10,000 total yards with 1,500 rushing yards.

5. Julius Peppers, North Carolina: Peppers started 33 of the 34 games he played in and won the 2001 Lombardi Award and the Chuck Bednarik award. He led the nation with 15 sacks as a junior and is second all-time at UNC with 30½ sacks in three years.

6. Chris Long, Virginia: The ACC's 2007 Defensive Player of the Year was third in the country in sacks with an average of 1.13 and had 14 sacks and 79 tackles as a senior.

7. Matt Ryan, Boston College: Ryan finished his career third on BC's all-time passing yardage list (9,313) behind Doug Flutie and Glenn Foley. The 2007 ACC Player of the Year led the Eagles to the 2007 ACC title game.

8. Calvin Johnson, Georgia Tech: Johnson caught 178 passes for 2,927 yards and 28 touchdowns in three seasons. His 15 touchdown receptions in 2006 set a school single-season record and led the Yellow Jackets to a 7-1 league record and a spot in the ACC championship game.

9. Corey Simon, Florida State: Simon is considered one of the best defensive linemen in school history and played an integral role in keeping the Seminoles atop the rankings in 1999. As a senior, Simon was led the ACC with 21 tackles for loss, and had four sacks.

10. E.J. Henderson, Maryland: In 2002, Henderson earned both the Butkus and Bednarik awards, and was a major factor in the Terps' 2001 ACC title and its 11-3 finish in 2002. His career 62 tackles for loss and season (28 in 1999) are both school records.

1. Florida State 46, Virginia Tech 29, 2000 Sugar Bowl -- Jan. 4, 2000: A young Hokies team led by freshman quarterback Michael Vick stormed back from a 21-point deficit to take the lead in the fourth quarter and lose.

2. Penn State 26 Florida State 23 (3 OT), 2006 Orange Bowl -- Jan. 3, 2006: Not only was this a matchup between Joe Paterno and Bobby Bowden -- the two oldest, and winningest coaches in college football -- but it was also a bizarre, four-hour game with one missed kick after another.

3. No. 1 FSU 30, No. 3 Florida 23 -- Nov. 18, 1999: Florida's desperation heave into the end zone at the end of the game fell to the ground, and the Seminoles met at midfield to throw their helmets in the air and stomp on the turf. They hadn't won in Gainesville since 1993 when they won the national title.

4. Florida State 50, N.C. State 44 (2 OT) -- Nov. 15, 2003: Wolfpack coach Chuck Amato passed up an opportunity at a field goal in the second overtime, and his team failed to score. Instead, Florida State running back Leon Washington ran 12 yards for the game-winning touchdown and the ACC title.

5. Miami 16, Florida State 14, 2004 Orange Bowl -- Jan. 1, 2004: In what was Miami's final game as a member of the Big East, freshman kicker John Peattie made three field goals and the Hurricanes' defense shout out FSU in the second half for the narrow win.

6. Auburn 16, Virginia Tech 13, 2005 Sugar Bowl -- Jan. 3, 2005: Auburn had a 16-0 lead, but with seven minutes left in the game, Hokies' quarterback Bryan Randall began a comeback. An 80-yard touchdown pass to Josh Morgan cut the lead to 16-13, but Auburn recovered an onside kick and clung to the win.

7. Kansas 24, Virginia Tech 21, 2008 Orange Bowl -- Jan. 3, 2008: Frank Beamer finally got a taste of his own "Beamerball" and the Jayhawks completed their memorable 12-1 season by hurling oranges into the stands. A blocked field goal, a fake punt, a missed field goal returned for 39 yards all things that contributed to the Hokies' loss.

8. Oklahoma 13, Florida State 2, 2001 Orange Bowl -- Jan. 3, 2001: The Sooners entered the game undefeated at 12-0. The Seminoles averaged 42 points per game and led the nation in total offense. This time, though, FSU's only points came in the final minute on a bad snap.

9. Maryland 23, N.C. State 19 -- Nov. 17, 2001: The Terps pulled off a last-minute comeback to beat the Wolfpack on the road and become the first team other than Florida State to win an outright conference title since the Seminoles joined the league in 1992.

10. Florida State 38, Florida 34 -- Nov. 29, 2003: The lead changed four times in the fourth quarter, but a 52-yard touchdown pass to P.K. Sam with 55 seconds remaining sealed the Seminoles' win.

ACC's Top 10 Teams Of BCS Era
ACC's Top 10 Moments Of BCS Era

1. 1999 Florida State: Bobby Bowden used to keep an empty picture frame in his office, reserved for his first perfect season. This was it. FSU started and finished the season as the No. 1 team in the country.

2. 1998 Florida State: The No. 3-ranked Seminoles were again in the hunt for the national title, but Chris Weinke was injured and FSU couldn't overcome a 79-yard touchdown pass to Tennessee's Peerless Price with just over nine minutes left in the game.

3. 2000 Florida State: FSU won its ninth-straight ACC title with its 8-0 conference record and for the third straight season had a shot at the national title.

4. 2005 Virginia Tech: The Hokies won the Coastal Division and lost an ACC championship game it should have won to finish the season with an 11-2 record.

5. 2004 Virginia Tech: In their inaugural season with the ACC, the Hokies won the conference title and finished 10-3 overall. Frank Beamer was named the ACC Coach of the Year and quarterback Bryan Randall led his team to an upset of Miami to win the ACC title.

6. 2007 Virginia Tech: The Hokies won their second league title in four seasons as a conference member, and finished with an 11-3 record. Their only regular-season conference loss, to Boston College, was avenged in the title game.

7. 2003 Florida State: The Seminoles won the ACC title for the 11th time and knocked Florida out of the SEC title game en route to a 10-3 season.

8. 1998 Georgia Tech: The Yellow Jackets tied with FSU for league co-champs with a 7-1 record and finished the season ranked No. 9 by the Associated Press with a 10-2 record. Quarterback Joe Hamilton led his team to 35-28 come-from-behind win against Notre Dame in the Gator Bowl.

9. 2002 Maryland: E.J. Henderson earned the Butkus and Bednarik Awards, as the Terps improved upon the previous year's success with an 11-3 record.

10. 2006 Wake Forest: These guys made history. The Deacs won their first ACC title in 37 years, and coach Jim Grobe earned the National Coach of the Year award for leading his team to a school-record 11-3 season.

1. Bowden Bowl I -- Oct. 23 1999: Not only was this the first father-son coaching matchup in Division I-A football, but it also happened to be the day Bobby Bowden won his 300th game. The patriarch of the football family snuck out of Clemson with a 17-14 win.

2. Unforgeta-brawl -- Oct. 14, 2006: The bench-clearing brawl between Miami and Florida International resulted in suspensions for 32 players and was one of the final straws for former Miami coach Larry Coker.

3. Bienvenido a ACC: In 2004, Miami made its debut in the ACC with a 16-10 season-opening overtime win against rival FSU. The Hurricanes tied the game with 30 seconds left and then won it on Frank Gore's 18-yard touchdown run.

4. Orange Bowl bust -- Nov. 10, 2007: Miami closed out its 70-year stay in the Orange Bowl with an embarrassing thud in a 48-0 loss to Virginia before dozens of former star players. It was the biggest shutout loss in the famed stadium's history.

5. Brawl II -- Nov. 20, 2004: The fight between Clemson and South Carolina in 2004 led to rulings by both schools that even though they were 6-5 they would not play in bowl games. With about six minutes left in the game, Clemson defensive lineman Bobby Williamson took down quarterback Syvelle Newton and security and police officers were eventually on the field. Oh, and it was Lou Holtz's last game.

6. Stuffed -- Sept. 13, 2003: It took a goal-line stand and three overtimes for the defending national champion Buckeyes to beat NC State 44-38. On fourth-and-goal, N.C. State tailback T.A. McClendon was stopped just inches from end zone by Will Allen.

7. Comeback kid -- Oct. 25, 2007: Boston College quarterback Matt Ryan willed his team to a road win against Virginia Tech, as he directed the Eagles to two touchdowns in the final 2:11 for the 14-10 win.

8. The catch -- Oct. 28, 2000: With seven seconds remaining, Georgia Tech's Kerry Watkins made a one-handed 16-yard touchdown catch to defeat No. 4 Clemson 31-28 and knock the Tigers out of the national championship picture.

9. Cyber suspensions: Florida State lost roughly three dozen players because of suspensions and injuries, and then the Seminoles lost the Music City Bowl to Kentucky.

10. Warsaw Rule?: Sebastian Janikowski, Florida State's kicker/party animal, missed curfew on New Year's Eve for the 1999 Sugar Bowl in New Orleans and had to run extra laps and stay in his room the next night. He played, of course. "I don't have a Warsaw rule," Bowden said of his Polish kicker. "It he's breathing and he's alive, he'll kick off that game."
Heather Dinich is a college football writer for ESPN.com. Send your questions and comments to Heather at espn.hd@hotmail.com.
College Football
ESPN.com reporter
Joined ESPN.com in 2007
Graduate of Indiana University
The BCS at 10
With 10 years of college football's life under the Bowl Championship Series in the books, ESPN.com takes a look back at the BCS decade. We'll tackle everything this week from the memorable games, plays and teams to the BCS vs. playoff debate to the possible landscape in 2018.
Monday
•
Maisel: Paradox found
•
Low: Best BCS bowl games
•
Miller: Best BCS bowl performances
SportsNation
•
Rank 'em: Best BCS bowl games
•
Rank 'em: Best BCS bowl performances
•
Chat wrap: Chris Low

•
Chat wrap Ted Miller

Tuesday
•
Maisel: Say yes to the BCS
•
Forde: Say no to the BCS
•
Miller: Biggest BCS bowl slights
SportsNation
• Rank 'em: Biggest BCS bowl slights
• Chat wrap: Ivan Maisel


• Chat wrap: Pat Forde

Wednesday
• Schlabach: Ranking the BCS champions
• Schlabach: Defining coaches of the BCS era
• Rittenberg: Memorable BCS bowl coaching moves

SportsNation
• Rank 'em: Which BCS champion is the best?
• Rank 'em: Which coach defines the era?
• Chat wrap: Adam Rittenberg


• Chat wrap: Mark Schlabach

Thursday
Conference Breakdowns
ACC
Dinich: ACC has been a dud in BCS era
Big 12
Griffin: Big 12 becomes superpower in BCS era
Big East
Schlabach: Big East thriving in BCS
Big Ten
Rittenberg: BCS system has been good to Big Ten
Pac-10
Miller: USC dominates Pac-10 in BCS era
SEC
Low: SEC successfully navigates BCS system
Indies/Non-BCS
Rittenberg: No complaints from South Bend
SportsNation
• Chat wrap: Tim Griffin

Friday
• Schlabach: The future is now
• Griffin: Defining players of the BCS decade
• Dinich: Memorable BCS bowl moments

SportsNation
•
Rank 'em: Defining players of the BCS era?
•
Rank 'em: Memorable BCS bowl moment?
•
Chat: Heather Dinich, 2 ET