Commentary
Famous runs, special teams and working overtime are top BCS moments
There are the games, and then there are the moments that define them -- a missed extra point, a handshake between legendary coaches, a postgame marriage proposal. We remember some players -- like Vince Young -- because of their game-winning plays, and others -- like Reggie Bush -- for their game-changing mistakes. Here's a look at the most memorable game moments during the BCS era:
[+] Enlarge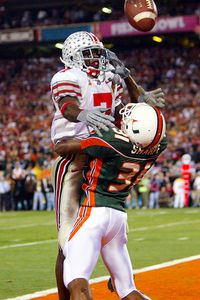 Jamie Squire/Getty ImagesThe penalty flag thrown on Miami's Glenn Sharpe still sparks debate.
1. Not so fast: Previously undefeated and No. 1-ranked Miami thought it had the 2003 Fiesta Bowl all wrapped up, and so did the fans, who had already begun to rush the field after what was originally ruled an incomplete pass by the side judge. Fireworks had already begun. Seconds later, though, a field judge threw a flag in the end zone, and the pass interference call on Miami's Glenn Sharpe led to an Ohio State touchdown that tied the game at 24 and sent it into double overtime. The 31-24 loss ended the Hurricanes' 34-game winning streak.
2. Winning proposal: Following his team's incredible 43-42 overtime win over Oklahoma in the 2007 Fiesta Bowl, Boise State running back Ian Johnson got down on one knee and proposed to head cheerleader Chrissy Popadics on national television. This, of course, was after a 101-yard rushing performance and his game-winning, two-point conversion on a Statue of Liberty play. But more important than the win (some might say), he got the girl. Then again … "I'm sure it probably wouldn't have been as romantic if we would have lost," Boise State quarterback Jared Zabransky said at the time.
3. Meeting of the ages: Around 1 a.m., following the first triple overtime game in BCS history, Joe Paterno (then 79) met Bobby Bowden (then 76) on the field and put his arm around him as they scoffed about the notion of retirement. Paterno did tell his kicker, Kevin Kelly, that it was "almost past his bedtime." Almost. It took Kelly three tries to finally make the game winner and end the epic four-hour game. The elder Paterno got the best of college football's winningest coach with the 26-23 win in the 2006 Orange Bowl.
4. Vince Young: The play was called 928 Sneak. On fourth-and-5 with 19 seconds remaining, Young saw that USC defensive end Frostee Rucker was preoccupied inside with tailback Selvin Young. Vince Young was already in full stride when Rucker dove at his feet and couldn't get to him quick enough. Young scrambled 8 yards into the right corner of the end zone, straight into a throng of onlookers, and Texas beat No. 1-ranked USC 41-38 for the national title in the 2006 Rose Bowl. Young tucked the ball to his side with his left arm and walked back onto the field as if he had just completed a routine play at practice. Only this time, 928 Sneak won the national title.
5. Bush's blunder: It was so inexplicable that even Reggie Bush, as he walked to the sideline after the play, seemed to be in disbelief. USC was leading the 2006 Rose Bowl 7-0 and in position to score again when Bush made a baffling play that swung momentum in the favor of Texas. On the second play of the second quarter, Bush capped a 37-yard run down the middle off a screen pass with a baffling sideways pitch to teammate Brad Walker, who was caught completely off guard. Texas safety Michael Huff recovered the loose ball at the 19-yard line and turned the USC mistake into an eventual 46-yard Texas field goal. "Reggie just tried too hard on that play and he'll regret it forever," USC coach Pete Carroll said after the game.
6. No point: In the 2000 Orange Bowl, Alabama place-kicker Ryan Pflugner's extra point attempt went a wee bit wide right and Michigan edged Alabama 35-34 in overtime. It was a classic seesaw game that was tied at 28 at the end of regulation. Michigan scored on the first play of overtime, and -- this is important -- kicker Hayden Epstein made his extra point. Alabama responded on the following possession with a 21-yard touchdown pass on the second play of the drive. Pflugner, though, pushed his extra point attempt right and the Michigan sideline erupted in celebration. "Everyone is going to blame me," Pflugner said after the game. '"I missed the last kick. It came down to an extra point I should have made. But it's a team game. Everyone probably could have done something to make it better." Point made.
7. Is that all?: Ohio State's Ted Ginn Jr. returned the opening kickoff of the 2007 national championship 93 yards for a touchdown and made it look easy. But then the undefeated Buckeyes didn't do a darn thing for the rest of the game against Florida. Ginn hurt his foot in his touchdown celebration and by the time he hobbled back on crutches, his team was equally crippled and losing 41-14.
[+] Enlarge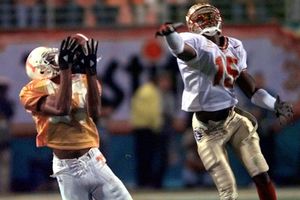 AP Photo/Eric DraperPeerless Price showed up at the right time for UT.
8. Price is right: With 9:17 remaining in the inaugural BCS title game, Tennessee receiver Peerless Price beat Florida State cornerback Mario Edwards down the field and turned his catch into a 79-yard touchdown reception from Tee Martin. The play put the Vols ahead 20-9 in the fourth quarter and led to the program's first national title since 1951. With the catch, Price also redeemed himself for a play four minutes earlier during which the football was stripped from his hands in the end zone and led to a Florida State interception. In the days leading up to the game, Price had grown tired of answering questions about FSU receiver Peter Warrick, who was held to one catch for seven yards. "All week long, all I heard was that Peter Warrick was the best receiver in the country," Price told The New York Times after the game. "That's all the hype I need to hear. When the money was on the line, when the game counted -- who showed up?"
9. Michael Vick: During Virginia Tech's final possession of the first half in the 2000 Sugar Bowl, redshirt freshman quarterback Michael Vick made an incredible 43-yard run to the Seminoles' 19-yard line early in the drive. The play set up his 3-yard touchdown run with 37 seconds remaining before the break. The Hokies trailed 28-14, but Vick's scramble had finally shifted the momentum in their favor. Virginia Tech would score 22 unanswered points for a 29-28 lead late in the third quarter.
10. It's good: Dusty Mangum's 37-yard game-winning field goal as time expired beat Michigan 38-37 in the 2005 Rose Bowl. The Wolverines had tried to ice the senior walk-on with their last two timeouts, and Mangum's kick was a little wobbly, but it was good. Texas coach Mack Brown gave his kicker a hug, and Texas proved it belonged in a BCS game. Michigan had squandered a 10-point, third-quarter lead, and Texas set the stage for the following year's national championship. (See No. 4)
Heather Dinich is a college football writer for ESPN.com. Send your questions and comments to Heather at espn.hd@hotmail.com.
College Football
ESPN.com reporter
Joined ESPN.com in 2007
Graduate of Indiana University
The BCS at 10
With 10 years of college football's life under the Bowl Championship Series in the books, ESPN.com takes a look back at the BCS decade. We'll tackle everything this week from the memorable games, plays and teams to the BCS vs. playoff debate to the possible landscape in 2018.
Monday
•
Maisel: Paradox found
•
Low: Best BCS bowl games
•
Miller: Best BCS bowl performances
SportsNation
•
Rank 'em: Best BCS bowl games
•
Rank 'em: Best BCS bowl performances
•
Chat wrap: Chris Low

•
Chat wrap Ted Miller

Tuesday
•
Maisel: Say yes to the BCS
•
Forde: Say no to the BCS
•
Miller: Biggest BCS bowl slights
SportsNation
• Rank 'em: Biggest BCS bowl slights
• Chat wrap: Ivan Maisel


• Chat wrap: Pat Forde

Wednesday
• Schlabach: Ranking the BCS champions
• Schlabach: Defining coaches of the BCS era
• Rittenberg: Memorable BCS bowl coaching moves

SportsNation
• Rank 'em: Which BCS champion is the best?
• Rank 'em: Which coach defines the era?
• Chat wrap: Adam Rittenberg


• Chat wrap: Mark Schlabach

Thursday
Conference Breakdowns
ACC
Dinich: ACC has been a dud in BCS era
Big 12
Griffin: Big 12 becomes superpower in BCS era
Big East
Schlabach: Big East thriving in BCS
Big Ten
Rittenberg: BCS system has been good to Big Ten
Pac-10
Miller: USC dominates Pac-10 in BCS era
SEC
Low: SEC successfully navigates BCS system
Indies/Non-BCS
Rittenberg: No complaints from South Bend
SportsNation
• Chat wrap: Tim Griffin

Friday
• Schlabach: The future is now
• Griffin: Defining players of the BCS decade
• Dinich: Memorable BCS bowl moments

SportsNation
•
Rank 'em: Defining players of the BCS era?
•
Rank 'em: Memorable BCS bowl moment?
•
Chat: Heather Dinich, 2 ET
MORE COLLEGE FOOTBALL HEADLINES

MOST SENT STORIES ON ESPN.COM