Commentary
Book excerpt: Why USC-UCLA is the most overrated rivalry
Originally Published:
August 18, 2008
By
Ivan Maisel
| ESPN.com
Editor's note: The following is an excerpt from Ivan Maisel's new book "The Maisel Report: College Football's Most Overrated and Underrated Players, Coaches, Teams, & Traditions."
As a native of Alabama who has lived in California, Texas, and now New England, I've got a pretty good grip on regional biases. They have in common the trait of ignorance. People dismiss what they don't know.
[+] Enlarge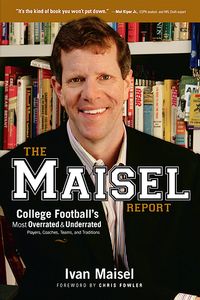 In Chapter 3 of the "Maisel Report," Ivan writes about the most overrated and underrated college football rivalries.
But as someone who has covered college football for more than 20 years, and as someone who has covered Alabama-Auburn, Ohio State-Michigan, Texas-Oklahoma, USC-Notre Dame, Florida-Georgia, etc., etc., I want to preempt criticism of what I am about to say. I might be wrong, but it's not from ignorance. The USC-UCLA rivalry is the most overrated in college football. There is a rivalry. There is some emotion. There is some dislike. But, c'mon. It's in L.A. There are the sellout crowds at the Los Angeles Memorial Coliseum and the Rose Bowl. There's the delight the Bruins took in ending the Trojans' national championship hopes in 2006 with a 13-9 upset. There's the 1967 game, in which the No. 4 Trojans and their Heisman Trophy candidate, tailback O.J. Simpson, defeated the No. 1 Bruins and their Heisman Trophy winner, quarterback Gary Beban, 2120. The game turned on Simpson's 64-yard, gravity-defying touchdown sprint in the fourth quarter. Dan Jenkins, the best college football writer since Grantland Rice, has that '67 game on his short list of all-time greats. But, c'mon. It's still in L.A. These people don't know how to hate a college football opponent. The weather's too nice. There's too much else to do. College football is just not important enough. The lifeblood of a college rivalry is the identity that alumni and fans invest in their school. It is oxygen. It is all there is. UCLA may have lost eight of the last nine to USC by an average of 21 points, but the typical Bruin doesn't feel a sliver of the angst that has taken up residence in the gut of every Alabama fan. The Crimson Tide faithful awaken every day knowing that they have to go into the office and face Auburn fans who will let them know -- every day -- that the Tigers have won six straight Iron Bowls. The laidback attitude of most Californians makes for a lukewarm rivalry between USC and UCLA. College football does not do well in urban markets, largely because of the arrival over the last 50 years of NFL fever. Los Angeles is an exception because there's no NFL team, and because USC and UCLA have healthy fan bases. But L.A. college fans don't have the same allegiance to these two schools that college fans around the country have. L.A. people are more than their school. When their teams lose, they don't riot. They just don't show up. USC and UCLA fans say that they work together uneasily. They say that marriages between alums of the two schools are "mixed." But you could generate a healthy debate regarding whether UCLA is even USC's biggest rival. The Trojan players, and probably the fans, may tell you that they would rather beat the Bruins than anyone else. They do have to live there. The rest of the country pays more attention to USCNotre Dame (which, by the way, began in 1926, three years before the USC-UCLA rivalry). If there is any doubt about the identity of your biggest rival, then by def- inition your rivalry is overrated. The only place that doubt is allowed in any rivalry regards the outcome. UCLA and USC are lacking here, too. UCLA's 2006 upset of USC prevented the Trojans from playing for No. 1. But one of the reasons that the upset made the Earth move is that it was so, so unex- pected. When one team consistently loses to the other by an average of three touchdowns, that's not a rivalry. Bruin fans may counter that the rivalry's heartbeat has slowed, not stopped -- UCLA trails USC 42287 in the all-time series. In their defense, the rivalry does possess one of the trademarks of any great rivalry: pranks. Bruin fans traditionally defaced the Tommy Trojan statue on the USC campus until the arrival of the Trojan Knights, 24-hour volunteer guards during the week of the game, who annually encase bronzed Tommy in -- we kid you not -- duct tape. This may be a case of the cure being worse than the illness. The rivalry's trophy, the Victory Bell, once belonged to UCLA. USC frat boys stole the bell and hid it, and after the administrations of the schools negotiated, they agreed that the winner would keep it for the following year. The team that wins the Victory Bell paints it the appropriate color: UCLA's "true blue" or USC's cardinal. Not bad, although trophies themselves, while fun, aren't necessary. Many of the top rivalries don't play for trophies, and if they do, the most ardent fans couldn't tell you what they are. In most top rivalries, the trophy is the scalp of the losing coach. There is a hint of that in UCLA-USC. Karl Dorrell went 14 against USC and 3423 against the rest of the competi- tion. UCLA fired him. John Robinson, in his USC sequel, went 05 against UCLA, but neither athletic director Mike Garrett nor Robinson listed that among the reasons he was fired. Ask Texas coach Mack Brown about winning 10 games and being casti- gated for not beating Oklahoma. Not until the national championship season of 2005, when junior quarterback Vince Young had matured and the Sooners were rebuilding, did a 4512 Longhorns victory calm the faithful. It is entirely possible that new Bruins coach Rick Neuheisel will do a Dr. Frankenstein on the USC-UCLA rivalry and make it compelling again. It is entirely possible that USC coach Pete Carroll will get bored with domi- nating the Pac-10 and begin his third attempt to climb the NFL mountain. I think Carroll is smarter than that and would rather continue being the King of Los Angeles. But never discount the power of ego among head coaches. Until one of those things happens, until this rivalry becomes com- petitive, and until the schools move it to a smaller place where it will consume every molecule of air for the week leading up to the game, you're going to have to find me a better rivalry than this one.
Ivan Maisel is a senior writer for ESPN.com. Send your questions and comments to Ivan at ivan.maisel@espn3.com. His new book, "The Maisel Report: College Football's Most Overrated and Underrated Players, Coaches, Teams, & Traditions," is on sale now. For more information, go to TheMaiselReport.com.
Senior Writer, ESPN.com
ESPN.com senior college football writer
Five-time FWAA award winner
28 seasons covering college football
SPONSORED HEADLINES
MORE COLLEGE FOOTBALL HEADLINES
MOST SENT STORIES ON ESPN.COM
2008 College Football Preview
The long wait for the start of the 2008 college football season is finally over. Get ready for the season with an in-depth look at the teams, trends, players and coaches. Index
Blog Network
Get the latest updates from your favorite conference and around the country.
ACC | Big 12 | Big East | Big Ten | Pac-10
SEC | Others | College Football Nation
National Features
• Maisel: Let the campaign '08 debate begin
• Bloggers: State of each conference
• Schlabach: Hot and not for 2008
• Maisel: Full speed ahead for offenses
• Maisel: Defending the fast-tempo spread
• Maisel: Nation's fastest teams
• Forde: SEC coaches in a league of their own
• Forde: Johnson stuck as SEC's roadie
• Schlabach: The nation's alpha-male coaches
• Schlabach: Coaches on the hot seat
• Maisel: Road left to travel for black coaches
• Schlabach: Critical mass await Ohio State
• Edwards: Are BCS voter tired of the Buckeyes?
• Edwards: Parity puts BCS at crossroads
• Feldman: Ten best-kept secrets
2008 Preseason All-America team
• Maisel: Preseason All-America team
What to watch
• Eighth annual Herbie Awards
• ESPN's experts' predictions
• Schlabach: Games to watch
• Schlabach: Intriguing games
• Bloggers: Preseason conference predictions
• Bloggers: Games to watch

Conference call
ACC
• Schlabach: Clemson craving title
• Dinich: In the Wake of success
• Dinich: Coast toast for Hokies?
• ACC needs Canes, Noles to win

Big Ten
• Rittenberg: Innovation not new to Big Ten
• Rittenberg: UM QBs adapt to offense
• Schlabach: Pryor's role with Ohio State

Big 12
• Maisel: Big 12 QBs face burden of proof
• Griffin: Where have the Big 12 runners gone?
• Griffin: Northern exposure
• Feldman: Is Crabtree the best college WR ever?

Big East
• Schlabach: Stewart's challenge at West Virginia
• Bennett: Knight moves focused on Teel

C-USA
• Tulsa building foundation for success
• Pirates sailing toward uncharted waters

Independents
• Watson: Are the Irish coming of age?
• Watson: Tenuta's tenacious D
• Maisel: Army exploring its options

MAC
• Watson: MAC QBs hope to share the spotlight
• Dinich: Golden touch working at Temple
• Watson: NIU's Kill found new perspective

Mountain West
• Watson: BYU-Utah going national?
• Watson: TCU looks to regroup

Pac-10
• Maisel: Son also rises at UCLA
• Miller: Stable is the USC Way
• Miller: Huskies counting on Locker

SEC
• Low: SEC's uncertain QB landscape
• Low: Tebow still learning
• Maisel: Richt knows expectations

Sun Belt
• Schlabach: Coach, QB to keep Owls soaring

Western Athletic
• Watson: Will tough schedule propel Fresno State?
• Watson: QB battle has Nevada thinking big

Rankings
• Georgia tops preseason power rankings
• Preseason Bottom 10: Lollapaloozers
• Conference preseason power rankings
• Bloggers: Ranking the coaches | Hot seat

Podcasts
• Podcast: Ivan, Mark discuss '08 season


• Podcast: Beano, Ivan talk coaches

SportsNation
• Chat wrap: Kicking off the season


• Rank 'em: ESPNU Fan Poll
• Rank 'em: How tough is each team's schedule?
Fantasy
• Predict the college football upsets each week.
Play College Pick 'Em