Pac-10: Officials got unsportsmanlike conduct call against Locker right
Updated:
September 8, 2008, 7:55 PM ET
ESPN.com news services
The Pac-10 has decided that the officials got the controversial call near the end of Saturday's BYU-Washington game right.
[+] Enlarge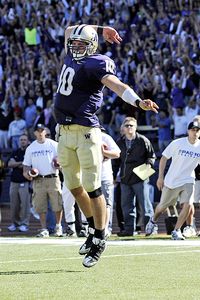 Mike Tedesco/US PresswireJake Locker's celebration after scoring a TD on a 3-yard run with two seconds left drew an unsportsmanlike conduct penalty.
"The rule seems pretty cut and dried," coordinator of football officiating for the Pac-10 Conference Dave Cutaia said, according to the Seattle Times, of Rule 9, Section 2, Article 2c, which states that a player can be penalized for an unsportsmanlike act for "throwing the ball high into the air."
The source of controversy was the 15-yard unsportsmanlike conduct penalty on Washington quarterback Jake Locker after he scored on a 3-yard run with two seconds left in regulation. Locker flipped the ball over his head into the air and began celebrating with his teammates. The fling drew a flag for excessive celebration.
"To be totally honest I didn't even realize I had done it at the time," Locker said on Monday. "I got to the sideline and heard the official say there was an unsportsmanlike penalty and I was like, 'Who was that on? [They] must have done something stupid.' Then he said it was on No. 10, and I was like, 'Gosh, what did I do?'"
As it's written, Locker did violate the rule. But the decision to throw the flag in a moment of jubilation provided a muddled conclusion to an exciting game and brought a storm of criticism from college football pundits. The penalty left Washington's Ryan Perkins attempting an extra point from 35 yards. Perkins' kick was low and blocked by BYU's Jan Jorgensen, leaving Washington 0-2 after the 28-27 loss.
"It is a celebration rule that we are required to call," Pac-10 referee Larry Farina said after the game. "It was not a judgment call."
However, David Parry, national coordinator for college football officiating, said Sunday that all calls are judgment calls, although he was in no way critical of the call or the official who made it, since there's no doubt Locker broke the rule.
"I think what he meant is this was so obviously against the rule and flagrant you have no option but to throw a flag," Parry said.
In Washington coach Tyrone Willingham's opinion, the refs were wrong.
"I think we all know that was not the right call ... ," Willingham said. "It's an opportunity to use discretion and it was not used. The proper judgment was not used. That was not an act of a young man taunting. That was not an unsportmanlike act at all and therefore it should have been viewed in its totality and not just in the letter of the law."
The rules covering sportsmanship and impermissible celebrations were emphasized before this season to college football officials. A video was sent out "stressing major points," Parry said.
But even Parry conceded, "I think it's safe to say on emotional moments officials might become a little more lenient."
BYU coach Bronco Mendenhall on Monday reiterated his stance on the call, saying the officials called the play by the rules.
"To say that it was just for granted, that the referee's call decided it -- when he called it correctly -- again it's unfortunate," Mendenhall said.
The penalty tarnished the victory for BYU (2-0), which fell three spots in the AP poll on Sunday. But Mendenhall said rules exist for a reason.
"They are to teach principles of class and integrity," Mendenhall said. "Sometimes young men in the heat of the moment get overexuberant and the rules are in place to try to keep the game intact and hold on to what is most important in the game and that's the team element.
"Again, it's unfortunate that a call is being the focus rather than two teams playing their heart out and going down to the last play that did decide the game."
Information from The Associated Press was used in this report.
SPONSORED HEADLINES
MORE COLLEGE FOOTBALL HEADLINES
MOST SENT STORIES ON ESPN.COM
EDITORS' PICKS
Marcus Mariota is still missing one thing in his Oregon career: A national title.
Miller »

Live news, updates from UA registration day.
Chat

What do Saban/Smart have in store for Cardale Jones?
Aschoff »