Pipeline: USC vs. Clemson
Originally Published:
May 10, 2010
ESPN.com
Which college team has provided the NFL the best pipeline of talent from 1979 to 2009? We're breaking it down bracket-style as the top 16 schools battle it out for the title.
COLLEGE-TO-NFL PIPELINE
No. 1 USC
No. 16 Clemson

This is a difficult one. I don't know what to type. What's Heather writing? She's got to have a secret strategy she's going to spring on me.

See, I'm trying to find a way to compare USC and Clemson as NFL pipelines, and I can't figure out how to do it. It doesn't seem, well, fair. We don't need to go into all that Hall of Fame and Pro Bowl and historical-numbers stuff that Trojans fans always trot out to bury opposing fans. Just look at the last two drafts (not including 2010).

USC had more than twice as many picks selected in the first three rounds -- 13 -- as Clemson had total draft picks (six). Six? Know how many of Clemson's six picks were selected before the end of the third round? One. The Trojans produced 21 draft picks the past two seasons. That's darn near an entire two-deep.

Do I need to go on? Look, the Tigers' rubbing Howard's Rock and running down the Hill before each home game at Memorial Stadium is way cool. But come on, now. This should be a mercy killing.

-- Ted Miller

How about quality over quantity for argument's sake here?

Clemson might not have nearly as many award-winners as USC, but the Tigers have produced plenty of players who have had lengthy, productive careers in the NFL.

Punter Chris Gardocki played 16 seasons and 244 games, leading the NFL in punting in 1996. Levon Kirkland made the NFL's all-decade team of the 1990s and played in two Pro Bowls. And you can't forget to mention Terry Kinard (1983-90), who played with the Super Bowl champion Giants in 1986 and was with the club from 1983 to '89. He played in the 1988 Pro Bowl.

Clemson also produced safety Brian Dawkins, who is in his 15th season and has played in eight Pro Bowls. Michael Dean Perry, a second-round pick of the Cleveland Browns in the 1988 NFL draft, was named All-Pro seven times, played for a decade and went to six Pro Bowls. The Tigers have had seven different players represent the program in repeated Pro Bowl appearances, and eight different Clemson players have earned Associated Press All-Pro honors.

-- Heather Dinich
NOTABLE PLAYERS
Top 5 Trojans
Top 5 Tigers
No. 1 Bruce Matthews
No. 2 Anthony Munoz
No. 3 Junior Seau
No. 4 Ronnie Lott
No. 5 Marcus Allen
No. 1 Brian Dawkins
No. 2 Michael Dean Perry
No. 3 Chester McGlockton
No. 4 Trevor Pryce
No. 5 Levon Kirkland
AND THE WINNER IS …

Hey, I certainly would take Michael Dean Perry, Chester McGlockton, Trevor Pryce and Levon Kirkland in my front seven, with Brian Dawkins quarterbacking my secondary. But the Trojans' safeties alone -- we're talking safeties, not offensive linemen or linebackers -- might get the win over Clemson.
Ronnie Lott, Tim McDonald, Joey Browner, Troy Polamalu, Dennis Smith and Mark Carrier … are you kidding me? That's not even getting into the other position players the Trojans have produced for the NFL. Clemson has a rich history, but this was a massive mismatch.
-- Matt Williamson
COLLEGE TO NFL PIPELINE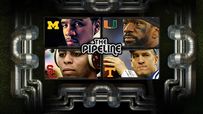 Which college football team produced the best NFL pipeline during the past three decades? We determine the best in a playoff.
Mark Schlabach »
Bracket »
FINAL
SEMIFINALS
ROUND 2
ROUND 1
FEATURES
VIDEO
SPORTSNATION