Pipeline: Georgia vs. Penn State
Originally Published:
May 10, 2010
ESPN.com
Which college team has provided the NFL the best pipeline of talent from 1979 to 2009? We're breaking it down bracket-style as the top 16 schools battle it out for the title.
COLLEGE-TO-NFL PIPELINE
No. 8 Georgia
No. 9 Penn State

Before playing in the Super Bowl, it helps to have played between Georgia's famed hedges at Sanford Stadium.

In the last seven years, 20 former Bulldogs have helped their NFL teams reach the Super Bowl, including Super Bowl XL MVP Hines Ward. Since 1979, Georgia has produced 10 NFL first-team All-Pro selections and 47 Pro Bowlers.

Georgia has had 129 players selected in the NFL draft since 1979, including 19 first-round picks. Quarterback Matthew Stafford was the No. 1 pick by the Detroit Lions in the 2009 draft; he is one of 10 former Bulldogs selected in the first round in the last 10 drafts.

Once known as "Tailback U." for producing NFL running backs such as Herschel Walker, Garrison Hearst, Rodney Hampton, Terrell Davis and Robert Edwards, UGA might earn the moniker "Defensive U." during the 21st century.

The Bulldogs produced future NFL Hall of Fame cornerback Champ Bailey (a nine-time Pro Bowl selection), defensive tackles Richard Seymour (a five-time Pro Bowler) and Marcus Stroud (a three-time Pro Bowler) and hard-hitting Carolina Panthers linebacker Thomas Davis.

Of course, UGA is perhaps best known for producing great NFL tailbacks. NFL teams have drafted 18 former Bulldogs running backs since 1979, including five in the first round. Walker, who won the 1982 Heisman Trophy, was a fifth-round choice of the Dallas Cowboys in 1985 after he played three seasons in the United States Football League.

-- Mark Schlabach

Penn State's contributions to the NFL can be measured not only in quantity but also in quality.

Born just six years after the NFL formed in 1920, Nittany Lions head coach Joe Paterno is responsible for 240 players drafted, more than any coach in history, including 32 first-round draft picks. Since 1979, Penn State has produced 33 All-Pro selections and 42 Pro Bowl picks. Georgia, meanwhile, has produced only 26 All-Pro selections since 1979.

Few schools have accounted for a finer collection of pro offensive linemen in the past 30 years than Penn State. Mike Munchak reached nine Pro Bowls with the Houston Oilers before being inducted into the Hall of Fame in 2001. Steve Wisniewski reached eight Pro Bowls with the Oakland Raiders and made the NFL's All-Decade team in the 1990s. Pro standouts Marco Rivera and Jeff Hartings also played at Penn State.

Georgia undoubtedly will cite Terrell Davis and Herschel Walker, but Penn State has its own collection of outstanding pro running backs, including Curt Warner and Larry Johnson, who set the NFL carries record in 2006 with 416.

And Penn State players don't just reach the big time -- they win there. At least one former Nittany Lion has played in 39 of the 44 Super Bowls.

-- Adam Rittenberg
NOTABLE PLAYERS
Top 5 Bulldogs
Top 5 Nittany Lions
No. 1 Champ Bailey
No. 2 Richard Seymour
No. 3 Terrell Davis
No. 4 Ray Donaldson
No. 5 Hines Ward

No. 1 Mike Munchak
No. 2 Steve Wisniewski
No. 3 Shane Conlan
No. 4 Curt Warner
No. 5 LaVar Arrington

AND THE WINNER IS …

Georgia advances here by a very narrow margin.
As you would expect, the Nittany Lions are strong at linebacker and offensive line. It is two of the linemen, Mike Munchak and Steve Wisniewski, who bring the most NFL accolades to the table on Penn State's behalf.
Paced by Champ Bailey, the Bulldogs have a much stronger contingency of star players who are still active. Somewhat surprisingly, neither of these powerhouse programs is loaded with young up-and-comers. In that department, Georgia gets the edge thanks to young Detroit Lions QB Matthew Stafford.
In a tight battle, Georgia gets the edge, but overall, it was an underwhelming collection considering the name-recognition value of these schools.
-- Matt Williamson
SPONSORED HEADLINES
MORE COLLEGE FOOTBALL HEADLINES
MOST SENT STORIES ON ESPN.COM
COLLEGE TO NFL PIPELINE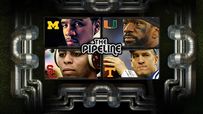 Which college football team produced the best NFL pipeline during the past three decades? We determine the best in a playoff.
Mark Schlabach »
Bracket »
FINAL
SEMIFINALS
ROUND 2
ROUND 1
FEATURES
VIDEO
SPORTSNATION