Pipeline: Tennessee vs. Ohio State
Originally Published:
May 10, 2010
ESPN.com
Which college team has provided the NFL the best pipeline of talent from 1979 to 2009? We're breaking it down bracket-style as the top 16 schools battle it out for the title.
COLLEGE-TO-NFL PIPELINE
No. 5 Tennessee
No. 12 Ohio State

Where to begin? There's Peyton Manning, a four-time NFL MVP and one of the greatest quarterbacks in NFL history. There's Jason Witten, arguably the best tight end in the NFL today and a six-time Pro Bowler. There's Albert Haynesworth, one of the richest players in NFL history and the league's most dominant interior defensive lineman.

Few college football programs have produced as many -- or as many high-quality -- NFL players as the Volunteers during the last three decades. Since the 1979 NFL draft, Tennessee had 173 of its players drafted by NFL teams, including 34 first-rounders. Former Vols have been named All-Pro 12 times and have combined to make 50 appearances in the Pro Bowl.

NFL franchises love former Tennessee running backs and wide receivers, too. Tailbacks Jamal Lewis and James Stewart were first-rounders, and so were receivers Robert Meachem, Donte' Stallworth, Marcus Nash and Alvin Harper.

Manning is the poster boy for what Volunteers can become. The No. 1 pick in the 1998 NFL draft, Manning is a five-time first-team All-Pro selection and a 10-time Pro Bowler. He was the MVP of Super Bowl XLI and was the fastest player in NFL history to reach 10,000 passing yards and 30,000 passing yards.

-- Mark Schlabach

Tennessee will shove Peyton Manning down your throat in this debate, and for good reason. But when it comes to total body of work, Ohio State has been more relevant and productive in the NFL.

Take any chunk of time during the NFL's history, and you'll see plenty of Scarlet and Gray. Ohio State had 14 Pro Bowl selections between 1979 and '89 and 19 between 1990 and '99. Current head coach Jim Tressel has produced 11 first-round draft picks in his dominant run since 2001.

The Buckeyes have had players reach elite status at both the college and pro levels. Offensive tackle Orlando Pace twice won the Lombardi Award at Ohio State and went on to reach seven Pro Bowls with the St. Louis Rams. Running back Eddie George won the Heisman Trophy before making four Pro Bowls with the Tennessee Titans. Ohio State players have participated in 33 of 44 Super Bowls, with wide receiver Santonio Holmes winning MVP honors two years ago in Super Bowl XLIII.

Ohio State's NFL success can be found on both sides of the ball at spots like linebacker (Chris Spielman, Pepper Johnson, Mike Vrabel) and offensive line (Pace, Jim Lachey, LeCharles Bentley, Nick Mangold).

-- Adam Rittenberg
NOTABLE PLAYERS
Top 5 Volunteers
Top 5 Buckeyes
No. 1 Peyton Manning
No. 2 Jason Witten
No. 3 Al Wilson
No. 4 Terry McDaniel
No. 5 Dale Carter

No. 1 Orlando Pace
No. 2 Chris Spielman
No. 3 Jim Lachey
No. 4 Eddie George
No. 5 Pepper Johnson

AND THE WINNER IS …

The Buckeyes win on sheer volume.
Peyton Manning is an extremely formidable opponent, but he can't do it alone. Clearly, Ohio State cannot compare at the quarterback position, but its offensive linemen are extremely impressive. The Buckeyes just bring more to the table on a position-by-position overview.
I will contend that Tennessee has a little more NFL upside based on the past handful of draft classes. If these two meet again a few years down the road, the results might be different. For this battle, it is just too difficult to go against Ohio State's volume in favor of what is pretty much a one-man show for the Vols.
-- Matt Williamson
COLLEGE TO NFL PIPELINE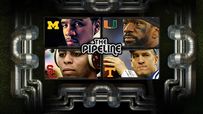 Which college football team produced the best NFL pipeline during the past three decades? We determine the best in a playoff.
Mark Schlabach »
Bracket »
FINAL
SEMIFINALS
ROUND 2
ROUND 1
FEATURES
VIDEO
SPORTSNATION
MORE COLLEGE FOOTBALL HEADLINES

MOST SENT STORIES ON ESPN.COM