Pipeline: Florida State vs. Florida
Originally Published:
May 10, 2010
ESPN.com
Which college team has provided the NFL the best pipeline of talent from 1979 to 2009? We're breaking it down bracket-style as the top 16 schools battle it out for the title.
COLLEGE-TO-NFL PIPELINE
No. 4 Florida State
No. 13 Florida

This is a much better matchup on paper than it has been on the field in recent years, and much easier to make a case for the Noles' winning.

Overall, Florida State has been represented by 63 Pro Bowlers, including 11 in the past decade. Derrick Brooks alone has accounted for 11 Pro Bowl appearances. These players know what it's like to reach the sport's ultimate goal, as 56 former Seminoles have played in the Super Bowl and 30 have played for Super Bowl champs.

Deion Sanders earned Defensive Player of the Year honors in 1994, and by the end of his 14 seasons, he had intercepted 52 passes for 1,331 yards, returned 155 kickoffs for 3,523 yards, gained 2,199 yards on 212 punt returns, and caught 60 passes for 784 yards. LeRoy Butler followed Sanders at FSU and moved from cornerback to safety in the NFL, where he played in the Pro Bowl four times and won a Super Bowl during a 12-year career with the Green Bay Packers.

The rich history and tradition includes players like Warrick Dunn, Walter Jones and Rohn Stark.

-- Heather Dinich

Even before Gators coach Urban Meyer turned "The Swamp" into an NFL factory -- his teams produced 17 NFL draft choices his first four years -- Florida was a launching pad for many future NFL stars.

Before Emmitt Smith became the NFL's all-time leading rusher with 18,355 yards, he was a star at Florida from 1987 to '89. In 1993, Smith became the first NFL player to win a Super Bowl crown, NFL rushing title, NFL MVP and Super Bowl MVP in the same season.

Since 1979, Florida had 158 players selected in the NFL draft, including 32 first-rounders. Former Gators have combined to earn 10 All-Pro and 37 Pro Bowl selections. In the 1970s, '80s and '90s, Florida had at least 50 players drafted in each decade. In the 2000s, 59 former Gators were selected by NFL teams.

While many former Gators quarterbacks didn't find the same success in the pros (see Rex Grossman, Danny Wuerffel and Shane Matthews), ex-Florida wide receivers have made their mark in the NFL. A Gators receiver has been selected in 15 of the last 17 NFL drafts, including first-round pick Percy Harvin in 2009. Former Cincinnati Bengals star Cris Collinsworth was a second-round choice in 1981.

-- Mark Schlabach
NOTABLE PLAYERS
Top 5 Seminoles
Top 5 Gators
No. 1 Derrick Brooks
No. 2 Deion Sanders
No. 3 Walter Jones
No. 4 Rohn Stark
No. 5 LeRoy Butler

No. 1 Emmitt Smith
No. 2 Lomas Brown
No. 3 Cris Collinsworth
No. 4 Wilber Marshall
No. 5 Neal Anderson

AND THE WINNER IS …

Talk about a rivalry game for Round 1! The Gators have the NFL's all-time leading rusher in Emmitt Smith and some very young talents who are beginning to make their mark on the NFL. Still, the Seminoles, led by Derrick Brooks, Deion Sanders and Walter Jones, are just too strong. As great as Florida has been on Saturdays, the Gators' NFL contingent isn't as impressive as you would suspect, and Florida State has those three aforementioned heavy hitters plus many others. Considering how dominant Florida State was in the college ranks in the late '80s and early '90s, the success of its alums' transition to the NFL isn't shocking, either.
-- Matt Williamson
COLLEGE TO NFL PIPELINE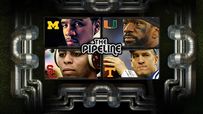 Which college football team produced the best NFL pipeline during the past three decades? We determine the best in a playoff.
Mark Schlabach »
Bracket »
FINAL
SEMIFINALS
ROUND 2
ROUND 1
FEATURES
VIDEO
SPORTSNATION
MORE COLLEGE FOOTBALL HEADLINES