Pipeline: Pitt vs. Nebraska
Originally Published:
May 10, 2010
ESPN.com
Which college team has provided the NFL the best pipeline of talent from 1979 to 2009? We're breaking it down bracket-style as the top 16 schools battle it out for the title.
COLLEGE-TO-NFL PIPELINE
No. 3 Pitt
No. 14 Nebraska

Pittsburgh might not be among the first schools you think of when it comes to NFL pipelines. But do the research, and you'll find that the Panthers have been as good as anybody in sending players to the next level.

Since 1979, Pitt has produced 19 NFL first-round draft picks, and former Panthers have accounted for 73 Pro Bowl appearances, more than all but two colleges. I don't even have to go through the entire list to show you how impressive Pitt's pipeline has been. I'll just give you three names:

• Dan Marino, Class of '83: Marino retired holding virtually every NFL passing record and is generally considered one of the best quarterbacks of all time.

• Larry Fitzgerald, Class of '04: One of the most dominant wide receivers in the game today.

• Darrelle Revis, Class of '07: Arguably the top cornerback in the NFL right now.

I didn't even mention Curtis Martin, who appears headed to the Hall of Fame one day. There are plenty other Pitt stars to talk about, too. But that short list alone should be enough to get the Panthers out of the first round.

-- Brian Bennett

Nebraska gets overlooked when its two most successful NFL players are an offensive lineman -- 12-time Pro Bowler Will Shields -- and defensive end Neil Smith.

Perhaps the next most successful was another forgotten player, Roger Craig, who was the running back while Joe Montana and Jerry Rice set records and amassed touchdowns. But he still won the Offensive Player of the Year award in 1988.

Success is success, all sexiness aside. Some of Nebraska's other best are only just past their prime.

Forget his fumbling problems: Ahman Green was a solid running back for Brett Favre. In his prime from 2000 to '04, he ran for more yards (6,848) than any other player in the NFL.

Nebraska is still bringing the beef up front with veteran Kyle Vanden Bosch, who's made the Pro Bowl in three of the past six seasons. Safety Mike Brown left the Chicago Bears in 2008 after helping the Bears put together one of the NFL's best defenses in 2005, his only Pro Bowl season.

-- David Ubben
NOTABLE PLAYERS
Top 5 Panthers
Top 5 Huskers
No. 1 Dan Marino
No. 2 Ruben Brown
No. 3 Chris Doleman
No. 4 Rickey Jackson
No. 5 Curtis Martin

No. 1 Will Shields
No. 2 Neil Smith
No. 3 Roger Craig
No. 4 Irving Fryar
No. 5 Ahman Green

AND THE WINNER IS …

Ndamukong Suh might be capable of changing the balance of power here down the road, but don't discount the present star power that the Panthers put on display with Larry Fitzgerald and Darrelle Revis. These two stars have many more Pro Bowls to visit. Really, this one wasn't even close. While conventional wisdom says Nebraska would dominate the trenches against Pitt, the fact is that the Huskers got rolled in the matchup of the big men.
-- Matt Williamson
SPONSORED HEADLINES
MORE COLLEGE FOOTBALL HEADLINES
MOST SENT STORIES ON ESPN.COM
COLLEGE TO NFL PIPELINE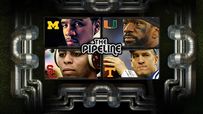 Which college football team produced the best NFL pipeline during the past three decades? We determine the best in a playoff.
Mark Schlabach »
Bracket »
FINAL
SEMIFINALS
ROUND 2
ROUND 1
FEATURES
VIDEO
SPORTSNATION
ESPN FAN SHOP