Pipeline: UCLA vs. Michigan
Originally Published:
May 10, 2010
ESPN.com
Which college team has provided the NFL the best pipeline of talent from 1979 to 2009? We're breaking it down bracket-style as the top 16 schools battle it out for the title.
COLLEGE-TO-NFL PIPELINE
No. 6 UCLA
No. 11 Michigan

This is all about appearance versus reality. Michigan has ferocious helmets and a great fight song. UCLA wears powder blue. But the reality is this: UCLA has sent more great players to the NFL than Michigan has.

UCLA has produced 12 AP first-team All-Pro players; Michigan, 11. UCLA has produced 16 AP second-team All-Pro players; Michigan, 14. Former Bruins have played in 51 Pro Bowls. Former Wolverines have played in 41.

Michigan waves around a Tom Brady; UCLA counters with a Troy Aikman. Michigan's got a Steve Hutchinson, UCLA's got a Jonathan Ogden. Charles Woodson? Let me introduce you to Kenny Easley. Wolverines reach back for Tony McGee at tight end? UCLA only needs to offer up Marcedes Lewis. Running backs? Do you really want to go there? Didn't think so. Linebackers? UCLA offers Ken Norton, Roman Phifer and Donnie Edwards? Michigan? Crickets. To show our generous spirit, the Bruins will concede receivers, as long as the Wolverines recognize the wide gap in the production of kickers and punters.

Michigan football is a great tradition. It just doesn't produce as many NFL players as UCLA does.

-- Ted Miller

Michigan will take any punch UCLA throws its way. And the Wolverines will counter with even more force.

The Bruins will throw out Jonathan Ogden. Michigan can answer with Steve Hutchinson. UCLA will talk about its collection of standout defensive backs. Michigan can point to former Heisman Trophy winner Charles Woodson, a six-time Pro Bowl selection who is showing no sign of slowing down, claiming the AP Defensive Player of the Year award after the 2009 season. And don't forget about Ty Law, who reached five Pro Bowls.

You want to talk quarterbacks? Troy Aikman led the team of the 1990s, but he never won an NFL MVP award like former Michigan quarterback Tom Brady, a three-time Super Bowl winner with the New England Patriots. Aikman had Hall of Famers like Emmitt Smith and Michael Irvin around him, while Brady has been the catalyst for the Patriots' rise.

While UCLA's NFL pipeline has dried up in the last decade, Michigan's seems to be getting stronger. The Wolverines accounted for 19 Pro Bowl selections between 2000 and '09, second behind Miami. While Woodson and Brady are on their way to Hall of Fame careers, Michigan is responsible for several of the league's young stars, such as Dolphins left tackle Jake Long and Steelers linebacker LaMarr Woodley. UCLA's mark on the league is getting harder and harder to see.

-- Adam Rittenberg
NOTABLE PLAYERS
Top 5 Bruins
Top 5 Wolverines
No. 1 Jonathan Ogden
No. 2 Kenny Easley
No. 3 Carnell Lake
No. 4 Troy Aikman
No. 5 Ken Norton Jr.

No. 1 Steve Hutchinson
No. 2 Charles Woodson
No. 3 Tom Brady
No. 4 Ty Law
No. 5 Jake Long

AND THE WINNER IS …

Wow, this is a great Round 1 battle: Tom Brady versus Troy Aikman. Jonathan Ogden versus Steve Hutchinson and a handful of other extremely solid NFL offensive linemen from Michigan. Charles Woodson versus Kenny Easley and Carnell Lake. Those are just brutal decisions to make.
But in the end, I can't argue against giving the Bruins the nod here. In the future, however, I might like the Wolverines' chances. While UCLA's Maurice Jones-Drew is formidable, Michigan's Brady might not be done adding to his ring collection. I certainly prefer Michigan's collection of current young talent ready to make its mark on the league. This one was worth the price of admission.
-- Matt Williamson
COLLEGE TO NFL PIPELINE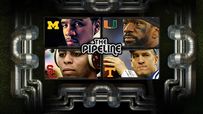 Which college football team produced the best NFL pipeline during the past three decades? We determine the best in a playoff.
Mark Schlabach »
Bracket »
FINAL
SEMIFINALS
ROUND 2
ROUND 1
FEATURES
VIDEO
SPORTSNATION
MORE COLLEGE FOOTBALL HEADLINES