Pipeline: Notre Dame vs. Arizona State
Originally Published:
May 10, 2010
ESPN.com
Which college team has provided the NFL the best pipeline of talent from 1979 to 2009? We're breaking it down bracket-style as the top 16 schools battle it out for the title.
COLLEGE-TO-NFL PIPELINE
No. 7 Notre Dame
No. 10 Arizona State

Notre Dame is one of the most tradition-laden college football programs of all time, where some of the most famous players ever honed their skills. So of course the Irish are among the best at sending alumni to the NFL.

Historically, of course, Notre Dame can rival anyone with 10 Pro Football Hall of Famers. You may think the Irish have fallen off a cliff lately, but they've still created 20 first-round picks in the past 30 years, accounting for 52 Pro Bowl appearances, two MVP awards and one Offensive Player of the Year award. That Joe Montana guy was pretty good in the 1980s, huh?

While not all of the Notre Dame draftees have worked out (Rick Mirer, anyone?), there have been some outstanding former Golden Domers in the pros, including Jerome Bettis, Tim Brown, Ricky Watters, Bryant Young and Justin Tuck. Oh, and did we mention Montana, who's only a four-time Super Bowl winning quarterback and perhaps the most clutch player in the history of the game?

Love 'em or hate 'em, you can't deny the impact the Irish have had on the pro and college game.

-- Brian Bennett

Touchdown Jesus versus Sparky! Golly, this one can make a guy nervous.

But if we can get over Joe Montana for a second, this one also is a lot closer than the experts might think, starting with the fact that Arizona State has produced 51 draft picks since 1997 and Notre Dame 55. So Notre Dame is slightly better, right? Well, Arizona State has produced 13 AP first-team All-Pro players, compared to 10 for Notre Dame.

Moreover, if you go through Notre Dame's list of NFL stars, there's a lot of has-beens, while the Sun Devils can counter with Terrell Suggs, Todd Heap, Zach Miller and Mike Karney.

This one feels like a prime candidate for an upset.

-- Ted Miller
NOTABLE PLAYERS
Top 5 Fighting Irish
Top 5 Sun Devils
No. 1 Joe Montana
No. 2 Tim Brown
No. 3 Jerome Bettis
No. 4 Bryant Young
No. 5 Dave Duerson

No. 1 Randall McDaniel
No. 2 Eric Allen
No. 3 Darren Woodson
No. 4 David Fulcher
No. 5 Terrell Suggs

AND THE WINNER IS …

Considering the wealth of talent in the entire bracket, the Sun Devils lack true star power.
Randall McDaniel, Eric Allen & Co. are great players, but many of them could walk right past the average NFL fan without being recognized. On the other hand, Joe Montana, Tim Brown and Jerome Bettis would be mobbed.
Overall, the Fighting Irish's credentials in this scenario are not as strong as many might expect, but these three Golden Domers mentioned might defeat the Arizona State contingent by themselves. And frankly, based on the most recent draft classes, neither of these schools has much in terms of promising young players to bolster their respective cases.
-- Matt Williamson
SPONSORED HEADLINES
MORE COLLEGE FOOTBALL HEADLINES
MOST SENT STORIES ON ESPN.COM
COLLEGE TO NFL PIPELINE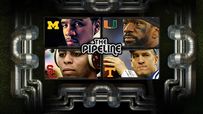 Which college football team produced the best NFL pipeline during the past three decades? We determine the best in a playoff.
Mark Schlabach »
Bracket »
FINAL
SEMIFINALS
ROUND 2
ROUND 1
FEATURES
VIDEO
SPORTSNATION