Pipeline: Miami vs. Oklahoma State
Originally Published:
May 10, 2010
ESPN.com
Which college team has provided the NFL the best pipeline of talent from 1979 to 2009? We're breaking it down bracket-style as the top 16 schools battle it out for the title.
COLLEGE-TO-NFL PIPELINE
No. 2 Miami
No. 15 Oklahoma State

If it weren't for Barry Sanders, Ray Lewis alone might win this argument for me. Lewis played in 10 Pro Bowls, was named Defensive Player of the Year twice and was selected to the Associated Press All-Pro first team seven times.

The Hurricanes have produced some of the game's most recognizable names -- Edgerrin James, Warren Sapp, Michael Irvin and Jeremy Shockey, just to name a few -- and no other school has produced more first-round NFL draft picks since 1984. More than 270 Hurricanes have gone on to play in the NFL, with 64 having played in the Super Bowl and 30 actually winning it.

This past season, Miami kept an underappreciated streak alive, as former Canes players in the NFL scored a touchdown in 122 straight weeks. Heading into the 2009 season, Miami had 41 players on opening-day NFL rosters -- the second-most of any college football program in the country. The Canes trailed LSU by only one.

What separates Miami is that you don't have to dig into the history books to find players who made an impact. In 2008, Ed Reed tied for the league lead with nine interceptions and set a new NFL record with a 108-yard interception return for a touchdown.

-- Heather Dinich

Oh, what could have been. If only.

Thurman Thomas, although he was 0-4 in Super Bowls, was still one of the most productive backs in NFL history. He led the AFC in rushing in 1990, '91 and '93; he won the NFL MVP award in 1991 and was named Offensive Player of the Year in 1992. He's also one of only five running backs to rush for 1,000 yards in eight consecutive seasons, along with another famous Cowboy, Barry Sanders.

Sanders cut his fantastic career short but is arguably the greatest running back in NFL history. If he had gone somewhere besides Detroit and won games, he might have stuck around longer and challenged the career rushing lead.

His retirement is always point No. 2 in Sanders' legacy, but his shiftiness is No. 1. In 1997, he rushed for 2,053 yards, aided by an NFL record 14 consecutive 100-yard games. At that point, he was only the third player to do so. The 10-time Pro Bowler should help push the Cowboys into the Round 2, as Oklahoma State has produced two of the greatest running backs ever to play the game.

-- David Ubben
NOTABLE PLAYERS
Top 5 Hurricanes
Top 5 Cowboys
No. 1 Ray Lewis
No. 2 Warren Sapp
No. 3 Cortez Kennedy
No. 4 Ed Reed
No. 5 Michael Irvin

No. 1 Barry Sanders
No. 2 Thurman Thomas
No. 3 Kevin Williams
No. 4 Leslie O'Neal
No. 5 Jason Gildon

AND THE WINNER IS …

I think the Minnesota Vikings' Kevin Williams -- a former OSU Cowboy -- might be the best defensive lineman in the NFL today. Obviously, the Oklahoma State running back pairing of Thurman Thomas and Barry Sanders is about as good as it gets. But any way you cut it, Oklahoma State was simply overmatched against The U.
As great as Williams is, Miami trumps OSU at defensive tackle with Warren Sapp, Cortez Kennedy, Jerome Brown, Russell Maryland and Vince Wilfork. The Patriots' Wilfork also is in that conversation for best D-lineman in the league today. He might be the NFL's top run-stuffer. Even at running back, Sanders is clearly the top dog in this battle, and the Cowboys might even feature the top two at this position. Still, the sheer volume of star running backs from Miami makes this position battle a close one. The battle isn't close anywhere else, though.
-- Matt Williamson
SPONSORED HEADLINES
MORE COLLEGE FOOTBALL HEADLINES
MOST SENT STORIES ON ESPN.COM
COLLEGE TO NFL PIPELINE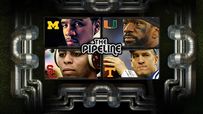 Which college football team produced the best NFL pipeline during the past three decades? We determine the best in a playoff.
Mark Schlabach »
Bracket »
FINAL
SEMIFINALS
ROUND 2
ROUND 1
FEATURES
VIDEO
SPORTSNATION
ESPN FAN SHOP