Pipeline: Miami vs. Notre Dame
Originally Published:
May 11, 2010
ESPN.com
Which college team has provided the NFL the best pipeline of talent from 1979 to 2009? We're down to the Elite Eight as we decide which campus has the most fertile NFL grounds.
COLLEGE TO NFL PIPELINE
No. 2 Miami
No. 7 Notre Dame

It would take about a dozen Joe Montanas for Notre Dame to catch up to Miami in former players who have been among the most productive in the NFL.

Miami has had almost twice as many (100) former Canes in Pro Bowls than Notre Dame (52), and has had five player of the year awards while Notre Dame only has Montana's lone honor. The Canes have had 31 former players named to The Associated Press first team while Notre Dame has had 10.

While both Notre Dame and Miami have taken a dip in the national rankings, Miami has maintained its presence in the NFL. In 2008, Miami had 46 former players on NFL rosters on opening day. Notre Dame had 28.

In order to understand Miami's presence in the NFL, look at the program's Ring of Honor. Defensive tackle Cortez Kennedy was the NFL Defensive Player of the Year in 1992 and was selected to the Pro Bowl eight times. Vinny Testaverde had a stellar 21-year pro career with seven different NFL teams. Running back Ottis Anderson was a first-round pick of the St. Louis Cardinals in 1979 and was selected to the Pro Bowl in his first two seasons.

-- Heather Dinich

The Irish rightly made it into the second round based on their grand historical achievements. It's tough to see them advancing much farther, though, because let's be honest: The recent past hasn't been as kind.

In the past decade, Notre Dame draftees have been underwhelming. The school has produced just two first-rounders since 2000, a solid center in Jeff Faine and quarterback Brady Quinn, who has yet to live up to his immense promise. There have been some good players to come out of South Bend in that time, such as Julius Jones and Justin Tuck, but arguably no true superstars.

In our scoring system for this tournament -- which takes into account MVPs, player of the year awards, first-team All-Pros and Pro Bowl appearances -- the Irish ranked as the No. 9 overall school for the decade spanning 1990-99. For the recently completed decade, Notre Dame couldn't crack the top 32 schools (which may help explain why the team's on-the-field fortunes dipped during that time period as well).

Maybe Jimmy Clausen and Golden Tate -- two Golden Domer draftees this year -- will begin to reverse the slide. But this is a what-have-you-done-for-me-lately world, and the Irish can only cling to the more distant past.

-- Brian Bennett
NOTABLE PLAYERS
Top Five Hurricanes
Top Five Fighting Irish
No. 1 Ray Lewis
No. 2 Warren Sapp
No. 3 Cortez Kennedy
No. 4 Ed Reed
No. 5 Michael Irvin

No. 1 Joe Montana
No. 2 Tim Brown
No. 3 Jerome Bettis
No. 4 Bryant Young
No. 5 Dave Duerson

AND THE WINNER IS ...

This is a total mismatch and the Canes are steamrolling their opposition right now.
Of course Joe Montana is as strong a representative as any school can offer, but the depth of stardom for the Fighting Irish doesn't hold a candle to what the Hurricanes have going for them. In fact, the combination of Jim Kelly and Vinny Testaverde isn't all that far behind Montana -- and consider that quarterback is one of The U's weakest positions. Miami is absolutely loaded.
By the way, there are a few positions the Canes have put out ridiculous talent at that I haven't even mentioned yet in two rounds' worth of analysis. They are loaded.
-- Matt Williamson
SPONSORED HEADLINES
MORE COLLEGE FOOTBALL HEADLINES
MOST SENT STORIES ON ESPN.COM
COLLEGE TO NFL PIPELINE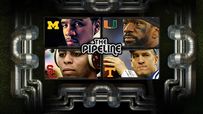 Which college football team produced the best NFL pipeline during the past three decades? We determine the best in a playoff.
Mark Schlabach »
Bracket »
FINAL
SEMIFINALS
ROUND 2
ROUND 1
FEATURES
VIDEO
SPORTSNATION