Pipeline: Florida State vs. Ohio State
Originally Published:
May 11, 2010
ESPN.com
Which college team has provided the NFL the best pipeline of talent from 1979 to 2009? We're down to the Elite Eight as we decide which campus has the most fertile NFL grounds.
COLLEGE-TO-NFL PIPELINE
No. 4 Florida State
No. 5 Ohio State

Bobby Bowden produced almost as many NFL players as he did "Dadgummits." The Seminoles proved to be a dependable source of defenders for the Sunday league throughout Bowden's 34 years as head coach. It is a credit to him and to his longtime defensive coordinator, Mickey Andrews.

I add Andrews, not merely because during Bowden's prime, when the Seminoles finished in the top five an unprecedented 14 consecutive seasons (1987-2001), they produced such All-Americans and future NFL star defenders as Deion Sanders, Terrell Buckley, Marvin Jones, Derrick Brooks, Darnell Dockett and Corey Simon.

The last two, in particular, represents what Florida State has developed that an Ohio State hasn't: fast, powerful defensive linemen. They are the toughest players to find in football. The NFL drafted 25 defensive ends and tackles from the Seminoles in the past 20 years.

Or just take a look at the end of Bowden's career at Florida State. The Seminoles never veered too far from average. Until the very end, however, they still played defense. In the past five years, the NFL picked 15 players from the Florida State defense and five from the offense.

The Bowden legacy will continue in the NFL for some time to come.

-- Ivan Maisel

Ohio State lacks the flashiness of a program like Florida State. Neon Deion certainly never wore the Scarlet and Gray. But folks in Columbus appreciate substance over style, and what can't be denied is the fact that the NFL keeps coming back to Ohio State for elite talent year after year.

Between 1979 and 2009, Ohio State had 177 players drafted, including 37 first-round picks. Few college teams have produced a finer collection of pro offensive linemen, led by Orlando Pace and Jim Lachey, who own 10 Pro Bowls between them. Former Buckeyes like New York Jets center Nick Mangold, a Pro Bowl selection in 2008 and 2009, are continuing the school's tradition up front.

Florida State has its share of big-name skill players, but so does Ohio State, which produced standouts like wide receiver Cris Carter, an eight-time Pro Bowl selection and a two-time first-team All-Pro. The Seminoles undoubtedly will tout defenders like Sanders and Derrick Brooks, but Ohio State products such as Chris Spielman, Pepper Johnson, Shawn Springs and current pro Antoine Winfield shouldn't be dismissed.

While Florida State's NFL pipeline has dried up a bit since the glory days of the 1990s, Ohio State boasts several promising young players like Mangold, Super Bowl XLIII MVP Santonio Holmes and linebacker James Laurinaitis, who had a solid rookie season with the St. Louis Rams.

-- Adam Rittenberg
NOTABLE PLAYERS
Top 5 Seminoles
Top 5 Buckeyes
No. 1 Derrick Brooks
No. 2 Deion Sanders
No. 3 Walter Jones
No. 4 Rohn Stark
No. 5 LeRoy Butler

No. 1 Orlando Pace
No. 2 Chris Spielman
No. 3 Jim Lachey
No. 4 Eddie George
No. 5 Pepper Johnson

AND THE WINNER IS …

What the Buckeyes have done on the field over this stretch is very impressive, but for the sake of this exercise, their group isn't overwhelming. In fact, Ohio State is probably the weakest of the Final 8 programs.
As dominant as the Seminoles were at their peak, their collective NFL production also does not blow me away, but their top three are extremely strong.
I can't put a whole lot of stock in Rohn Stark, the Noles' fourth-biggest standout based upon the ESPN Stats & Information scoring system, as a huge Florida State asset. I am not bashing Florida State, but in a way, the Seminoles are fortunate to have gotten the draws they have in this tournament.
-- Matt Williamson
SPONSORED HEADLINES
MORE COLLEGE FOOTBALL HEADLINES
MOST SENT STORIES ON ESPN.COM
COLLEGE TO NFL PIPELINE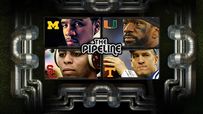 Which college football team produced the best NFL pipeline during the past three decades? We determine the best in a playoff.
Mark Schlabach »
Bracket »
FINAL
SEMIFINALS
ROUND 2
ROUND 1
FEATURES
VIDEO
SPORTSNATION