Pipeline: Pitt vs. UCLA
Originally Published:
May 11, 2010
ESPN.com
Which college team has provided the NFL the best pipeline of talent from 1979 to 2009? We're down to the Elite Eight as we decide which campus has the most fertile NFL grounds.
COLLEGE-TO-NFL PIPELINE
No. 3 Pitt
No. 6 UCLA

You want to talk NFL pipelines? Just give me the 1980 Pitt Panthers roster.

That team lost one game, but we might have to go back and check to make sure. In the following spring's draft, Pitt had three first-round picks (Hugh Green, seventh overall; Randy McMillan, 12th; and Mark May, 20th). A whopping 12 Pitt players were selected in that 1981 draft. But that's not all. Jim Covert, Tim Lewis and a fair quarterback named Dan Marino were underclassmen on that team and ended up becoming first-round picks in 1983.

How many schools have had a run like that?

But Pitt's pipeline wasn't built on just a couple of years' worth of outstanding recruiting. Post-1983 draftees include multiple Pro Bowl defensive lineman Chris Doleman, Pro Bowl offensive lineman Bill Fralic, cult hero running back Craig "Ironhead" Heyward, Super Bowl winning center Mark Stepnoski, Pro Bowl defensive end Sean Gilbert, nine-time Pro Bowl offensive lineman Ruben Brown and potential future Hall of Fame running back Curtis Martin. And that takes us only to 1995.

Let's just move Pitt into the next round already.

-- Brian Bennett

Just look at UCLA's list. Jonathan Ogden? The best offensive lineman of his generation. Troy Aikman? He was elected to the Pro Football Hall of Fame in 2006. Kenny Easley? He was the NFL's best safety and a sure Hall of Famer before kidney disease prematurely ended his career. Carnell Lake? He was a member of the NFL 1990s All-Decade Team. Ken Norton? He's the only player in history to play on three consecutive Super Bowl-winning teams.

Sure, Pittsburgh has slightly better numbers than UCLA. But the Bruins have panache! They're flashy! And, really, that is what really matters. UCLA is the pick because after Dan Marino, the Panthers' list of NFL (sorta) greats is mostly yawn-inducing, other than, of course, ESPN's own Mark May.

-- Ted Miller
NOTABLE PLAYERS
Top 5 Panthers
Top 5 Bruins
No. 1 Dan Marino
No. 2 Ruben Brown
No. 3 Chris Doleman
No. 4 Rickey Jackson
No. 5 Curtis Martin

No. 1 Jonathan Ogden
No. 2 Kenny Easley
No. 3 Carnell Lake
No. 4 Troy Aikman
No. 5 Ken Norton Jr.

AND THE WINNER IS …

Jonathan Ogden is a heavy hitter and you certainly cannot discount what Troy Aikman did in the NFL, but Dan Marino cancels out Aikman and the Panthers' stud offensive linemen like Ruben Brown, Mark Stepnoski, Bill Fralic, Russ Grimm, Jimbo Covert and others smother what Ogden brings to the table.
Pitt's offensive line is just loaded, but the Panthers have some serious impact players on defense as well. Many probably didn't realize it before this exercise, but Pitt has developed some serious NFL firepower. The Panthers can hang with any college program in the country in this regard.
-- Matt Williamson
SPONSORED HEADLINES
MORE COLLEGE FOOTBALL HEADLINES
MOST SENT STORIES ON ESPN.COM
COLLEGE TO NFL PIPELINE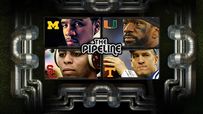 Which college football team produced the best NFL pipeline during the past three decades? We determine the best in a playoff.
Mark Schlabach »
Bracket »
FINAL
SEMIFINALS
ROUND 2
ROUND 1
FEATURES
VIDEO
SPORTSNATION