Pipeline: USC vs. Georgia
Originally Published:
May 11, 2010
ESPN.com
Which college team has provided the NFL the best pipeline of talent from 1979 to 2009? We're down to the Elite Eight as we decide which campus has the most fertile NFL grounds.
COLLEGE-TO-NFL PIPELINE
No. 1 USC
No. 8 Georgia

The breadth and scope of USC's presence in the NFL draft over the past three decades have survived changes in style, in coaches and in fortunes on the field. In the past decade, when Georgia sprayed players at the NFL with a fire hose, USC sprayed harder. From 2000 to 2009 the Trojans had more first-round picks (15-10) than the Dawgs and more overall picks (62-56).

But even in the years when the Trojans strove for mediocrity -- USC is where Paul Hackett (1998-2000) proved conclusively he is better suited as a coordinator -- the NFL beat a path to their door. USC, over the past 30 years, only once went two consecutive years without a first-round draft pick (2001-02; thanks, Coach Hackett).

If you choose to measure USC and Georgia by their production in the NFL, the Trojans come out ahead there, too:

Four Trojans drafted in the past 30 years already have made the Pro Football Hall of Fame: Marcus Allen, Ronnie Lott, Bruce Matthews and Anthony Munoz.

Five Trojans in the past 30 years have been named NFL Rookie of the Year on offense or defense (Allen, Chip Banks, Duane Bickett, Mark Carrier, Bryan Cushing). Georgia has had one. (Kendrell Bell). No matter how you measure this one, USC comes out ahead.

-- Ivan Maisel

The Bulldogs have produced 19 NFL first-round draft picks since 1979, but many of their most successful pros were late-round choices.

Former Bulldogs running back Terrell Davis, who transferred to UGA from Long Beach State before the 1992 season, was a sixth-round choice of the Denver Broncos in 1995. He helped lead the Broncos to two Super Bowl championships and was a three-time Pro Bowler. Davis was named NFL offensive player of the year in 1996 and '98 and was named to the NFL's All-Decade team for the 1990s.

Pittsburgh Steelers receiver Hines Ward, a third-round choice in 1998, is a four-time Pro Bowler and was named MVP of Super Bowl XL. Defensive end Robert Geathers was a fourth-rounder in 2004 and is entering his seventh season with the Cincinnati Bengals.

NFL teams found three late-round gems at Georgia in the 2002 draft. Linebacker Will Witherspoon was a third-rounder and just finished his ninth season in the NFL. Tight end Randy McMichael (nine NFL seasons) was a fourth-rounder, and safety Jermaine Phillips (nine seasons) was a fifth-rounder.

Running back Patrick Pass, who won three Super Bowl rings with the New England Patriots, was a seventh-round choice in 2000. Washington Redskins defensive end Phillip Daniels, who has 60 career sacks in 15 NFL seasons, was a fourth-rounder in 1996.

Two of the NFL's greatest kickers -- Kevin Butler and John Kasay -- were drafted in the fourth round in 1985 and 1991, respectively.

-- Mark Schlabach
NOTABLE PLAYERS
Top 5 Trojans
Top 5 Bulldogs
No. 1 Bruce Matthews
No. 2 Anthony Munoz
No. 3 Junior Seau
No. 4 Ronnie Lott
No. 5 Marcus Allen
No. 1 Champ Bailey
No. 2 Richard Seymour
No. 3 Terrell Davis
No. 4 Ray Donaldson
No. 5 Hines Ward

AND THE WINNER IS …

Georgia has a strong group of present NFL stars who are still building their legacy and to me, that counts for more than those résumés that are already completed. But any way you cut it, the Bulldogs cannot keep up with the Trojans in our format.
Georgia's present crop of top NFLers have more impressive collective résumés. Still, Troy Polamalu and Carson Palmer have a large group of very young USC alums to help bolster their cause over the next few seasons ... and that isn't even mentioning the USC greats who came before them. The Trojans are going be very tough to stop.
-- Matt Williamson
SPONSORED HEADLINES
MORE COLLEGE FOOTBALL HEADLINES
MOST SENT STORIES ON ESPN.COM
COLLEGE TO NFL PIPELINE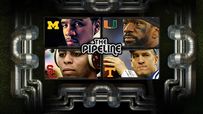 Which college football team produced the best NFL pipeline during the past three decades? We determine the best in a playoff.
Mark Schlabach »
Bracket »
FINAL
SEMIFINALS
ROUND 2
ROUND 1
FEATURES
VIDEO
SPORTSNATION