Pipeline: USC vs. Miami
Originally Published:
May 13, 2010
ESPN.com
Which college team has provided the NFL the best pipeline of talent from 1979 to 2009? We're down to the championship as we decide which campus has the most fertile NFL grounds.
COLLEGE TO NFL PIPELINE
No. 1 USC
No. 2 Miami

First you must respect: Miami has been an extraordinary NFL pipeline over the past three decades.

It's fun to go through a list of great players Miami and USC have produced and debate their merits. Who's the NFL's best safety at present: Troy Polamalu or Ed Reed? Best all-time linebacker: Ray Lewis or Junior Seau? USC has produced more running backs and offensive linemen, Miami more defensive linemen and receivers. Like I said: It's fun to debate. But really, with the overall issue at hand -- best NFL pipeline -- there is no debate.

USC has long operated in a rarefied atmosphere, whether we're talking about national championships, Heisman Trophy winners, All-Americans or NFL players.

Let's cut to the chase: USC has produced four NFL Hall of Fame players during this 30-year time frame. Miami has produced just two Hall of Famers. USC has produced 42 first-team All-Pros, Miami 31. Is this all about the past? Well, no. USC has produced 42 NFL draft picks over the five drafts from 2005 to 2009. Miami produced 23. You must respect Miami's NFL legacy. But clearly USC is alone at the top.

-- Ted Miller

USC is tough to beat, but one fact still remains: Since 1984, Miami has produced more first-round draft picks than any other college and has had at least one player drafted in the first round in 14 NFL drafts between 1995 and 2008, the longest streak in NFL history.

Are we still debating? Since 1979, two Hurricanes -- Jim Kelly and Michael Irvin -- have been inducted into the Pro Football Hall of Fame. Kelly led the NFL in passing in 1990 and led Buffalo to an unprecedented four straight Super Bowl appearances. And Irvin was a three-time Super Bowl champion and set an NFL record with 11 100-yard games in 1995. Ray Lewis, Warren Sapp and Reggie Wayne are just a few of the high-profile Canes who won a Super Bowl. Ottis Anderson won two Super Bowls, was MVP of Super Bowl XXV and retired as the eighth-leading rusher of all time.

The past decade is where Miami edges Southern California, as former Canes have been in 42 Pro Bowls compared with USC's 13. This program's NFL presence stretches from past to present, as four of the top 13 active leading rushers in the NFL are Canes.

-- Heather Dinich
NOTABLE PLAYERS
Top Five Trojans
Top Five Hurricanes
No. 1 Bruce Matthews
No. 2 Anthony Munoz
No. 3 Junior Seau
No. 4 Ronnie Lott
No. 5 Marcus Allen
No. 1 Ray Lewis
No. 2 Warren Sapp
No. 3 Cortez Kennedy
No. 4 Ed Reed
No. 5 Michael Irvin

AND THE WINNER IS ...

Many might think this is an upset, but I just don't see it that way. Miami is the rightful champion -- no question in my mind.
Let's just go position by position. Quarterback: Miami is the choice, but neither school is tremendous at this most important position. Running back: Miami wins, mostly by sheer volume. Wide receiver: Miami wins in a landslide. Tight end: See wide receiver. Offensive line: USC wins this one with ease. Defensive line: The U wins this one with ease. Linebacker: This is a tough call. I am going to call it a draw. Defensive back: Both of these schools are simply ridiculous at the safety position, but the Hurricanes cannot keep up with USC.
But in the end, Miami is the champ.
-- Matt Williamson
COLLEGE TO NFL PIPELINE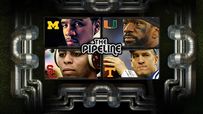 Which college football team produced the best NFL pipeline during the past three decades? We determine the best in a playoff.
Mark Schlabach »
Bracket »
FINAL
SEMIFINALS
ROUND 2
ROUND 1
FEATURES
VIDEO
SPORTSNATION
MORE COLLEGE FOOTBALL HEADLINES

MOST SENT STORIES ON ESPN.COM