Tuberville: Auburn should be '04 champ
Tommy Tuberville's 2004 Auburn football team was never given an opportunity to play Southern California for the national championship.
Now that the NCAA has ruled that the Trojans will have to vacate their 55-19 victory over Oklahoma in the 2005 Orange Bowl because star running back Reggie Bush was ineligible, Tuberville says the Tigers should be named national champions.
"We never complained when they went by the process the last time, and they should go by the process this time," said Tuberville, who is now head coach at Texas Tech. "If they were ineligible, I think they should have a revote and let people vote on it and decide who they think was the best team that year. If everybody thinks it was Oklahoma, that's fine. If everybody thinks it was Auburn, that's fine."
The Tigers finished 13-0 in 2004 but finished No. 2 in the country after defeating Virginia Tech 16-13 in the Sugar Bowl.
Bill Hancock, the chairman of the BCS, said Thursday that if the BCS Presidential Oversight Committee rules that the Trojans should vacate their '04 national championship, there would be no BCS champion for that particular season. Hancock said the BCS would take no action until after USC's appeal to the NCAA is finalized.
[+] Enlarge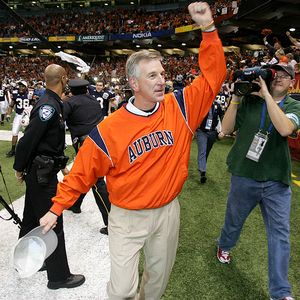 Doug Keese/US PresswireThis could be national champion Tommy Tuberville if a BCS revote goes Auburn's way.
"We take the integrity of NCAA rules seriously," Hancock said in a statement. "The POC will meet shortly to discuss this matter. In light of USC's statement that it intends to appeal, we want to make it clear that no action will go into effect until the appeal is heard and decided by the NCAA."
After the regular season, USC was No. 1 and Oklahoma No. 2 in the BCS standings. The Tigers were No. 3, and they became the first SEC team to finish 12-0 and not play for a national championship.
Auburn, which defeated Tennessee 38-28 in the '04 SEC championship game, was led by quarterback Jason Campbell and three future NFL Pro Bowlers: offensive tackle Marcus McNeill, running back Ronnie Brown and defensive tackle Jay Ratliff.
"That was the best football team I've been on, and I coached on three teams that won national championships," Tuberville said. "All you have to do is look at the kids playing in the NFL and how well they've done. That team beat five top-10 opponents that year. We just started the season too low. We started the season ranked [No. 18] in the country and kept climbing."
Tuberville, who was forced out as Auburn's coach after the 2008 season, would have been owed a $300,000 bonus for winning a national championship.
The NCAA ordered USC to vacate its bowl victory during the 2004 season and any games in which Bush played in 2005.
Bush ran six times for 75 yards and caught two passes for 31 yards against Oklahoma in the '05 Orange Bowl. At the time, the Trojans became the first team to repeat as AP national champions since Nebraska in 1994-95 and the first since Florida State in '99 to go wire-to-wire as the No. 1 team in the AP Top 25 poll.
Mark Schlabach covers college football and men's college basketball for ESPN.com. You can contact him at schlabachma@yahoo.com.
College Football and Basketball
College football writer for ESPN.com
Author of seven books on college football
Formerly at the Washington Post and the Atlanta Journal-Constitution
SPONSORED HEADLINES
MORE COLLEGE FOOTBALL HEADLINES
MOST SENT STORIES ON ESPN.COM
FALL OF TROY?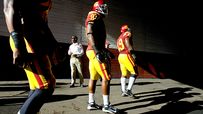 The NCAA released its sanctions against USC on Thursday, doling out penalties that include postseason bans and scholarship reductions, among others, for the football and men's basketball programs.
Story »
News
Football analysis
ESPN L.A.'s take
Basketball analysis
Video
ESPN Radio
SportsNation