Blue Ribbon Preview: North Carolina
Originally Published:
July 2, 2010
Blue Ribbon College Football Yearbook
Editor's Note: ESPN Insider has teamed with Blue Ribbon College Football Yearbook to provide a comprehensive look at all 120 FBS teams. To order the complete 2010 edition of Blue Ribbon College Football Yearbook, visit www.blueribbonyearbookonline.com or call 1-877-807-4857 Monday through Friday from 9 a.m. to 5 p.m. Eastern.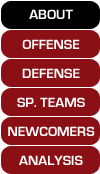 ABOUT
Butch Davis stockpiled an abundance of talent before leaving Miami to take over the head-coaching job with the NFL's Cleveland Browns in 2000. It was a nucleus that went on to win the national championship in '01 and lost to Ohio State in the national championship game the year after that.
That's the kind of progression North Carolina had in mind when it paid Davis more than $2 million a year to inject some life into its floundering football program four years ago.
The Tar Heels have made noticeable progress since then, including back-to-back eight-win seasons and invitations to the Meineke Car Care Bowl in nearby Charlotte. But the biggest victories Davis and his staff have scored are those on the recruiting front, where they have succeeded in making significant upgrades to both UNC's talent level and depth.
That building effort has been particularly noticeable on defense, where the Tar Heels are loaded with future NFL draft picks -- many of which delayed entry into the league so they could return for one final season together.
Led by linemen Robert Quinn and Marvin Austin, linebacker Quan Sturdivant and an opportunistic secondary featuring All-ACC selections Kendric Burney and Deunta Williams, Davis and defensive coordinator Everett Withers have put together a championship-caliber unit.
2010 Schedule
Sept. 4 -- LSU* (in Atlanta)
18 -- Georgia Tech
25 -- @Rutgers
Oct. 2 -- East Carolina
9 -- Clemson
16 -- @Virginia
23 -- @Miami
30 -- William & Mary
Nov. 6 -- @Florida State
13 -- Virginia Tech
20 -- N.C. State

•
2009 Schedule and Results
•
2009 Statistics
Whether that defense can actually live up to its potential, survive a difficult ACC Coastal Division schedule and bring home UNC's first league title since 1980 may ultimately depend on the improvement shown by a balky offense, that, if nothing else should at least be more experienced and diverse with 10 starters returning.
There are a lot of people who believe the Tar Heels are ready to make the jump back to football relevance.
Optimism is running so high in Chapel Hill that a school-record 29,000 people came to Kenan Stadium to watch this year's Blue-White spring scrimmage -- a game that was televised live by ESPN.
"I think we've done a nice job building the base of a strong defense. We have nine starters back and the goal there is to continue to develop depth and have our guys improve," Davis said. "On offense, we have to be better.
"We have to make the team balanced. You can't go out there and say, 'We're going to win 7-3.'"
There were times last season when it seemed that was the case.
Unfortunately, even a defense as good as the Tar Heels' wasn't always able to bail an inconsistent offense out. As a result, UNC failed to build on the momentum it gained while improving from four wins to eight in Davis' first two seasons.
Even though the Tar Heels posted their second consecutive eight-win campaign and went to a bowl game for the second straight year -- the first time that's happened since 1997-98 -- the pressure is now on for them to make the next step on the road to becoming an elite program.
THE STAFF
ACC TEAMS
Head Coach: Butch Davis (Arkansas '74)
Record at school: 20-18 (3 years)
Career record: 71-39 (9 years)
Assistants:
John Blake (Oklahoma '86) Associate Head Coach/Recruiting Coordinator/Defensive Line
• John Shoop (University of The South '90) Offensive Coordinator/Quarterbacks
• Everett Withers (Appalachian State '85) Defensive Coordinator/Secondary
• Ken Browning (Guilford '68) Running Backs
• Troy Douglas (Appalachian State '88) Defensive Backs
• Art Kaufman (Arkansas-Monticello '80) Linebackers
• Allen Mogridge (North Carolina '99) Tight Ends
• Sam Pittman (Pittsburg State '86) Offensive Line
• Charlie Williams (Colorado State '83) Wide Receivers
EDITORS' PICKS
Utah still hasn't settled on its starting QB.
3-Point Stance »

The CFB playoff committee should explain its rankings.
Dinich »

Nick Saban sends Texas A&M to the Bottom 10.
Ryan McGee »