Blue Ribbon Preview: Oregon State
Originally Published:
July 9, 2010
Blue Ribbon College Football Yearbook
Editor's Note: ESPN Insider has teamed with Blue Ribbon College Football Yearbook to provide a comprehensive look at all 120 FBS teams. To order the complete 2010 edition of Blue Ribbon College Football Yearbook, visit www.blueribbonyearbookonline.com or call 1-877-807-4857 Monday through Friday from 9 a.m. to 5 p.m. Eastern.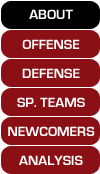 ABOUT
You'd be hard pressed to find a better fit for a program than Mike Riley at Oregon State. Not only did Riley grow up in Corvallis and follow the Beavers, his dad was a former OSU assistant coach.
Year after year, Riley's name comes up for high-profile college job openings, the most recent being USC after Pete Carroll departed for the Seattle Seahawks. But by signing a three-year contract extension through the 2019 season, Riley sent a message that he plans on staying in Corvallis for the long haul.
Riley has ties that bind with the program. He remembers the dark years when OSU endured 28 consecutive losing seasons from 1971-1998. While Dennis Erickson is given credit for ending the losing skid in 1999, it was Riley who set the stage by improving the talent level in his first stint as coach in 1997-98.
After a four-year sojourn in the NFL -- he was head coach of the San Diego Chargers from 1999-2001 -- Riley returned to OSU in 2002. The Beavers have played in bowl games the last four years, and Riley has a 64-47 overall record and 5-1 bowl mark in his nine years as coach.
The last two seasons, the Beavers have been on the verge of playing in the Rose Bowl game for the first time since the 1964 season, only to be denied by Oregon in the Civil War.
There are more lucrative coaching gigs, but there's no place like home for Riley.
"I've been around the block and I hope that I've learned," Riley said. "I don't necessarily have regrets, but I do have memories and hopefully more knowledge. What we've garnered here is an opportunity to continue to build, which when I look around our world of college football, professional football, not many guys get to stay as long as we already have."
2010 Schedule
Sept. 4 -- TCU*
18 -- Louisville
25 -- @Boise State
Oct. 2 -- Arizona State
9 -- @Arizona
16 -- @Washington
30 -- California
Nov. 6 -- @UCLA
13 -- Washington State
20 -- USC
27 -- @Stanford
Dec. 4 -- Oregon
*In Arlington, Tex.
Riley's on to something. Beginning his 10th season, he is the dean of Pac-10 coaches. With stability comes commitment.
Riley stresses a family atmosphere in Corvallis, and his players have bought into that philosophy.
"We are a family," junior tailback Jacquizz Rodgers said. "When I first came here [from Richmond, Texas] guys just welcome you. You felt like you've been with these guys for years, but really it's your first time meeting them."
Senior linebacker Keith Pankey has an interesting, albeit unique way to describe the closeness of OSU's football team.
"Somebody could be sitting in the bathroom with the door shut," Pankey said. "Someone could walk in, and as that person is talking, you know exactly who that person is. It's just a bond."
Attend any football practice -- they're open to the public during the season other than Civil War week -- and Riley routinely thanks media members and fans for showing up as he leaves the field.
Riley is proof that nice guys don't have to finish last.
OSU has put more than a decade between its years of futility. These days, anything less than a bowl game would be considered a disappointment in Beaver Nation.
"If you look at Oregon State and what's taken place, I think it's a top 10 story of the growth of college football in the last 50 years when you consider history," Riley said.
When Riley sells OSU football to recruits, he's speaking from the heart. Players realize that Riley isn't looking for a pot of gold in another locale.
With longevity and commitment comes peace of mind. For Riley, the glass is always more than half full.
"We have a good life here and I have a new motto that I came up with the last time I left," Riley said with a smile. "If you're happy, stay happy."
Pac-10 Teams
THE STAFF
Head Coach: Mike Riley (Alabama '75)
Record at school: 64-47 (9 years)
Career record: 64-47 (9 years)
Assistants:
• Jay Locey (Oregon State '78) Assistant Head Coach/Wide Receivers
• Danny Langsdorf (Linfield '95) Offensive Coordinator/Quarterbacks
• Mark Banker (Springfield College '78) Defensive Coordinator/Safeties
• Mike Cavanaugh (Southern Connecticut State '86) Offensive Line
• Reggie Davis (Washington '98) Running Backs
• Keith Hayward (Oregon State '01) Cornerbacks
• Greg Newhouse (Nevada '75) Linebackers
• Bruce Read (Portland State '86) Special Teams Coordinator
• Joe Seumalo (Hawaii '89) Defensive Line
EDITORS' PICKS
Defensive lineman's "second chance" at Alabama was only about winning and shouldn't have happened.
Schlabach »

Expect new CFB Playoff Committee member Bobby Johnson to fit right in.
Low »

Should we have the same expectations for programs with very different budgets?
Haney
MORE COLLEGE FOOTBALL HEADLINES

MOST SENT STORIES ON ESPN.COM