House of Pain: Sharing the pain
Originally Published:
August 6, 2010
No reservations are required at the House of Pain. Everyone is welcome. And at one point or another, everyone checks in. While every team didn't make the final list of ESPN.com's 50 most painful outcomes in college football, every team has shared the pain of an agonizing outcome.
It's time to share your pain with our experts. Senior writer Ivan Maisel and College Football Nation blogger Andrea Adelson will be joined by ACC blogger Heather Dinich, Big Ten blogger Adam Rittenberg, Pac-10 blogger Ted Miller and SEC blogger Chris Low in the discussion. College football writer Mark Schlabach will drop in to talk Big 12, Big East, Notre Dame and the kings of pain. Contribute your thoughts and questions starting at noon ET on Friday.
HOUSE OF PAIN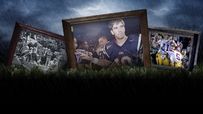 Nobody prepares to lose. So when your team suffers a crushing outcome, the agony stays with you indefinitely. We've got 50 torturous games to prove it.
House Of Pain »
Stories
Bloggers
Video