Commentary
Band of Brothers
Halftime show at MEAC/SWAC Challenge to feature two bands led by longtime friends
Updated:
August 30, 2010, 1:12 PM ET
By
Donald Hunt
| Special to ESPN.com
Ready for a showstopper?
[+] Enlarge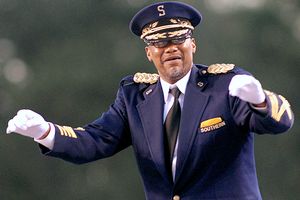 Courtesy of Southern UniversityLawrence Jackson, band director, Southern University.
Then don't miss the halftime show during the sixth annual MEAC/SWAC Challenge presented by Disney at Orlando's Citrus Bowl Stadium on Sept. 5.
In what's sure to be a memorable battle of the bands, "The Approaching Storm" from Delaware State will display their talents against "The Human Jukebox" from Southern University. And not only will the competition be fierce -- it will be a showdown between friendly rivals.
The band directors from both schools became friends when they played in the band as students at Southern. Delaware State's band director Randolph J. Johnson and Southern's band director Lawrence Jackson are members of the Jaguars' Class of 1975. Their relationship goes back more than three decades.
"I consider him my best friend," Johnson says. "We've had each other's back since we were in college. We met in 1972, which was my freshman year and his sophomore year. We just hit it off immediately."
Although the two now live several hundred miles apart, their friendship has remained strong over the years. "We graduated on the same day," says Jackson. "He went to school year-round and wound up finishing with me. We were in Kappa Kappa Psi, an honorary band fraternity. We've known each other a long time."
Johnson, who also plays the guitar, played the trumpet in the band, while Jackson played the tuba. "Dr. Isaac Greggs taught us," Jackson says. "He was the band director at Southern for 36 years. I came to school on a band scholarship from Crowley, La."
Having experienced it for themselves, Jackson and Johnson know how thrilling it can be to perform in such high-caliber bands. "There's no experience like playing in [a] band at an HBCU football game," says Jackson. "Everybody loves the halftime show. It's great to see how the crowd reacts to the way the band performs. We like to entertain the fans."
[+] Enlarge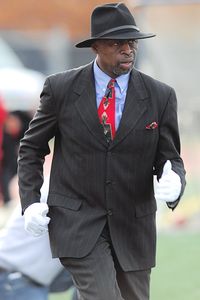 Courtesy of Delaware StateRandolph Johnson, band director, Delaware State
For his part, Johnson knows his Delaware State students will cherish the memories of the band's travels. "Last year, we had a chance to perform at the Big House in Michigan before 106,000 people," Johnson says. "It was really fantastic. The headline in the paper the next day read 'Michigan Wins Game; Delaware State Band Wins Everything Else.' We were the first HBCU band to perform at that stadium. We've performed in the London Parade and in Paris on New Year's Eve. I try to give the kids a positive experience they'll remember for the rest of their lives. Band is a special thing. We try to have a family atmosphere."
Jackson has showcased Southern's skillful musicians at major events as well. The band puts on quite a show every year against archrival Grambling State in the Bayou Classic at the Superdome, broadcast on NBC Sports. The band played during halftime when the New Orleans Saints played the Minnesota Vikings in the NFC championship game last season. Southern also performed at the 2010 Honda Battle of the Bands at the Georgia Dome in Atlanta.
Delaware State will be the home team in this year's MEAC/SWAC Challenge. Neither Jackson nor Johnson will divulge -- band directors never do -- what their bands have in store for the halftime show. But fans who watch the performances look forward to the show, and know it's the result of years of first-class HBCU musical training.
So, will these longtime buds be rivals -- at least for a half -- come Sept. 5? That, too, is a tightly held secret.
Donald Hunt is a columnist for The Philadelphia Tribune. His HBCU Notebook on ESPN.com can be found here. Got a story idea for Donald? E-mail him at dhunt37261@aol.com.
SPONSORED HEADLINES
MORE COLLEGE FOOTBALL HEADLINES
MOST SENT STORIES ON ESPN.COM
EDITORS' PICKS
Texas takes on Kansas State in Manhattan.
Watch

The one-loss gridlock will continue in Week 9.
Kickoff »

Can the SEC return to power?
Travis Haney