Florida hires Will Muschamp as coach
Updated:
December 12, 2010, 7:44 PM ET
ESPN.com news services
GAINESVILLE, Fla. -- Maybe Will Muschamp got tired of waiting.
The defensive coordinator and heir apparent at Texas jumped to Florida on Saturday night, taking over one of the premier jobs in college football and replacing two-time national champion Urban Meyer.
"This is a dream come true," Muschamp said in a statement.
From Meyer to Muschamp

In hiring Will Muschamp, Florida chose potential over experience. Only time will tell whether Jeremy Foley made the right call, writes Mark Schlabach. Story
---

September promise at Texas eventually eroded to December despair. Instead of bowl preparation, Mack Brown faces staff overhaul, writes Pat Forde. Story
---

Since 1960, eight coaches have won national championships at their first head coaching stop. K.C. Joyner thinks Will Muschamp can, too. Story

---
All in all, it's a crapshoot predicting how a DC will do as a head coach, but of the 12 recent defensive coordinators promoted to head coach, one name is a model: Bo Pelini. Football Outsiders

---
• Chris Low: SEC blog
• David Ubben: Big 12 blog
Muschamp will be introduced at a news conference Tuesday evening.
While details have not been finalized, a source told ESPN.com's Joe Schad that Muschamp is likely to receive a six-year deal.
He also will be reunited with a place he used to call home. Muschamp spent 10 years in Gainesville as a kid, graduated from Georgia and coached at Auburn and LSU.
He knows Florida. He knows the Southeastern Conference. For the Gators, that background outweighed his lack of head-coaching experience.
"I grew up watching the Gators and whatever other SEC team was on television," Muschamp said. "I have great memories watching SEC football with my father on Saturdays and playing football in the backyard with my two brothers right here in Gainesville."
Florida athletic director Jeremy Foley said he targeted Muschamp shortly after Meyer resigned Wednesday and he was the only person to whom Foley offered the job.
Foley said Muschamp's familiarity with the SEC was an important factor.
"We wanted a candidate who was high energy and had been on the big stage," Foley said in a statement. "We wanted a candidate who was respected by his players and his peers, and we wanted someone who had a passion for the University of Florida. Coach Muschamp is all of those things and more."
The timing of the announcement raised some eyebrows. Did the Gators plan the announcement to coincide with the Heisman Trophy ceremony? Former Florida quarterback Cam Newton, now Auburn's offensive star, won the award a little more than two years after he left Gainesville in the midst of cheating allegations and following his arrest on a theft charge.
[+] Enlarge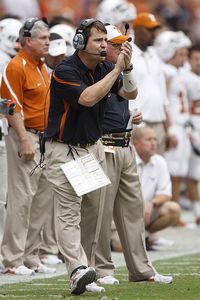 Bob Levey/Getty ImagesWill Muschamp takes over a program that's had 30 arrests during the Urban Meyer era and finished just 7-5 this season.
The hire also was met with a mixture of excitement and trepidation. Some raved about Muschamp's background and his fiery demeanor. Others questioned whether a longtime assistant coach would be the right fit for one of the nation's elite programs.
Meyer, however, applauded the hire.
"Coach Muschamp is a great hire for the University of Florida," Meyer said in a statement. "He is a relentless recruiter and brings a tremendous amount of energy and passion to the game. I would run into him on the road often on the recruiting trail and have always been impressed with him as a coach and a person."
Meyer walked away from the job Wednesday, four days after he called Foley and said he was contemplating the move, and left about $20 million guaranteed on the table.
This season the Gators were near the bottom the SEC in every offensive category, got blown out by Alabama, South Carolina and Florida State, and finished 7-5. It was the most losses in Meyer's 10-year coaching career.
Several freshmen transferred, others threatened to leave and there seemed to be a huge divide between the team's underachieving seniors and Meyer's highly touted newcomers. Players refused to point fingers, but there were outcries for personnel and assistant coaching changes. There also was another arrest, the 30th involving 27 players during Meyer's tenure.
Muschamp will try to turn things around.
He was already one of the hottest names among assistant coaches when he was hired at Texas before the 2008 season.
Internet video clips of his expletive-filled tirades on the sidelines at Auburn excited Longhorns fans. He had alternate nicknames of "Coach Boom!" for his noted enthusiasm and "Coach Blood" because he once ignored blood pouring down his face after a cut in the first game of the 2008 season.
Muschamp was only 11 games into his stint at Texas when the university surprisingly announced a deal to nearly double his salary to $900,000 and make him the head coach-in-waiting behind Brown.
D-railed

Will Muschamp's defense struggled this year after a banner two years following his arrival at Texas as defensive coordinator in 2008.
Texas' Scoring Defense Rank
Under Will Muschamp
| Year | Pts allowed | Rank |
| --- | --- | --- |
| 2010 | 23.7 | 51st |
| 2009 | 16.7 | 12th |
| 2008 | 18.8 | 18th |
powered by

Brown was behind the move but insisted he had no plans to retire, leaving some to wonder if Muschamp would have the patience to put in the years at Texas before taking over.
"More than anything, I want to thank Mack Brown," Muschamp said. "I'm so grateful for the opportunity he gave me and my family and all of the guidance. He is the best in the business, and I can't say enough about everything he did to help prepare me for this. He really wanted it to work out for me to be the future coach at Texas, but this was just an opportunity I couldn't pass up.
"It's close to my family and my wife's family, and like Texas, Florida is just a tremendous place in a great conference. I wouldn't have left for any other job."
A source told Schad that Muschamp's Texas contract did not include a buyout clause and that Muschamp was never given a timeline on Brown's retirement plans.
Muschamp's defense was a key part of the Texas 25-2 run over the 2008-2009 seasons that saw the Longhorns rise to No. 1 for a month in 2008 and play for the BCS national championship last season.
The defense faltered badly in 2010, however, as Texas went 2-5 at home and suffered its first losing season in 13 years with dismal losses to UCLA, Iowa State and Kansas State.
"We were planning and hoping Will was going to be the next head coach at Texas, but obviously things didn't work out that way," Brown said. "We respect his decision, and we are really happy for Will and [his wife] Carol. He is a great coach and will be a good fit for Florida."
Brown now must find his fifth defensive coordinator since 2003. The last three, Greg Robinson (Syracuse), Gene Chizik (Iowa State and now at Auburn) and Muschamp, all left Texas for head-coaching jobs.
"Our commitment remains that we will build the best coaching staff in the country and we will begin a nationwide search immediately," Brown said.
Florida State coach Jimbo Fisher, a good friend of Muschamp, told ESPN.com's Schad that he was happy for Muschamp.
"He is sound fundamentally. He is a hard worker with great instincts. Very demanding," Fisher said. "We'll get after each other. He'll do a great job."
EDITORS' PICKS
ESPN Jr. 300 QB K.J. Costello commits to Stanford.
Story »

Nebraska without the option? Yes, a pro-style offense is now the new normal for the Huskers' offense.
Adam Rittenberg »

LSU needs Brandon Harris to win the starting QB job.
Aschoff »
MORE COLLEGE FOOTBALL HEADLINES
Nike Men's Texas Longhorns White 'longhorn State' Local Characteristic T-shirt Shop »
MORE FROM ESPN DALLAS

Check out ESPN Dallas, the place for your local Dallas sports coverage.
MOST SENT STORIES ON ESPN.COM