Blue Ribbon Preview: Arizona State
Originally Published:
July 8, 2011
Blue Ribbon College Football Yearbook
Editor's Note: ESPN Insider has teamed with Blue Ribbon College Football Yearbook to provide a comprehensive look at all 120 FBS teams. To order the complete 2011 edition of Blue Ribbon College Football Yearbook, visit www.blueribbonyearbookonline.com or call 1-877-807-4857 Monday through Friday from 9 a.m. to 5 p.m. Eastern. This information is up to date as of June 25, 2011.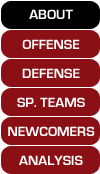 ABOUT
Dennis Erickson revamped his coaching staff last season after winning just four games in 2009. The cornerstone of the makeover was new offensive coordinator Noel Mazzone, who installed the spread offense and to whom Erickson relinquished play-calling duties.
The move paid huge dividends. The Sun Devils, anemic offensively in 2009 (ninth in the Pac-10 in total offense, eighth in passing, eighth in scoring), suddenly became a juggernaut. The pass offense went from eighth in the conference to 15th in the country. ASU scored 10.0 more points per game, rising to third in the conference and 28th nationally.
A superb defense and Mazzone's spread attack ensured that ASU stayed within reach in nearly every game. Four of its six losses were by four points or less. ASU trailed No. 5 Oregon by four at the half only to lose by 11. Other than an inexplicable 50-17 blowout loss at California, the Sun Devils were a handful of plays going their way from being a nine- or 10-win team.
There are good reasons to believe a breakthrough season could be in store. ASU has 30 seniors, one of the largest senior classes in the country. Anywhere from 12-15 of them are starters. Twenty starters overall return. The schedule also is favorable, with seven home games.
2011 Schedule
Sept. 1 -- UC Davis
9 -- Missouri
17 -- @Illinois
24 -- USC
Oct. 1 -- Oregon State
8 -- @Utah
15 -- @Oregon
29 -- Colorado
Nov. 5 -- @UCLA
12 -- @Washington State
19 -- Arizona
25 -- California

•
2010 Schedule and Results
•
2010 Statistics
Don't overlook the defense, either. Folks around Tempe believe that coordinator Craig Bray is one of the best in the nation, yet he somehow seems to be off the radar. ASU has led the conference in rushing defense the last two seasons.
The Sun Devils will don a new look come the fall. The school designed a new logo, replacing the slightly cheesy "Sparky." He'll remain as the mascot to roam the sidelines, but the logo now is the devil's pitchfork. Senior wide receiver Gerell Robinson likes the new look, calling it "more aggressive."
If only ASU can stick a fork in a few more opponents.
THE STAFF
Head Coach: Dennis Erickson (Montana State '70)
Record at school: 25-24 (4 years)
Career record: 173-89-1 (22 years)
Assistants:
• Noel Mazzone (New Mexico '80) Offensive Coordinator/Quarterbacks
• Craig Bray (UNLV '75) Defensive Coordinator/Safeties
• Trent Bray (Oregon State '06) Linebackers
• Steve Broussard (Washington State) Wide Receivers
• Scott Brown (Adams State '74) Defensive Line
• Greg Burns (Washington State '95) Defensive Backs
• Jamie Christian (Central Washington '99) Tight Ends/Special Teams
• Bryce Erickson (New Mexico Highlands '06) Running Backs
• Gregg Smith (Idaho '69) Offensive Line

BLUE RIBBON: PAC-12 PREVIEWS
"Blue Ribbon College Football Yearbook" previews the 2011 season for each Pac-12 school. Take a look:
Pac-12 North
Pac-12 South
Blue Ribbon Central
MORE COLLEGE FOOTBALL HEADLINES
Jansport Youth Arizona State Sun Devils Maroon Football T-shirt Shop »

MOST SENT STORIES ON ESPN.COM