Blue Ribbon Preview: South Florida
Updated:
July 5, 2011, 12:40 PM ET
Blue Ribbon College Football Yearbook
Editor's Note: ESPN Insider has teamed with Blue Ribbon College Football Yearbook to provide a comprehensive look at all 120 FBS teams. To order the complete 2011 edition of Blue Ribbon College Football Yearbook, visit www.blueribbonyearbookonline.com or call 1-877-807-4857 Monday through Friday from 9 a.m. to 5 p.m. Eastern. This information is up to date as of June 25.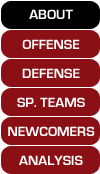 ABOUT
One of USF coach Skip Holtz's favorite things about spring practice this year was that he didn't have to put any tape on players' helmets with their names scrawled across it.
"You learn everybody's face, and then you go out onto the field, and you say, 'Who's number nine?' Holtz said, laughing.
Such is the life of a coach who takes over a program. Before you can even worry about whether anybody can play football, you have to learn who's who. Last season, it would seem as if Holtz and his staff accomplished that quickly and were able to move on to the business of putting together a team. The Bulls finished 8-5 and dumped Clemson in the Meineke Car Care Bowl. Even though its 3-4 league record wasn't overwhelming, USF knocked off Miami on the road and came within a touchdown of three Big East opponents.
"I tell the team we were three plays away from 11 wins," Holtz said. "Of course, some might say we were three plays away from five wins."
You get the picture, right? USF was not a juggernaut last season. It was, however, a solid team that won eight games for the third straight year and allowed Holtz to lay a foundation for bigger things. There's no guarantee those will come in 2011, because the Bulls lost 12 starters, but there is definitely the chance for USF to win eight games again and improve its lot within the Big East.
Holtz cites the continuity that comes from moving past that "getting to know you" stage and beginning a second season with an entire crop of assistants intact and enough talent and experience to create a sense of confidence -- or at least an idea of how the team will be able to proceed in 2011.
2011 Schedule
Sept. 3 @Notre Dame
10 Ball State
17 Florida A&M
24 UTEP
29 @Pittsburgh
Oct. 15 @Connecticut
22 Cincinnati
Nov. 5 @Rutgers
11 @Syracuse
19 Miami
25 Louisville
Dec. 1 West Virginia
"This spring, we felt good about where we are," Holtz said. "We understand what we have."
The Bulls don't have a national title contender. They may not even challenge for the Big East title, although the league is as wide open as any in the country. Part of that stems from a small senior class (12 members) and questions of depth at a variety of positions. USF has talent, and the young people who are stepping in for departed starters may actually be better than their predecessors. The return from injury of some key wideouts will fortify that area, and the arrivals of several highly-touted newcomers will upgrade the talent levels at several spots.
But that experience problem is one that could prove to be daunting. Even though there are a lot of juniors on the team this year, many haven't played a lot. Usually, a coach wants to rely on his seniors for leadership and productivity. USF just doesn't have a lot of them this year and only five of them ended the spring atop their positions on the depth chart.
"When you look at most of the players around the country who are making big splashes, most of them are juniors and seniors," Holtz said. "Underclassmen want to play and start. Upperclassmen want to win."
We'll learn a lot about the Bulls quickly, because they open at South Bend, where Holtz was an assistant for eight years and where his father coached Notre Dame to its last national title (1988) during his tenure there. "One of my friends joked that I had better turn and run to the correct sideline when I come out of the tunnel there," Holtz said. The Bulls play Miami again, this time at home, and have four of their seven Big East games on the road. It's not a killer schedule, but it's certainly challenging, especially the games with Notre Dame and Miami.
"The opportunity to play Notre Dame and Miami is an opportunity to play national games," Holtz said. "That's the level we want to play. The only way to understand that is to get on the field. You can't understand it by watching on TV or reading about it. You have to buckle up the chinstrap and play."
THE STAFF
BIG EAST TEAMS
Head Coach: Skip Holtz (Notre Dame '86)
Record at school: 8-5 (1 year)
Career record: 46-32 (6 years)
Assistants:
• Rick Smith (Florida State '71) Assistant Head Coach/Defensive Backs
• Todd Fitch (Ohio Wesleyan '86) Offensive Coordinator/Running Backs
• Mark Snyder (Marshall '88) Defensive Coordinator/Linebackers
• Vernon Hargreaves (Connecticut '86) Special Teams Coordinator/Defensive Ends
• Phil McGeoghan (Maine '08) Wide Receivers
• Kevin Patrick (Miami '94) Defensive Tackles
• Larry Scott (USF '00) Tight Ends
• Steve Shankweiler (Davidson '74) Offensive Line
• Peter Vaas (Holy Cross '74) Quarterbacks
BLUE RIBBON: BIG EAST PREVIEWS
"Blue Ribbon College Football Yearbook" previews the 2011 season for each Big East school. Take a look:
Big East
Blue Ribbon Central
MORE COLLEGE FOOTBALL HEADLINES

MOST SENT STORIES ON ESPN.COM