Blue Ribbon Preview: Houston
Updated:
July 6, 2011, 12:56 PM ET
Blue Ribbon College Football Yearbook
Editor's Note: ESPN Insider has teamed with Blue Ribbon College Football Yearbook to provide a comprehensive look at all 120 FBS teams. To order the complete 2011 edition of Blue Ribbon College Football Yearbook, visit www.blueribbonyearbookonline.com or call 1-877-807-4857 Monday through Friday from 9 a.m. to 5 p.m. Eastern. This information is up to date as of June 25.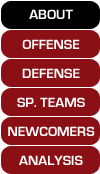 ABOUT
Fans can absolutely excuse Kevin Sumlin if the 2010 season is not one of his favorite topics of conversation.
"We're through talking about last year," he said.
And why not? After a '09 campaign that featured 10 wins and enough offensive fireworks to satisfy the July 4 needs of the entire state of Texas, the Cougars fell hard, thanks to a combination of crippling injuries. The headline, of course, was quarterback Case Keenum's torn ACL in in the third game of the season that caused considerable upheaval and turned what was supposed to be a championship season into a struggle to retrench. It didn't help that backup Cotton Turner was hurt in the same game, giving the Cougars a pair of freshmen under center.
Add in a late season knee injury to senior linebacker and defensive leader Matt Nicholson, and you can see why the Cougars slid to 5-7.
"There were a lot of circumstances that happened that forced guys into roles they had never been in before," Sumlin said. "We were trying to make younger kids leaders, and that added pressure to them. I think our guys responded. We had some close games, but we couldn't close them out. That's where leadership comes to the forefront."
The good news for Cougars fans is that the NCAA granted Keenum a sixth year of eligibility. That means the man who has already thrown for 13,586 yards, including a ridiculous 5,671 in 2009, has the chance to shatter Timmy Chang's career passing yards record (17,072). More importantly, Keenum can return the Cougars to their previous status as one of the nation's most feared offensive attacks.
But it's not all Keenum, and last year the Cougars learned that. His absence from the lineup in 2010 forced Sumlin and his staff to develop reliable contributors in other parts of the roster in order to play a complete game, rather than just outscoring the opponent.
2011 Schedule
Sept. 3 -- UCLA
10 -- @North Texas
17 -- @Louisiana Tech
24 -- Georgia State
29 -- @UTEP
Oct. 8 -- East Carolina
22 -- Marshall
27 -- Rice
Nov. 5 -- @UAB
10 -- @Tulane
19 -- SMU
25 -- @Tulsa

•
2010 Schedule and Results
•
2010 Statistics
That transition began after the 2009 campaign, when Sumlin hired Brian Stewart to direct the defense and switched from a 4-3 to a 3-4. That change was prompted by a desire to have a scheme that played to the team's recruiting strengths. Houston is unable to put eight- to 10 quality defensive linemen on the field during a game. Instead, it has a collection of talented linebackers. So, UH decided to emphasize its second line of defense. This year, the linebackers ought to be the best part of the unit.
The overall skill position picture is improved, too, thanks in large part to a trio of running backs, each of whom is capable of piling up big yards. Houston has been committed to running the ball under Sumlin, even though most people have the impression the Cougars throw on every down. But the team ran it only 74 fewer times than it passed in 2010 and could be even more balanced this season, even with Keenum back under center.
Whether the improved defense and balanced offense translate into a run at the C-USA crown is another topic. Houston must overcome UCF's tough D, SMU's productive offense and whatever other contenders emerge in the always-unpredictable league. The one thing Sumlin understands is that the conference is getting better every year, and that's why he is trying so hard to improve the way the Cougars conduct business.
"The league has gotten better over the years," he said. "There are more impact players in the NFL from Conference USA, and some of our teams have been nationally ranked. The league has steadily improved, and the talent level has improved. Even the numbers on TV reflect that.
"Are we there yet? No, but everybody will say the league has improved the last five- to seven years."
After a year of injury and uncertainty, Sumlin would like people to say the same thing about his program. The return of Keenum and the continued improvement of the roster would indicate that is not an unreasonable hope.
THE STAFF
Head Coach: Kevin Sumlin (Pudue '88)
Record at school: 23-16 (3 years)
Career record: 23-16 (3 years)
Assistants:
• Tony Levin (Minnesota '96) Assistant Head Coach/Special Teams Coordinator/Inside Wide Receivers/Tight Ends
• Jason Phillips (Houston '01) Co-Offensive Coordinator/Wide Receivers
• Kliff Kingsbury (Texas Tech '01) Co-Offensive Coordinator/Quarterbacks
• Brian Stewart (Northern Arizona '92) Defensive Coordinator/Safeties
• B.J. Anderson (Stephen F. Austin '97) Offensive Line
• Jamie Bryant (Ohio Wesleyan '93) Linebackers
• Carlton Hall (Vanderbilt '98) Defensive Line
• Clarence McKinney (University of Mary '94) Running Backs/Recruiting Coordinator
• Zac Spavital (Murray State '04) Cornerbacks
BLUE RIBBON: C-USA PREVIEWS
"Blue Ribbon College Football Yearbook" previews the 2011 season for each Conference USA school. Take a look:
C-USA East
C-USA West
Blue Ribbon Central
MORE COLLEGE FOOTBALL HEADLINES