Blue Ribbon Preview: Air Force Falcons
Updated:
July 7, 2011, 10:30 AM ET
Blue Ribbon College Football Yearbook
Editor's Note: ESPN Insider has teamed with Blue Ribbon College Football Yearbook to provide a comprehensive look at all 120 FBS teams. To order the complete 2011 edition of Blue Ribbon College Football Yearbook, visit www.blueribbonyearbookonline.com or call 1-877-807-4857 Monday through Friday from 9 a.m. to 5 p.m. Eastern. This information is up to date as of June 25.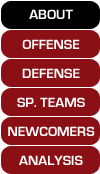 ABOUT
Troy Calhoun is a trend setter.
The Air Force head coach is the only man in the 100-plus years of service academy football to lead teams to at least eight wins and a bowl game in each of his first four seasons. Calhoun also is the first Air Force coach to win at least eight games in four consecutive seasons.
Calhoun is 21-11 in Mountain West Conference play, which is the most league wins in school history in a four-year span. He also guided the Falcons to their first Commander-In-Chief's Trophy since 2002, and a service academy-best 17th overall. Winning bowl games at service academies are nice, but the ultimate goal is the CIC Trophy.
The only thing Calhoun has not accomplished is to win a conference title. His first team at Air Force finished second, and last year's squad was third.
This year's team, at very least, will compete for the conference title along with preseason and nationally-ranked Boise State and TCU. Air Force returns a veteran group, and its two-deep is loaded with juniors and seniors. Holes need to be filled at fullback, in the secondary and on special teams, but this Air Force team is built to make a run at a league title.
2011 Schedule
Sept. 3 -- South Dakota
10 -- TCU
24 -- Tennessee State
Oct. 1 -- @Navy
8 -- @Notre Dame
15 -- San Diego State
22 -- @Boise State
29 -- @New Mexico
Nov. 5 -- @Army
12 -- Wyoming
19 -- UNLV
26 -- @Colorado State
•
2010 Schedule and Results
•
2010 Statistics
But for Calhoun, a 1989 Air Force graduate, there's so much more to being at Air Force than winning football games.
"We have a lot of work to do before August 5 when we start fall camp," he said. "For us, that's a benchmark date, because at that point we know the players, and even the coaches, that have earned the opportunity to be a part of the 2011 Falcons.
"Between now and then there is a significant amount of our guys that have to complete their academic requirements in the classroom and also be involved in summer internships and other programs that will take many around the world. Then there is the running, lifting and skill development that has to take place. There's a lot of work to do."
Welcome to Air Force and service academy football.
THE STAFF
MOUNTAIN WEST TEAMS
Head Coach: Troy Calhoun (Air Force '89)
Record at school: 34-18 (4 years)
Career record: 34-18 (4 years)
Assistants:
• Clay Hendrix (Furman '86) Assoc. Head Coach/Off. Coordinator
• Matt Wallerstedt (Kansas State '88) Assoc. Head Coach/Def. Coordinator
• Matt Thiessen (Air Force '01) Assistant Head Coach/Receivers
• Charlton Warren (Air Force '99) Assistant Head Coach/Recruiting
• Blane Morgan (Air Force '99) Off. Coordinator/Quarterbacks
• Ron Burton (North Carolina '87) Defensive Line
• Des Kitchings (Furman '00) Running Backs
• Ben Miller (Air Force '00) Tight Ends/Special Teams
•John Rudzinski (Air Force '05) Defensive Assistant • Matt Welkert (Ohio '02) Outside Linebackers
• Brad White (Wake Forest '04) Inside Linebackers/Recruiting
SPONSORED HEADLINES
MORE COLLEGE FOOTBALL HEADLINES
MOST SENT STORIES ON ESPN.COM
BLUE RIBBON: MWC PREVIEWS
"Blue Ribbon College Football Yearbook" previews the 2011 season for each Mountain West school. Take a look:
Mountain West
Blue Ribbon Central