Blue Ribbon Preview: South Carolina
Originally Published:
July 11, 2011
Blue Ribbon College Football Yearbook
Editor's Note: ESPN Insider has teamed with Blue Ribbon College Football Yearbook to provide a comprehensive look at all 120 FBS teams. To order the complete 2011 edition of Blue Ribbon College Football Yearbook, visit www.blueribbonyearbookonline.com or call 1-877-807-4857 Monday through Friday from 9 a.m. to 5 p.m. Eastern. This information is up to date as of June 25, 2011.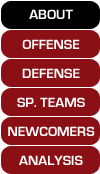 ABOUT
When touted receiver Alshon Jeffery turned down Tennessee during the process of deciding to sign with South Carolina in February 2009, then-Volunteers coach Lane Kiffin reportedly suggested such a move was the first step toward "pumping gas."
But successive classes behind Jeffery have featured former No. 10 overall prospect Marcus Lattimore and incoming freshman Jadeveon Clowney, a consensus No. 1 overall recruit, and suddenly Steve Spurrier's gas-pumping apprenticeship program is running on heavy fuel.
The Gamecocks were in the chase in 2010 until getting lapped by Auburn in the SEC Championship, and if Clowney's instant impact at defensive end remotely resembles those of Jeffery and Lattimore at receiver and running back, respectively, Spurrier could lead his third program to a checkered flag.
Despite the dynamic debuts of Jeffery and Lattimore, Clowney is generating even more hype -- even from straight shooters such as Spurrier and veteran defensive guru Ellis Johnson.
"Signing players like Jadeveon ups our expectations," Spurrier said at a Valentine's Day signing press conference. "We want to rise around here and achieve the SEC Championship in years to come. I think it's the first time South Carolina has signed the No. 1 recruit."
Johnson, like Spurrier, is coaching in his fifth decade. He hasn't seen the Friday night force that Clowney fueled since his first decade.
"My third year in coaching and first year as a head coach in high school I coached against William [Refrigerator] Perry," Johnson said. "And he [Clowney] is the most dominant destructive athlete I've seen in this state since William. Different type [of player], and he's his own man. I mean they can compare him to [Julius] Peppers and all those guys. He may never accomplish anything close to what Peppers has done. He may surpass it. He may whatever.
2011 Schedule
Sept. 3 -- East Carolina (Charlotte, N.C.)
10 -- @Georgia
17 -- Navy
24 -- Vanderbilt
Oct. 1 -- Auburn
8 -- Kentucky
15 -- @Mississippi State
29 -- @Tennessee
Nov. 5 -- @Arkansas
12 -- Florida
19 -- The Citadel
26 -- Clemson
• 2010 Schedule and Results
• 2010 Statistics

"But just as a physical specimen, I've never seen a kid like him on the high school level. And that doesn't mean I've seen them all, but I've been coaching 35 years. I've never seen one like him."
Spurrier, who's entering his seventh season in Columbia, led the Gamecocks to their first SEC Championship appearance, and the No. 22 final ranking was the first Top 25 finish since 2001. South Carolina has an ideal schedule to build on 2010.
The Gamecocks don't have to play LSU or Alabama, the nonconference schedule other than Clemson is The Citadel, Navy and East Carolina.
THE STAFF
Head Coach: Steve Spurrier (Florida '66)
Record at school: 44-33 (6 years)
Career record: 186-73-2 (21 years)
Assistants:
• Ellis Johnson (The Citadel '75) Assistant Head Coach Defense/Linebackers
• Lorenzo Ward (Alabama '91) Defensive Coordinator
• John Butler (Catholic University '95) Special Teams Coordinator
• Shawn Elliott (Appalachian State '96) Running Game Coordinator/Offensive Line
• Jay Graham (Tennessee '04) Running Backs/Assistant Special Teams Coordinator
• Jeep Hunter (Catawba '91) Safeties
• Brad Lawing (Lenoir-Rhyne '79) Defensive Line
• G.A. Mangus (Florida '92) Quarterbacks/Passing Game Coordinator
• Steve Spurrier, Jr. (Duke '94) Wide Receivers/Recruiting Coordinator
SPONSORED HEADLINES
MORE COLLEGE FOOTBALL HEADLINES
MOST SENT STORIES ON ESPN.COM
BLUE RIBBON: SEC PREVIEWS
"Blue Ribbon College Football Yearbook" previews the 2011 season for each SEC school. Take a look:
SEC East
SEC West
Blue Ribbon Central