Bustin' Out All Over
Originally Published:
November 8, 2004
ESPN.com
Weeks: Preseason | 1 | 2 | 3 | 4 | 5 | 6 | 7 | 8 | 9 | 10 | 11 | 12 | 13
The Bottom 10's inspirational thought of the week:


Leave your heart
Lay down your art
You're here for the party
Smile and wave
Try to behave
Be happy that they've made you a celebrity



-- Barenaked Ladies' "Celebrity"


Step aside Wyoming. But be sure to secure those prairie gold and brown outfits. A little wardrobe malfunction on the party circuit means your football team, band and dance squad get a well-deserved break off the Bottom 10's fashion watch. We have found inspiration elsewhere. After hearing about Tara Reid's little mishap at P. Diddy's 35th birthday party on Nov. 4, it seemed only natural to expose Ms. Reid to the Bottom 10 this week.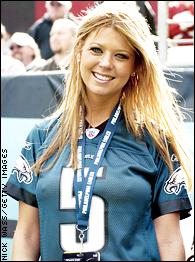 Getty ImagesTara Reid gears up for a Bottom 10 guest appearance.
While the "American Pie" actress may not know a naked boot from a out and up, the Bottom 10 hopes Reid can bare sharing her 29th birthday -- really, Monday, Nov. 8 is her birthday -- with our cast of misfits, who are all accustomed to revealing themselves on a weekly basis.
Miami's second straight loss caught our eye for the No. 5 spot and we couldn't help but stare at Minnesota's four losses in five games, but Purdue's dramatic fall out of the Top 25 eventually won us over. The Boilermakers climbed all the way to No. 5 in the ESPN/USA Today Top 25 before stripping an engine in a four-game losing streak and crashing to No. 5 in the Bottom 10.
Winless Central Florida continues to dominate the top spot in the Bottom 10, sitting on No. 1 for the fifth straight week. However, fellow MAC members Western Michigan and Buffalo are poised to take over should the Golden Knights win.
Several teams can stick their chests out after scoring victories last week. SMU beat Tulsa in overtime to pick up its second win of the year. And Arizona topped Washington in the latest Pillow Fight. The Ponies and Wildcats can enjoy the fully-clothed warmth outside the Bottom 10 for at least one week.
The Bottom 10 heads to Muncie, Ind., for this week's epic Pillow Fight between Central Florida and Ball State.
With apologies to Steve Harvey, here's this week's Bottom 10:
ESPN.com's Bottom 10
Rank
Team
2004 Rec.
Comment
1.
Central Florida
0-9
"Alone in the Dark." The Golden Knights remain Division I-A's only winless team.
2.
Western Michigan
1-8
"Scrubs." Unlike Ms. Reid's character on the sitcom, this is no guest appearance for the Broncos.
3.
Buffalo
1-8
"Van Wilder." The Bulls could use someone like Ms. Reid's Gwen Pearson character to help them realize their potential.
4.
Temple
1-8
"Urban Legend." Chances are the Owls could disappear from the Division 1-A landscape.
5.
Purdue football
5-4
"Cruel Intentions." Some lucky team must inhabit the highly-coveted No. 5 spot, and the Boilers have been exposed in four straight Big 10 games.
6.
Washington
1-8
"American Pie." The Huskies' coming-of-age season has been nothing short of a disaster.
7.
Kentucky
1-8
"American Pie II." Sequels generally fall short of the original, but the 'Cats are lurking just behind the Huskies.
8.
Ball State
1-8
"Total Request Live." Even though the Cardinals had a bye last week, they remain on the charts.
9.
Penn State
2-7
"Josie and the Pussycats." JoePa's latest band of Lions is definitely singing out of tune -- especially the offense.
10.
Tulsa
2-7
"Body Shots." A knockout blow by Bottom 10 favorite SMU sends the Golden Hurricane to the canvas.

Waiting list: Arkansas State (2-7), Army (2-6), Central Michigan (3-6), Duke (1-8), East Carolina (2-6), Indiana (3-6), Rice (3-6), San Diego State (2-7), San Jose State (2-6), UNLV (2-7), Utah State (2-7) and Vanderbilt (2-7).



&nbsp


EDITORS' PICKS
ESPN Jr. 300 QB K.J. Costello commits to Stanford.
Story »

Nebraska without the option? Yes, a pro-style offense is now the new normal for the Huskers' offense.
Adam Rittenberg »

LSU needs Brandon Harris to win the starting QB job.
Aschoff »
MORE COLLEGE FOOTBALL HEADLINES

MOST SENT STORIES ON ESPN.COM