Commentary
The Bottom 10 goes behind bars
Originally Published:
October 2, 2007
By
David Duffey
| ESPN.com
WEEK: Preseason | 1 | 2 | 3 | 4 | 5 | 6 | 7 | 8 | 9 | 10 | 11 | Final
The Bottom 10 inspirational thought of the week:
I don't mind spending some time
Just hanging here with you
'Cause I don't find too many guys
That treat me like you do.

-- Paris Hilton, "Stars Are Blind"


"This is where you and I are different because that's all I want to talk about," David Letterman told Paris Hilton on the Sept. 28 "Late Show with David Letterman."
The "that," of course, is Ms. Hilton's summer stint in jail. But talking about her June visit to the Century Regional Detention Center in Lynwood, Calif., clearly made Paris uncomfortable. Bottom 10 teams know the feeling.
So after making two Bottom 10 visits in 2005, Paris finds herself incarcerated with the bottom of the college football barrel once again. Good thing for her and many of our regulars that the "three strikes and you're out" law doesn't apply in the Bottom 10.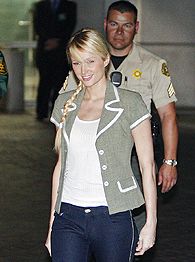 AP Photo/Kevork DjansezianThe Bottom 10 isn't the first lockup Paris Hilton has visited.
Our lockup lineup leads off with Florida International, which has lost a Div. I-A worst 17 straight games, and Temple. The Panthers and Owls are joined by the other eight I-A teams still searching for their first win of the season.
Last week's No. 5 Louisville was paroled after a 29-10 win at NC State. While the Cards flew the coop, their orange jumpsuit perfectly fit the most recent occupant of the highly coveted No. 5 spot.
Step up to the line Big 12 South. Oklahoma and Texas are first in line for the mug shots after losing to Colorado and Kansas State on Saturday. Coach Dennis Franchione's VIP newsletter helped Texas A&M earn its stripes. (The Aggies' loss to Miami on Sept. 20 didn't help.) Texas Tech recently parted ways with defensive coordinator Lyle Setencich after a loss to Oklahoma State, whose 2007 claim to fame is a postgame rant by coach Mike Gundy. Baylor is, well, Baylor.
While Central Michigan is free after beating Northern Illinois, some other teams have found a home behind the Bottom 10's bars. We'll let a few of David Letterman's questions to Paris Hilton guide us through the latest edition of the Bottom 10. But don't forget to catch the pillow fight of the week: North Texas at Louisiana-Lafayette.
Have a comment about the Bottom 10 ranking? Send us your thoughts.
So, with apologies to Steve Harvey, here's the Bottom 10:
| | | | | |
| --- | --- | --- | --- | --- |
| | RANK | TEAM | RECORD | COMMENT |
| | 1. | FIU | 0-5 | "How have you been?": Considering the 47-6 loss to previously winless Middle Tennessee extended the Panthers' losing streak to 17 games, not well. |
| | 2. | Temple | 0-5 | "Looking back on that experience, what have we learned?": Not much. Whether the Owls were in the Big East, an Independent or in the MAC, the Bottom 10 prison yard has been their playground. |
| | 3. | North Texas | 0-4 | "It was just ugly, wasn't it?": The Mean Green would have to agree with that question after a 66-7 loss to Arkansas. |
| | 4. | Rice | 0-4 | "What did you do to keep your energy up?": The Owls rank 117th in scoring defense. Maybe the bye week helped the defense regain some energy. |
| | 5. | Big 12 South | 0-6 | "What was it you did?": The Sooners and Horns were upset victims on Insanity Saturday. Fran had that VIP newsletter. The Cowboys have disappointed -- and their coach ranted. The Red Raiders and Bears haven't stopped the division's bleeding. |
| | 6. | Marshall | 0-4 | "Was there a midafternoon snack?": Whether it's been in the afternoon or at night, the Thundering Herd have been the main course five times in a row. |
| | 7. | UL-U Pick 'em | 0-9 | "Have you, did you make any friends while you were in jail?": Paris didn't, but former Bottom 10 cell mates are reunited this week. Will UL-Lafayette or UL-Monroe take the top bunk? |
| | 8. | Utah State | 0-5 | "Wasn't it horrible?": The latest setback in the Aggies' 11-game losing streak came at the hands of archrival Utah. |
| | 9. | Notre Dame | 0-5 | "It's bizarre when you think about it. That this was part of your life. That this actually happened to you.": Seriously, can you believe the Irish are still here? |
| | 10. | Colorado State | 0-4 | "I guess the food was just awful, wasn't it?": If so, the Rams, who have lost 11 straight, must not have dined at Joe T. Garcia's before or after their game in Fort Worth against TCU. |
Waiting list: Buffalo (1-4), Idaho (1-4), Iowa State (1-4), Minnesota (1-4), North Carolina's reject triangle (Duke, NC State, UNC) (3-12), Northern Illinois (1-4), SMU (1-4), Toledo (1-4) and UAB (1-3).
David Duffey is the college football editor at ESPN.com.
EDITORS' PICKS
Examining the top stories from spring so far.
Schlabach »

Adoree' Jackson will be more involved in USC's offense in 2015.
Kyle Bonagura »

Todd McShay
MORE COLLEGE FOOTBALL HEADLINES

MOST SENT STORIES ON ESPN.COM