Commentary
Commonwealth Cup takes the cake for ACC rivalry games
Duke coach David Cutcliffe and Georgia Tech coach Paul Johnson, who are both in their first seasons, will be introduced to the in-state rivalries that have helped shape part of their programs' histories, while UNC coach Butch Davis is playing his second in-state rival in as many weeks. The last meeting didn't go so well, as the Tar Heels suffered their worst loss of the season to NC State. Aside from pride, the game with the most at stake this week is in Blacksburg, Va.
Here's a closer look at some of Saturday's rivalries in the ACC:
Virginia at Virginia Tech: Commonwealth Cup
In Blacksburg, bragging rights and the Commonwealth Cup will be on the line, but so will the Coastal Division and bowl eligibility for Virginia. If the Hokies protect their home turf, they'll go to the ACC championship game. If Virginia wins, the Cavaliers will be bowl eligible.
[+] Enlarge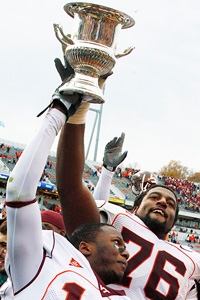 Geoff Burke/US PresswireThe Commonwealth Cup resides in Blacksburg, Va., with the Hokies.
This is the second straight season that the Hokies have had to win this game in order to advance to the ACC title game. Virginia Tech coach Frank Beamer said the rivalry has taken on a greater importance since the program joined the league in 2004.
"It used to be that the Virginia game was important, but now, when you're on the same side, in the same conference, it becomes more important," Beamer said. "I think it's a credit to both programs. You come down and you're playing for something at the end [of the season], and both of us are."
The Hokies have won the past four games and lead the series 18-8-1 when in Blacksburg. That's why the Commonwealth Cup is currently there.
The actual cup, which is made of marble and cherry wood, is 4 feet high and weighs more than 100 pounds. The scores of all 88 games in the rivalry are engraved on the side, along with a map of the Commonwealth with Charlottesville and Blacksburg marked by stars on the front. The trophy was created in 1996 and stays with the winner until the next game.
North Carolina at Duke: Victory Bell
No, it's not basketball, but it's still Duke and Carolina.
Besides, there's a large bell at stake here.
"I think that North Carolina-Duke, just like North Carolina-NC State is always going to be a pretty significant game because of the close proximity and the historical perspective of the two schools," said UNC coach Butch Davis.
History is on his side, as UNC leads the series 54-35-4, and is 27-16-2 in Durham.
There are no postseason implications for either team, other than UNC playing to impress bowl selection committees, as the Tar Heels are out of the Coastal Division race and Duke is out of contention for bowl eligibility.
Instead, the winner of Saturday's game will receive the Victory Bell, a tradition in this rivalry game since the 1940s. The bell, a prize originated by former Tar Heels cheerleader Norm Sper, is so big it's on wheels. The winner of the bell is allowed to paint the frame its team color. UNC has owned the bell for 17 of the past 18 seasons.
For all of the progress Davis has made in just under two years, he is trying to avoid ending the season with three straight losses for the first time since 1989. If he wins, it will be the first time UNC has reached eight wins since 2001.
Despite their four-game losing streak, the Blue Devils are no longer a pushover under first-year coach David Cutcliffe. His team has won four games, matching the combined win total of Duke's four previous seasons.
Georgia Tech at Georgia
[+] Enlarge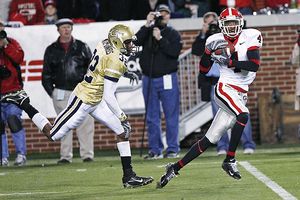 Mike Zarrilli/Getty ImagesGeorgia Tech will look to end a seven-game losing streak to the Bulldogs on Saturday.
Following Georgia Tech's romp over Miami last week, it didn't take long for questions about rival Georgia to surface -- and it didn't take long for defensive tackle Darryl Richard to answer: "To hell with Georgia!" with a huge grin on his face.
"It's what Georgia Tech is about," Richard said. "It's our No. 1 goal on our team. I don't know [if] you heard, but that's the goal we decided to make No. 1 this year, to beat those cats in Athens. I'm feeling pretty good. We're kind of peaking right now."
The Yellow Jackets haven't beaten the Bulldogs in Athens since their 27-15 win on Nov. 25, 2000, but three of the past four games have been decided by seven points or less. This year, Georgia Tech will have to overcome SEC-leading rusher Knowshon Moreno and a Georgia team that ranks in the top 25 nationally in total offense and total defense.
A Georgia Tech win Saturday would end a seven-game losing streak to the Bulldogs, who have had two weeks to prepare for Paul Johnson's triple-option offense since beating Auburn on Nov. 15. The Bulldogs lead the overall series 59-38-5.
One of the things that has kept the intensity of this rivalry going is the frequency of it. The series has been uninterrupted since 1925.
Heather Dinich is ESPN.com's ACC football blogger. She can be reached at espn.hd@hotmail.com.
College Football
ESPN.com reporter
Joined ESPN.com in 2007
Graduate of Indiana University
Rivalry Week

Sometimes conference crowns are up for grabs. Bowl bids often hang in the balance. But rivalry week is about more than that. Pride, bragging rights and some unique trophies are on the line when rivals meet. What could be better -- or more important -- than that?
Rivalry Week: A Closer Look
• Miller: Civil War features rare great matchup
• Bennett: Backyard Brawl heats up Big East
• ACC: Plenty on the line in Commonwealth Cup
• Big 12: Bedlam Series has BCS implications
• SEC: Bama looks to stop recent skid vs. Auburn
• Blue state or red state? UNC-NCSU divided
• The "Big Game" isn't just any game
• Holy War: BYU-Utah spice things up
• SEC: Tennessee has dominated Vandy
• Big Ten: All about the trophy hunting
• Washington: Apple Cup always matters
• Big Ten: OSU-Michigan still The Game
• SportsNation: Do you know your rivalries?
• Vote: Who will be the rivalry week winners?
MORE COLLEGE FOOTBALL HEADLINES

MOST SENT STORIES ON ESPN.COM