Commentary
Rest of the season doesn't matter when Michigan, Ohio State meet
Minutes after his team dispatched Illinois on Saturday, Ohio State coach Jim Tressel turned his complete focus to a rivalry that needs no silly nickname, just capitalization and respect.
[+] Enlarge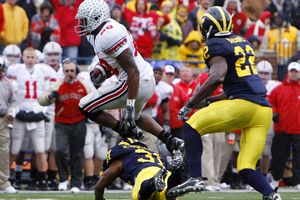 Gregory Shamus/Getty ImagesFrom the looks of it, Ohio State should beat Michigan on Saturday, but the Buckeyes have never beat the Wolverines five straight times.
The Game beckoned.
College football's greatest rivalry resumes this week along the banks of the Olentangy River, as Ohio State and Michigan meet Saturday for the 105th time. Forget about Ohio State's chance for the Rose Bowl, a share of the Big Ten title and another 10-win season. Forget about Michigan's 3-8 record, its bowl-less winter and its anemic offense.
"Ohio State versus Michigan trumps everything," said Tressel, who is 6-1 against the Wolverines. "It trumps your record. It trumps whether it's dangerous or you don't have a chance or any of those kinds of things. It trumps all things because it's the Ohio State-Michigan game.
"I would like to think our guys understand that, but there's only one demonstration of understanding that, and that's at noon on Saturday."
The Michigan-Ohio State rivalry is packed with tradition, iconic coaches, award-winning players and unforgettable games.
There was the Snow Bowl in 1950, when the teams exchanged 45 punts, two of which were blocked by Michigan to seal a 9-3 win. There was The 10-Year War between coaches Woody Hayes and Bo Schembechler, during which the Buckeyes and Wolverines shared the Big Ten title six times.
There were upsets, such as in 1993, when an undefeated Ohio State team went into Michigan Stadium and got spanked 28-0. There were the struggles of coaches such as Ohio State's John Cooper and, toward the end of his career, Michigan's Lloyd Carr. No regular-season college football game has generated more buildup than the 2006 meeting, when No. 2 Michigan visited No. 1 Ohio State in a matchup that sent the Buckeyes to the BCS title game.
[+] Enlarge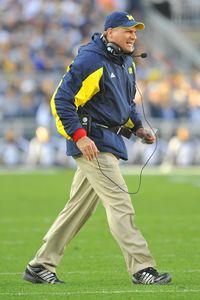 Icon SMIRich Rodriguez might be new to Michigan's rivalry with Ohio State, but he knows its importance.
"I'll never diminish the importance of a Michigan-Ohio State game ever," first-year Michigan coach Rich Rodriguez said. "Never have, never would. Wouldn't be smart to do that. I wouldn't do it anyway. First day I got on the job, somebody sent me an Ohio State button, and it's sitting next to my phone. I see it every day."
The game's storied history even elevates hope for Michigan, which enters Saturday's game as a three-touchdown underdog.
Since 1980, the team with the better record boasts only a 13-12 record in The Game, and ranked teams have dropped five of eight meetings to unranked teams. Ohio State enters Saturday with a four-game win streak in the series but has never beaten Michigan five consecutive times.
The game also favors first-year coaches like Rodriguez. The past six Michigan coaches won their first meeting against archrival Ohio State.
"We go down there and beat them, they have no chance to go to the Rose Bowl," Michigan safety Brandon Harrison said. "That's what we're playing for. We're playing for pride because this is one of the greatest rivalries in college football.
Adam Rittenberg covers the Big Ten for ESPN.com. He can be reached at espnritt@gmail.com.
College Football
ESPN.com Big Ten reporter.
Joined ESPN.com in 2008.
Graduate of Northwestern University.
Rivalry Week

Sometimes conference crowns are up for grabs. Bowl bids often hang in the balance. But rivalry week is about more than that. Pride, bragging rights and some unique trophies are on the line when rivals meet. What could be better -- or more important -- than that?
Rivalry Week: A Closer Look
• Miller: Civil War features rare great matchup
• Bennett: Backyard Brawl heats up Big East
• ACC: Plenty on the line in Commonwealth Cup
• Big 12: Bedlam Series has BCS implications
• SEC: Bama looks to stop recent skid vs. Auburn
• Blue state or red state? UNC-NCSU divided
• The "Big Game" isn't just any game
• Holy War: BYU-Utah spice things up
• SEC: Tennessee has dominated Vandy
• Big Ten: All about the trophy hunting
• Washington: Apple Cup always matters
• Big Ten: OSU-Michigan still The Game
• SportsNation: Do you know your rivalries?
• Vote: Who will be the rivalry week winners?