Commentary
The sky's the limit in Bama's luxury suites
Updated:
October 12, 2007, 10:55 AM ET
By
Chris Low
| ESPN.com
TUSCALOOSA, Ala. -- Randy Billingsley gazes into the brilliant sunlight from his east side skybox at Bryant-Denny Stadium, and his boyish anticipation is as obvious as it was more than three decades ago when he was poised to come charging onto the field to the blaring tunes of "Yea, Alabama!"
"It never gets old," says Billingsley, soaking up the sights and sounds of what has long been a religion in this state. "You can just feel the energy in this stadium."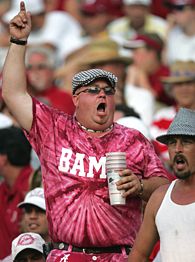 Marvin Gentry/US PresswireHoundstooth headgear is always in fashion at Bryant-Denny Stadium.
Not to mention an iconic shadow.
Billingsley's coach, the legendary Paul W. "Bear" Bryant, has been dead for nearly a quarter century, but his legacy endures. Everywhere at the Capstone, there are reminders.
Women don dangling houndstooth style earrings. Young kids wear houndstooth caps, and the Alabama faithful say his name with a quiet reverence.
"Coach Bryant ..."
A recording of his gravely voice, at least what you can decipher through the mumbling, greets Alabama fans prior to every home game from the JumboTron. The cheers are deafening, the adrenalin pumping and the pageantry something to behold.
It's game day on one of college football's most hallowed grounds, Homecoming to boot. And for Billingsley, it's his regular stroll down memory lane. A prominent Alabama booster and the owner of Mobile Asphalt Company, Billingsley was a halfback at Alabama from 1972-74.
"We lost one regular-season game in four years. We were either ranked No. 1 or played for a national championship for four straight years," he says proudly.
But on this day, Billingsley and his 20-plus guests have to sweat out a 30-24 scare against Houston that isn't sealed until Alabama cornerback Simeon Castille goes skyward to intercept a pass in the end zone between Houston receivers on the final play of the game.
"Way too close. What happened to 23-0?" says Billingsley, echoing what every fan had to be wondering after seeing Alabama jump out to a 23-0 first-quarter lead.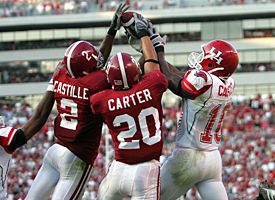 Marvin Gentry/US PresswireSimeon Castille's play left the Tide fans feeling happy against Houston.
But, hey, the party is just getting started.
Billingsley stands for much of the game. His girlfriend, Stephanie Buehler, is quick to point out that he was standing on a chair for the end of Georgia's 26-23 overtime win over Alabama a few weeks ago.
"Couldn't see because there were too many people in front of me," Billingsley explains.
His stepson, John Whitman of Daphne, Ala., is also a regular guest along with his wife, Amy. They appreciate the luxury of the skybox -- complete with comfy couches, your own private bathroom, flat screen television sets, plenty of booze, catered food ranging from meatballs, to hotdogs, to shrimp, to fried chicken and air conditioning if you want to close the sliding windows -- but John also has a hard time sitting down.
In fact, when he used to have seats in the stands, he'd usually end up watching the games from the spiral walkways leading to the upper decks.
"That way, I could stand up and watch the game and pace back and fourth," says Whitman.
The arrival of Nick Saban as head coach has added a new bounce in everybody's step. Several times during the game, he's referred to as "Saint Nick," and everybody in Billingsley's skybox agrees that despite his $4 million price tag, he'll get all the time he needs to lead the Crimson Tide back to national prominence.
"We feel like this is our one chance to get back to what we were," said Sage Lyons of Huntsville. "You can feel it among all the fans. He's going to get it done."
The people come and go from Billingsley's skybox. Jim Bailey, a dentist from Mobile who's worked on everybody's teeth including Ken Stabler and Mal Moore, is a regular. He has several seats in the box and flies up to the games on a private jet with Billingsley.
There's also Thurmon Bell, a Mobile businessman, and his wife, Mimi. They drive up in their plush $2 million RV, which also houses Thurmon's Harley Davidson motorcycle. It's the best way to get around campus on game day.
But prior to the Houston affair, nobody ventured very far from the Tutwiler parking lot just south of the stadium.
The group parked next to Bell's RV hosted the mother of all tailgate parties. They uncorked one bottle of champagne after another (part of the $30,000 in wine and champagne they brought with them), puffed on big cigars (yes, Cubans) and dined on some scrumptious barbecue.
"It's the most fun I have," Bell said. "We go to a lot of car races and fool with antique cars. But I have never had anything more fun than this. I've had airplanes and everything, but nothing that matches this."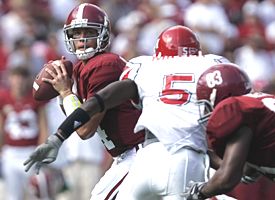 AP Photo/Butch DillTide quarterback John Parker Wilson is a favorite of Amy Whitman's.
Who could blame them if they elected to hang out there all day? But the comfort and camaraderie in the skyboxes is just as appealing.
"It spoils you. It's like having your own apartment in the stadium," says Jay Rousey of Huntsville, who was watching from Billingsley's box. "You watch a few games from up here, and all of a sudden, seats on the 50-yard line aren't good enough anymore."
Keepsake pictures cover the walls, and not surprisingly, there are at least six of Bryant in Billingsley's box. He jokes, though, that the one he's the proudest of is the snapshot hanging underneath one of the elephant statues.
It's a skeleton sitting in a chair wearing an Auburn jersey. At the skeleton's feet is a sign that reads: Waiting for a national championship.
Billingsley's had his skybox since they were built in 1998. Even after the recent expansion in the north end zone, which produced additional premium seating, there's still a waiting list.
A one-time $500,000 pledge is required to get a skybox, and then there's the annual licensing agreement, plus the cost of the tickets. Billingsley pays $38,500 per year for his box and another $6,400 for the tickets.
Each skybox holder is responsible for the decorating. Up and down the sixth level on the east side, it's a virtual museum of pictures. Stephanie shows off one of Billingsley and the other four captains at the coin toss for the 1975 Orange Bowl against Notre Dame.
He's flanked by Sylvester Croom (now the head coach at Mississippi State), Ricky Davis (now a successful sports agent), Mike DuBose (the former head coach at Alabama) and Ronny Robertson (the associate athletics director for development at Alabama).
All seniors, it was the last game they would play under Bryant.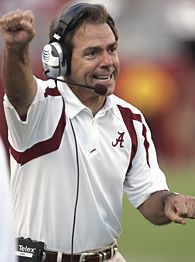 AP Photo/Butch DillThe arrival of Nick Saban put a bounce in the step of the folks in the Bryant-Denny Stadium skyboxes.
"Coach Bryant taught you more about life than he did about football," said Robertson, who pops in Billingsley's box before and after games. "That's why he was so popular with former players. He told me one time, 'I don't coach football. I coach young men. I leave my assistants to do the football coaching.'"
Even in Billingsley's bathroom, there's a framed picture of Bryant from an old cover of Sports Illustrated. It's a signed copy, too, although Billingsley says he didn't get his coach to sign it.
"The only thing he signed for me was my scholarship, and I still have that," he says.
One of the favorite parts of Billingsley's day is making the rounds. He checks in on the Bunn brothers, Sonny and Terry, who own an asphalt company in Tuscaloosa and then pays a visit to Alexander City attorney Larry Miller, described by Billingsley as "the biggest Alabama fan I know."
Miller concurs.
"Yeah, I'm a fool for Alabama," says Miller, who promptly points to a couple of pictures in his box.
One is of Billingsley running the ball with Hall of Famer John Hannah leading the way. The other is of Billingsley blocking Hall of Famer Randy White when the "Manster" was playing for Maryland.
After some more postgame tailgating at Bell's RV, Billingsley's party begins to break-up after another day of football the Alabama way. When it comes to the total football experience, they know how to do it right.
It's their crimson-coated mantra, as any Tider will tell you, "At a lot of places, they just play football. At Alabama, we live it."
Chris Low is a college football writer for ESPN.com.
Southern Living: A Weekend in the SEC
Tradition, competition, emotion and hospitality define the SEC experience. To get a first-hand account, ESPN.com visited all eight SEC home games on the first weekend of October. From Columbia to Tuscaloosa, the sights, sounds and smells were a treasure to behold.
Index
Forde: Savory Southern sojourn
Ride along on an inside trip with Mike Slive as the unlikely boss of the best and bawdiest league traveled around the movable feast of an SEC weekend.
Story
Curry: Life in the SEC
Bill Curry has coached and played in the SEC, and he understands the passion of its fans, the genius of its coaches and why there's nothing like it.
Story
Alabama: View from above
It's a mantra any good Crimson Tide fan will recite: "At a lot of places, they just play football. At Alabama, we live it."
Chris Low
Arkansas: Calling all Hogs
There are few things in life that can bring a diverse state or a divorced couple together, but Arkansas football proves every Saturday that it has that power.
Liz Merrill
Auburn: Rocking and Rollin'
what happens in the center of town when students and alumni gather at Toomer's Corner after an Auburn win is a truly unique celebration.
Zoom Gallery
LSU: To be like Mike
Mike the Tiger's historic first day on the job drew plenty of anticipation and excitement.
Eric Adelson
Ole Miss: Get your Grove on
Beneath the patchwork and the paisley; behind the seersucker, Skoal and Sperry Top-Siders -- it's another world in The Grove.
Mary Buckheit
Mississippi State: Cristil clear delivery
While the fortunes of Mississippi State football have ebbed and flowed over the past 55 years, the simple, even cadence of Jack Cristil has been the one constant.
David Albright
South Carolina: Lights, Camera, Action
It's likely one of the easiest part of the job, but doing a weekly TV show pays off in the end for South Carolina coach Steve Spurrier.
Mark Schlabach
Tennessee: Checkerboard Picasso
The Tennessee checkered end zones are one of the most recognizable scenes in sports. Meet the man who is responsible for the transformations at Neyland Stadium.
Ron Higgins
SportsNation
•
Poll: Who are the SEC's all-time best?
•
Ranker: Which team is the best in SEC history?
•
Chat: Higgins and Low, noon ET
New World Graphics Men's Auburn Tigers Navy Sec Champions Tiger Football Long Sleeve T-shirt Shop »