Commentary
Mike VI's first day on the job a roaring success
Originally Published:
October 12, 2007
By
Eric Adelson
| ESPN The Magazine
BATON ROUGE, La. -- It's almost time. A rock band blares, and the brats brown, and the sun bakes, and a little boy waits.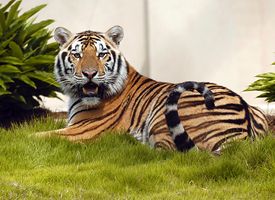 LSU Sports InformationHis real name is Roscoe, but his friends call him Mike VI.
He stands patiently by a fence, peering through the links, waiting for a moment he will never forget. More than a dozen LSU officials wait, too, some with walkie-talkies, some with bugs in their ears, all with nervous looks on their faces. They all can feel the moment coming, along with thousands of LSU fans waiting just over a hill and out of sight. That moment will come at 5:38 p.m., only 39 minutes from now. And when it does come, the camera phones will click and the spines will shiver and a woman will scream: "This is history! This is history!"
What's history? What's the big deal? What's going on? Northerners can ask all they want and get no good answer. I don't get it myself. But I will get it. In 39 minutes -- now 38 -- I'll get it forever.
A cheer goes up. The little boy, Jon Cullen, age 10, can't see why. His view is blocked by the chain links in front of his face, and the white Chevy truck backed up against a white garage door, and the golden cage behind the truck's hauler. Jon knows what just jumped into that cage from the big building behind it, and he wants to get through the fence and see.
His older brother, Ross, tries to sweet-talk the pretty blonde guard, but Jon doesn't care for girls or even the first game hosted by No. 1-ranked LSU since 1959. See, Jon has a black lab at home named Pepper. But he also has another pet -- a pet he shares with everyone within hundreds of miles of Baton Rouge. Jon's other pet -- the one he wants to see right now -- is Mike the Tiger.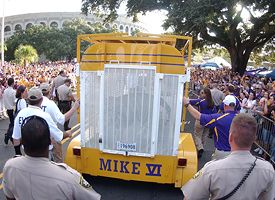 LSU Sports InformationAs Mike makes his way down the hill, the crowd hopes to catch a glimpse.
Saying Mike is just an animal is like saying LSU's game vs. No. 9 Florida tonight is just a game. And you can go that route. No tiger has any bearing on the outcome of any season. This Mike is Mike VI, but he's not related to Mikes I through V. His name is actually Roscoe. None of the Mikes were originally named Mike. (The original Mike was named after a school official.) Mike sleeps through most of every game. PETA feels it's inappropriate for a tiger to be held on campus (even though Mike's place is 15,000 square feet and nicer than even JaMarcus Russell's old pad). Yes, absolutely, all of these things are true, just like it's true that wins and losses are, in the shadow of war and plate tectonics and galaxy lifespan, meaningless.
But these things are no less true: The South, and college football, live on tradition like humans live on oxygen. And the tradition of Mike the Tiger is as real as the animal himself.
Mike has been a part of Bayou football since 1936, when students chipped in a quarter apiece to bring a 1-year-old Bengal originally named Sheik to campus. Mike II came along thanks to a resolution in the state legislature, and his unveiling in 1956 was enough reason to declare an academic holiday. Mike II, legend has it, died of pneumonia after a six-game losing streak and was replaced by a clandestine Mike. Then, Mike III presided over the last undisputed football national championship and saw only one losing season. He also enraged Bear Bryant by growling at the Crimson Tide players. Mike IV actually escaped late one night, ran around the athletic complex and attacked a tree before three tranquilizer darts slowed him down. And Mike V, perhaps the most loved of all, witnessed 37 SEC titles, 23 national track titles, five national baseball titles, one national footballl title and Shaquille O'Neal.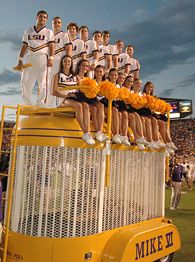 LSU Sports InformationMike finally makes his Death Valley debut in front of the faithful.
And this game against Florida is Mike VI's first. The shrieking lady is right: This Is History. It happens to be the biggest home game in the lifespan of LSU football, against the Mighty Gators of Florida. Mike was a bit nervous before the South Carolina game, so he didn't make it to the stadium, but now the fence swings open, and Jon giddily darts out of the way, and the Chevy lurches forward with the new Mike in tow. And the new Mike is feisty. He circles in his cage, panting and staring out. The fans stare back, cheering and jumping up and down. "That's a baby?!" one asks. "He's beautiful!" says another. "Go Mike!" rings in a third. The procession moves, inch by inch, toward the top of a hill -- "The Hill," as it's called -- and the crowd grows to two-deep, three-deep, four-deep, and suddenly, you think it's not Mike the Tiger but Tiger Woods. Men chant, shout, ask the beast to eat Tim Tebow. David Baker, Mike's veterinarian, says, "I've seen grown men cry at the sight of Mike. … He represents everything good about the university." Mike is LSU. So you begin to see the significance -- the power -- as you begin to see the crown of Tiger Stadium itself. It makes a little bit of sense that $20,000 is spent on Mike every year -- almost a college scholarship in itself. "A full-ride," Baker says, "and then some." It makes a little bit of sense that Baker recruited this Mike like Les Miles recruited his first-years. He narrowed it down to several dozen candidates. He looked at body type and shape, inquisitiveness, confidence and pedigree. "Had to be smart, athletic and a good personality," Baker says. And the doctor had some compliance issues. He had a cage ready and a flight booked to see what he thought could be the next Mike, only to realize at the last possible second that the recruit might have been owned illegally. That happens a lot with tigers; about half of the tigers in America are owned illegally. Baker has even heard of a tiger being bought off a street corner in New Orleans. Baker took plenty of criticism from PETA, which has asked for all this to stop, and he sure didn't need a tainted tiger.
Baker found his prize in Indiana. Roscoe was a Bengal-Siberian mix with spots. His head fit his body: "Not a pinhead," Baker says, "not a jughead." And he had a back story: His parents, Tigger and Kira, were rescues who found the right care, and the right mate, in a town called Idaville. "Roscoe was one of the most laid-back and playful cats," says Rob Craig, owner of Great Cats of Indiana. "He's curious, inquisitive and tolerant." On Aug. 25, Baker took a plane -- with all the seats pulled out -- to Indiana, and ushered Roscoe into a special crate with a burlap sack to keep the tiger calm. The plane returned to Louisiana, the crate was pulled out, the burlap was removed and Roscoe became Mike VI.
Mike practiced for this day, changing his diet and adjusting to loud sounds and even getting wheeled around the stadium to get used to the atmosphere and the scene. He would have to go without any sedatives, stay relaxed and avoid running into the white cage as the Chevy drove around the field with cheerleaders sitting on top. Just like a player, a first-year cat can be intimidated. Just like a player, the perfect mascot on paper still has to show up on game day.
Mike gets to the top of the hill, and now he's striding through his cage, standing up with his chin jutting and his muscles taut. He's ready. Waves and waves of purple and gold sway below, parting only to allow Mike down a path to the stadium and his destiny. The noise washes away everything -- the smell of sweat and booze and the animal itself, the discomfort of the hot sun getting in its last licks, and the fear of so many people crowding into such a small roadway.
Now it's easy to understand, because the noise washes away time. Is it 2007? Is it 1936? Is it dozens or hundreds of years in the future? Does it matter? The noise reaches everywhere purple and gold is worn. The roar will die, but it feels permanent: The South will live forever; college football will live forever; Mike will live forever; and forever it will be 5:38.
Eric Adelson writes for ESPN The Magazine. E-mail him at eric.adelson@espn3.com.
Eric Adelson was a senior writer for ESPN The Magazine.
SPONSORED HEADLINES
MORE COLLEGE FOOTBALL HEADLINES
MOST SENT STORIES ON ESPN.COM
Southern Living: A Weekend in the SEC
Tradition, competition, emotion and hospitality define the SEC experience. To get a first-hand account, ESPN.com visited all eight SEC home games on the first weekend of October. From Columbia to Tuscaloosa, the sights, sounds and smells were a treasure to behold.
Index
Forde: Savory Southern sojourn
Ride along on an inside trip with Mike Slive as the unlikely boss of the best and bawdiest league traveled around the movable feast of an SEC weekend.
Story
Curry: Life in the SEC
Bill Curry has coached and played in the SEC, and he understands the passion of its fans, the genius of its coaches and why there's nothing like it.
Story
Alabama: View from above
It's a mantra any good Crimson Tide fan will recite: "At a lot of places, they just play football. At Alabama, we live it."
Chris Low
Arkansas: Calling all Hogs
There are few things in life that can bring a diverse state or a divorced couple together, but Arkansas football proves every Saturday that it has that power.
Liz Merrill
Auburn: Rocking and Rollin'
what happens in the center of town when students and alumni gather at Toomer's Corner after an Auburn win is a truly unique celebration.
Zoom Gallery
LSU: To be like Mike
Mike the Tiger's historic first day on the job drew plenty of anticipation and excitement.
Eric Adelson
Ole Miss: Get your Grove on
Beneath the patchwork and the paisley; behind the seersucker, Skoal and Sperry Top-Siders -- it's another world in The Grove.
Mary Buckheit
Mississippi State: Cristil clear delivery
While the fortunes of Mississippi State football have ebbed and flowed over the past 55 years, the simple, even cadence of Jack Cristil has been the one constant.
David Albright
South Carolina: Lights, Camera, Action
It's likely one of the easiest part of the job, but doing a weekly TV show pays off in the end for South Carolina coach Steve Spurrier.
Mark Schlabach
Tennessee: Checkerboard Picasso
The Tennessee checkered end zones are one of the most recognizable scenes in sports. Meet the man who is responsible for the transformations at Neyland Stadium.
Ron Higgins
SportsNation
•
Poll: Who are the SEC's all-time best?
•
Ranker: Which team is the best in SEC history?
•
Chat: Higgins and Low, noon ET
All Conference Men's Auburn Tigers Orange Bcs Championship Bound Destiny T-shirt Shop »