Commentary
Rocky Top's Picasso paints his masterpiece on Neyland end zones
Updated:
October 12, 2007, 10:59 AM ET
By
Ron Higgins
| Special to ESPN.com
KNOXVILLE, Tenn. -- Johnny Payne thinks of himself as just a normal blue collar guy who went to work for the University of Tennessee straight out of high school in 1978.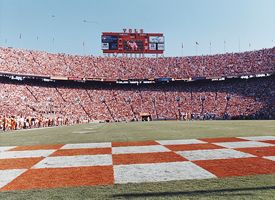 Tennessee AthleticsFormer Tennessee coach and athletic director Doug Dickey was the man behind the orange and white checkerboard design.
"If there's something to be painted around here," said Bob Campbell, the University of Tennessee's director of sports surface management, "Johnny's painted it. You name it." To Tennessee fans, Payne, the school's senior sign painter, is not just a guy with a brush, sprayer and a paint can. Nope, Johnny Payne is the Rocky Top Picasso, because he's the guy who paints Neyland Stadium's orange-and-white checkerboard end zones. As of last Saturday's home game against Georgia, Payne, in his 14 seasons as Mr. Paint Between The Lines, had painted 24,968 orange and white squares by Campbell's count. "I've had people call from all over the country who want to paint their end zones like us to find out how we paint them," said Payne sitting in his office in the bowels of Neyland Stadium where he mixes and matches his paints. "I'll just draw it up on a piece of paper and fax it to 'em. It's easier than trying to explain it to them." The checkerboard end zones were the brainstorm of former Tennessee coach and athletic director Doug Dickey. When Dickey took over as coach in 1964, he had the end zones painted with the checkerboards. "I got the idea to use checkerboard when I saw it in a magazine, maybe in an ad," said Dickey, who is retired and living in Jacksonville, Fla. "The design caught my eye and I thought we needed to dress up the stadium. It was drab and we needed some color. "People liked the checkerboard end zones, and it's nice to have an identifying product that's lasted over the years."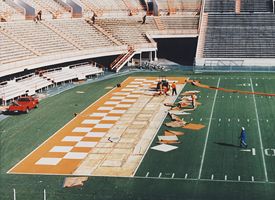 Tennessee AthleticsWhen the Vols went to natural grass in 1994, the end zones got a new look.
The checkerboards were removed in 1968 when the Vols installed artificial turf. New artificial turf was placed down in 1989 and the checkerboards returned. When the Vols went back to natural grass in 1994, Peyton Manning's freshman year, the checkerboards got a fresh design. At that point, it was up to Campbell to design a new checkerboard end zone. The checkerboard that had been on the artificial turf filled the entire end zone. Campbell got a piece of paper, figured that the end zones were 160 feet wide by 30 feet long. So why have not four rows of squares and leave a 5-foot border of green around the checkerboard? One reason was it would have confused officiating crews if the white of the checkerboard touched the goal line, sideline and end lines. "And it just looks good," Campbell said. "The green sort of frames it. The first time we painted the new design, coach Dickey came down, looked at it and said, 'That'll do.' " The biggest challenge for Campbell was getting the right shade of orange for the end zone. To do that, Campbell has worked closely with World Class Athletic Surfaces of Leland, Miss. "They came and went into our equipment room to get a 'T' of a helmet, a jersey and pants with the orange stripe," Campbell said. "All those shades of orange were different. We settled on the 'T' shade of orange. The World Class folks went back mixed it over and over and tested it by spraying it on grass.

I've had people call from all over the country who want to paint their end zones like us to find out how we paint them. I'll just draw it up on a piece of paper and fax it to 'em. It's easier than trying to explain it to them."
Neyland checkerboard painter Johnny Payne
"Even now, depending on what side of the stadium you sit on, the way the sun hits it, the orange looks like it has different shades. It's a tough color." It costs $800 worth of paint per home game -- 20 gallons at $40 per gallon -- to paint the checkerboards. The end zones are normally painted on Wednesdays and Thursdays each week before a home game. The process for Payne takes three to four hours each day during the two days, because the white squares are painted one day and orange squares are painted the next. Why? Because when you paint one square, you wouldn't have any place to stand if you painted the square next to it. Payne has the painting down to art form. There are 120 5-foot-by-5-foot squares in each zone. He has a square sheet metal template he places down on the grass and puts two coats of paints in the square. "I remember the first time I painted it, I was a little nervous about it," Payne said. "The one thing Bobby told me is 'you can't make this grass look like artificial surface.' That's why I paint it with two coats." Campbell said he never realized the distinctiveness of the checkerboard end zones until a several years ago. That's when a friend who works at Iowa State told him someone conducted a poll in Des Moines of the most recognizable sports venues in the country. "There was Yankee Stadium on the list," Campbell said. "And Fenway Park and Wrigley Field. And darn it, if our checkerboard end zones weren't in the top 10!"
Ron Higgins covers the Southeastern Conference for the Commercial Appeal in Memphis, Tenn.
SPONSORED HEADLINES
MORE COLLEGE FOOTBALL HEADLINES
MOST SENT STORIES ON ESPN.COM
Southern Living: A Weekend in the SEC
Tradition, competition, emotion and hospitality define the SEC experience. To get a first-hand account, ESPN.com visited all eight SEC home games on the first weekend of October. From Columbia to Tuscaloosa, the sights, sounds and smells were a treasure to behold.
Index
Forde: Savory Southern sojourn
Ride along on an inside trip with Mike Slive as the unlikely boss of the best and bawdiest league traveled around the movable feast of an SEC weekend.
Story
Curry: Life in the SEC
Bill Curry has coached and played in the SEC, and he understands the passion of its fans, the genius of its coaches and why there's nothing like it.
Story
Alabama: View from above
It's a mantra any good Crimson Tide fan will recite: "At a lot of places, they just play football. At Alabama, we live it."
Chris Low
Arkansas: Calling all Hogs
There are few things in life that can bring a diverse state or a divorced couple together, but Arkansas football proves every Saturday that it has that power.
Liz Merrill
Auburn: Rocking and Rollin'
what happens in the center of town when students and alumni gather at Toomer's Corner after an Auburn win is a truly unique celebration.
Zoom Gallery
LSU: To be like Mike
Mike the Tiger's historic first day on the job drew plenty of anticipation and excitement.
Eric Adelson
Ole Miss: Get your Grove on
Beneath the patchwork and the paisley; behind the seersucker, Skoal and Sperry Top-Siders -- it's another world in The Grove.
Mary Buckheit
Mississippi State: Cristil clear delivery
While the fortunes of Mississippi State football have ebbed and flowed over the past 55 years, the simple, even cadence of Jack Cristil has been the one constant.
David Albright
South Carolina: Lights, Camera, Action
It's likely one of the easiest part of the job, but doing a weekly TV show pays off in the end for South Carolina coach Steve Spurrier.
Mark Schlabach
Tennessee: Checkerboard Picasso
The Tennessee checkered end zones are one of the most recognizable scenes in sports. Meet the man who is responsible for the transformations at Neyland Stadium.
Ron Higgins
SportsNation
•
Poll: Who are the SEC's all-time best?
•
Ranker: Which team is the best in SEC history?
•
Chat: Higgins and Low, noon ET