USC's loss lifts the hopes of other national title contenders
Situation Room: Nation celebrates USC's shocking loss
OU, Penn State, Georgia hope to avoid similar fate
By Rece Davis, ESPN.com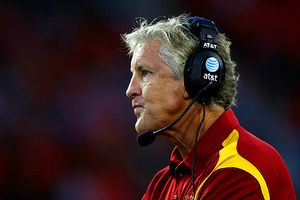 Jonathan Ferrey/Getty Images
While Pete Carroll and USC were upset about the crash in Corvallis, the rest of the nation rejoiced.
So are we still worried that an undefeated SEC team or Big 12 team will be left out of the national championship game? Didn't think so. After last season's chaos, there's no way I should've been shocked by USC's debacle at Oregon State, but I was. These Beavers are the same guys who were shaky against Stanford and brutal at Penn State. I even suggested that someone should get a refund of the more than $1 million Oregon State reportedly collected for getting thrashed 45-14 on national television against the Nittany Lions. But the Beavers got their money's worth and then some against the Trojans. In the process, they stood the national championship race on its ear. USC's loss did a couple of things. First, it robbed the Trojans of their strongest ally: the subjective vote. The equity they'd built up as the presumed best team crashed like a Fannie Mae mortgage. Now, USC's résumé comes under more scrutiny, and that's not good for what's left of USC's national title hopes. Barring the Beavers finishing extremely strong or some serious about-faces by teams like Arizona State and Cal, there's really nothing the Trojans can do in terms of résumé-enhancing wins. This loss isn't quite as damaging as the Stanford loss last year, but it's close. The Trojans already needed to win and pile up style points in the beleaguered Pac-10. Now, they have to play the role of angry upset victim bent on destroying everyone in their path. It's not impossible, but I don't think they can afford sloppy victories now even if other contenders lose, and they will. The Trojans' tumble also set off jubilation in Norman, Athens, Gainesville, Baton Rouge, Columbia, Tuscaloosa, Austin, State College and pretty much anywhere national champion dreamers reside. Have your fun now. It's likely your day is coming. Seven times last year, one of the top two teams in the AP poll lost to an unranked team. Thirteen times it happened to top-five teams. There's a lot of football left. I do think USC's loss leaves a lasting impact for the SEC and Big 12 teams. At the moment, a one-loss team from those conferences would have an infinitely stronger argument for a spot in the title game than a one-loss USC team. Voters should adopt the basketball tournament selection committee mentality. Who did you play? Who did you beat? Was your loss a quality loss? I don't think USC's résumé will measure up, but we'll see. By the way, send my buddy Mark May a card or some candy or something. He's hobbling around on crutches. He apparently broke his ankles jumping off the USC bandwagon Thursday night. Get well, MayDay.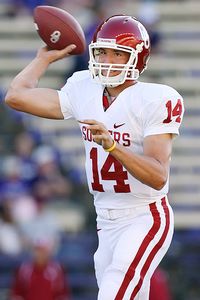 Otto Greule Jr/Getty Images
Sam Bradford and OU are primed to take over the top spot.
A few things to look for this weekend. Oklahoma didn't need USC to lose to be locked in on TCU. The Frogs are the last team to beat the Sooners in Norman. Since then, OU has won 20 straight home games. TCU beat a discombobulated OU team in 2005. These Sooners are completely combobulated. That's not a word, but I liked the word play. There have been insinuations in some quarters that TCU spied on Oklahoma before the 2005 game. Both coaches got annoyed when that subject was broached. Gary Patterson's team is tough. They love playing the BCS big boys. They're 5-1 in their past six games against the Big 12. Watch DE Jerry Hughes to see if he can disrupt the Sooners' offense. Also watch to see whether Oklahoma feels the loss of DT DeMarcus Granger against a stout TCU running game. Meanwhile, there's a show worth every penny of the ticket price in Austin this weekend. Arkansas and Texas? Nah. I mean the Austin City Limits Music Festival.
Colt McCoy
and the Horns should wrap this one up early enough to sneak over and catch a Robert Plant/Allison Krauss encore. Penn State's
Daryll Clark
told me he knew his team hadn't really been tested, but the way Nittany Lions have rolled has his team brimming with confidence heading into the Illinois game. The offense dubbed "Spread HD" has put up 45 or more points in each of the first four games. Clark says the "HD" stands for "highly diverse." I get the feeling Illinois just isn't clicking. Ron Zook challenged
Juice Williams
and
Arrelious Benn
to be better. Apparently, Penn State gets Maurice Evans and Abe Koroma back from suspension and on the defensive line. This is a very important game for the Nittany Lions. Penn State is the trendy pick to replace Ohio State as a Big 10 favorite. How will the Lions look against tougher competition? Clark told me that only Oregon State compares to Illinois athletically among the teams Penn State has faced so far. That win looks a little better for the Nittany Lions all of a sudden, doesn't it? The whiteout conditions in the stands (everyone wearing white) will look cool. So will the blackout in Athens. Alabama and Georgia have had more drama than a Britney Spears therapy session. The coaches' sartorial choices have been scrutinized to see whether shirt color is intended to send a jab, and jacked-up audio catching some practice-field trash talk are all good fodder. But it'll mean nothing once Rennie Curran and Rolando McClain start striking people in the mouth. For the second straight week, the SEC has a matchup of top-10 teams. It was LSU-Auburn last week, and it's the Tide and Dawgs this week. USC will be rooting for all of them … to cannibalize each other. That is likely the Trojans' only hope to have the last laugh on all those celebrating their crash in Corvallis.
Coach's Corner: Balanced Attacks
Former defensive coordinator and head coach Bob Davie will share his thoughts on various topics throughout this season.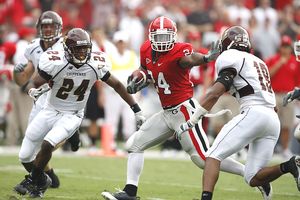 Dale Zanine/US Presswire
Knowshon Moreno and the Georgia running game pose tough challenges for the defense.
1. We hear a lot about the spread offense in college football. Let's talk about the challenges that a balanced offense (a running and passing team) presents to a defense.
Bob Davie:
When a team is balanced on offense, you have to be just as balanced defensively. You're going to split your time during the week on a game plan, practice and preparation, and it's going to be split between the run and the pass. It's almost like you're preparing for two different offenses: the power old-school game and a wide-open passing attack. If you're playing Texas Tech, for instance, you're going to spend all your time on the pass. But Georgia is a great example of a team that's truly balanced. You know where they're going to be, but they out-execute you because you have to defend all phases of the game. The thing that's most difficult is that you can't really out-scheme the Bulldogs. They don't give you a steady dose of something where you can use a lot of schemes. They maintained some of that old-school offense that Mark Richt had at Florida State, and they do it extremely well. You're going to have a certain amount of practice to deal with the physical nature of matching up with them versus a spread team, which is almost all scheme. You're not really preparing for the power aspect with a spread offense.
2. What's the game plan when you go against a team that runs a balanced attack?
Davie
: It always comes down to matchups. It's not the scheme that beats you, it's the players that beat you. But you go into the game focused on stopping the run. To use the example of Georgia, you have to worry about Knowshon Moreno. If they don't have to throw it, they're not going to throw it. They're good enough to throw, with those dynamic wide receivers. They're balanced because they have a dynamic running back, dynamic wide receivers and a quarterback who can both run and throw. It's harder to overload or concentrate on one thing.
3. How big a role do these wideouts play in a balanced offense?
When you line up with two backs in the backfield, often people are going to get up there and load the box on you to stop the running game. You have to have great wide receivers who can go one-on-one because of the kind of defenses you're going to get against two backs. So not many teams have the personnel on defense to load up in the box and also to match up with star wide receivers. When you spread people out, you create matchup problems. When you go with two backs, like Georgia, you can play a lot of different defenses against that, but they have the ability, with those receivers, to be one-on-one. They remind me a lot of when Miami, with the Larry Coker-Butch Davis teams, was really good on offense. When Florida State was really good, it had the element of the running game but it also had dynamic wide receivers.
4. Which offense would you prefer to run?
Davie:
It comes down to personnel. If I had the personnel, I would want to run a balanced pro offense. I would rather be in an offense like USC and Georgia, but if you don't have the great players on the perimeter, you're going to have to spread them out and create a spread scheme. That's why college offenses have changed more toward the spread, and that's why you see the parity. You better have really good wide receivers and running backs if you're going to run that offense.
Viewer's Guide
(All times ET)
Saturday:
10 a.m.:
College GameDay
from Athens, Ga. (ESPN)
Noon:
Michigan State at Indiana (ESPN)
Virginia at Duke (ESPNU)
Northwestern at Iowa (ESPN Classic)
North Carolina at Miami (ESPN2)
3:30 p.m.:
Arkansas at Texas (ABC)
Wisconsin at Michigan (ABC)
Fresno State at UCLA (ABC)
Colorado at Florida State (ABC)
3:45 p.m.:
Navy at Wake Forest (ESPNU)
7:30 p.m.:
Mississippi State at LSU (ESPN2)
South Florida at NC State (ESPNU)
7:45 p.m.:
Alabama at Georgia (ESPN)
8 p.m.:
Illinois at Penn State (ABC)
Virginia Tech at Nebraska (ABC)
•
College football schedule
|
ESPN GamePlan
•
Coverage maps:
Week 5
Insiders: Week 5 Preview
Blog Network: What to Watch
Each week our bloggers will take a closer look at the story lines you should be watching. What's on tap for Week 5?

Where is Florida State's offense? Is NC State in for a long afternoon? Old versus new in Lincoln? How will the UNC QBs fare?
ACC

How will Bo Pelini do in the spotlight? What's going on with Texas A&M's QBs? Will TCU's feisty defense give OU fits?
Big 12

What can Brown do for UConn? Will Dave Wannstedt's mousetraps work for Pitt? What is West Virginia's offensive game plan?
Big East

Is Penn State HD-ready? Will they be streaking in Ann Arbor? Can Javon Ringer rush for 200 -- again? Will Indiana succumb to the pressure?
Big Ten

Can Ty Willingham afford to lose to Stanford? Can Oregon keep its QB healthy at Washington State? Will UCLA's running game find its way?
Pac-10

Are style points in? Can Knowshon Moreno continue his second-half surge? Does Bama have answers for The Truth?
SEC

Non-BCS:
Why are the Buffalo and Central Michigan defenses on high alert? Who is Darius Passmore? Notre Dame: good or bad?
Around the nation
Coaches Spotlight
By The Numbers
By ESPN Research

• Oklahoma is 56-2 at home under Bob Stoops. It has won 20 straight and 40 of its past 41. The last setback? TCU beat the No. 5 Sooners 17-10 on Sept. 5, 2005. The Sooners are 24-1 in nonconference home games under Stoops, with the lone loss coming against TCU. The Horned Frogs have actually won their past two trips to Norman (1996 and 2005).

• Georgia running back Knowshon Moreno has been exceptional in the second half. Thanks to a national-best seven second-half runs of 20 yards or more, he's averaging more than 10 yards per carry after halftime. He also has 20 rushing touchdowns in his past 10 games.

• Florida is the only team in the nation that hasn't turned the ball over this season. Going back to last season, the Gators have played five straight games without a turnover.

• Michigan is looking to avoid its first 1-3 start since 1967, two years before the start of the Bo Schembechler era. In the 38 seasons from Bo's arrival in 1969 to 2006, the Wolverines started 1-2 just three times. They've now done it in back-to-back years.
Road Trip: Georgia, Part I
Preview: TCU at Oklahoma
Preview: Alabama at Georgia