The Empires Strike Back?
Before the season began, it said here that Tried and True would be a two-touchdown favorite over Topsy and Turvy, the twins who dominated the 2007 season. The prediction seemed like a sure thing because (a) the odds of unranked teams beating top-five teams 13 times seemed long and (b) specifically, teams such as USC, Oklahoma and Georgia all had a lot of returning starters.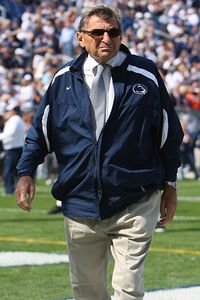 Ned Dishman/Getty Images
Joe Paterno and the Nittany Lions have strolled to a 4-0 start.
As we reach the final weekend of September, the Trojans, Sooners and Bulldogs are a combined 9-0. So far, so brilliant. But three more traditional powers are lending even more credence to the prediction. The problem is, no one on this end of the conversation had any idea that No. 8 Alabama, No. 12 Penn State and still-unranked Nebraska would start off this well.
You remember those three, don't you?
They won or split four of six national championships from 1992-1997. And that doesn't include Penn State's 12-0 team in 1994, They have combined to win 12 AP national titles. And, at various times to varying degrees, they have dropped off the edge of the ranking world in the past several years.
These three schools come to mind not only because they are a combined 11-0. Each school plays a game on Saturday that will gauge just how good it is. The Crimson Tide plays at No. 3 Georgia (ESPN, 7:45 p.m. ET). Penn State opens its Big Ten schedule at home against No. 22 Illinois (ABC, 8 p.m. ET). The Huskers play at home against once-beaten Virginia Tech (ABC, 8 p.m. ET). Win, and the hopes for 2008 will begin to look like reality. Lose, and reality will land like a bucket of cold water to the face.
"These are the kind of games that you should come to a place like the University of Alabama to play in," Crimson Tide coach Nick Saban said Monday, according to a transcript.
Someone asked Saban about the challenge of playing a team coached by Mark Richt.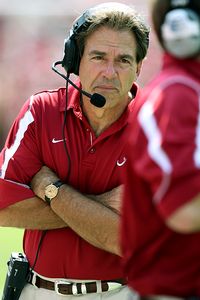 Nelson Chenault/US Presswire
Nick Saban and No. 8 Alabama face No. 3 Georgia on Saturday.
"They are sound and solid in everything they do," Saban said. "They are always physical. They always play with great effort and toughness. They are always going to have great skill players. That has always a been a trademark of his teams. They have good quarterback play and great skill players on offense, a lot of players on defense who play with toughness and can run. They are well-coached, disciplined and are always going to be in the right spot. You are going to have to beat them, and they are not going to beat themselves very much."
That description describes the difference between the Alabama, Penn State and Nebraska teams of recent years and where those three teams would like to be. September is full of champions. Surviving into sweater weather, and then coat weather, make a season worth a memory.
New Nebraska coach Bo Pelini has made the Huskers' defense respectable again. A month ago, that's all Nebraska requested. With a taste of victory, however, comes the craving for more, especially if you used to dine on it every Saturday.
The Penn State offense has scored more points and gained more yards than anyone imagined before the season began. The play of senior quarterback Daryll Clark has left mouths agape from one end of the Happy Valley to the other. Clark leads the Big Ten in passing efficiency (165.6). The running ability of redshirt freshmen Evan Royster and Stephfon Green and an offensive line that has meshed as well as hoped has resulted in a big-play offense. In four games, the Nittany Lions have produced 29 runs or passes of 20 yards or more. In 13 games last season, they had a total of 53.
It is true that Penn State has played no team remotely as skilled as the Illini. That's exactly what makes Saturday so important for the Nittany Lions, the Tide and the Huskers.
Carrying On ... And On ... And On ...
The subject is the day after.
To be specific, the day after 250-pound linebackers use you for target practice; the day after you get knocked down and get back up 30 times or more per game.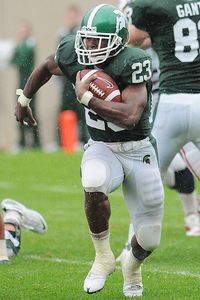 Mark Cunningham/Getty Images
Javon Ringer is averaging 35.8 carries a game for the Spartans.
In an age of spread offenses, when most playcallers consider a pass into the flat the equivalent of a run, Connecticut junior Donald Brown and Michigan State senior Javon Ringer are looking old-school. It's not that they are leading the FBS in rushing, with 179 and 174.8 yards per game, respectively. It's how they are doing it.
Brown has 113 carries in four games, an average of 28.3 per game. But even that pales before Ringer, who has 143 carries in four games, an average of 35.8. By comparison, only one other FBS back has as many as 92 carries this season.
Ringer has been the Big Ten Offensive Player of the Week for three weeks in a row. One week after carrying it 43 times for 282 yards against Florida Atlantic, he rushed for 201 yards on 39 carries against Notre Dame.
More important, he got out of bed on Sunday morning. Whatever aches and pains Ringer had Sunday morning, he kept to himself. Strength coach Ken Mannie said, "I thought he might need some tweaking. He came in Sunday and said, 'Oh, I'm fine. I'm ready to go.' ... You've almost got to interrogate him to find out if anything is bothering him."
If Mannie can't find it out, ESPN.com has no chance.
"No, none," Ringer said. "I'll say I'm just fine."
Brown is not so stoic.
"You know, to be honest with you, it's tough getting out of bed initially," Brown said. "You feel like you got hit by a truck the night before. But the reality is it's not that bad. I'm used to it now. Every football player feels like that the next day. You just get used to it."
Used to what, exactly?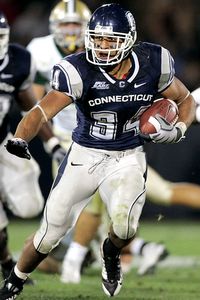 David Butler II/US Presswire
Donald Brown has carried the ball 113 times through four games.
"Waking up in the morning," Brown said, "you have your typical headache and you try to roll over. You're pretty stiff, and you don't realize how many bumps and bruises you have from the night before. Once you get out of bed, your first couple of steps are a little stiff."
Both Brown (5-foot-10, 208 pounds) and Ringer (5-9, 202) deliver blows as often as they receive them. But if you subscribe to the theory that a running back has only so many carries in him, that begs the question of how long they will hold up over the course of the season.
"It's actually hard to take him out of the game," Michigan State running backs coach Dan Enos said. "Nobody envisioned he would have 40 carries a game."
But Enos played quarterback for the Spartans from 1987-90. He was a freshman when Lorenzo White finished a career in which he carried the ball 991 times. White set an NCAA record, since broken, when he rushed 33 times in one half against Indiana in 1987.
"If it's working," Enos said, "you keep giving it to them. Players want the ball in their hands anyway."
Ringer doesn't know how many carries he gets during a game and doesn't care.
"I'm definitely more concerned about what else I can do to produce when the ball is in my hands to win the game," Ringer said.
Added Brown, "If you take care of your body the right way, you train the right way during the offseason, I think you can have as many carries as you want."
No matter how you feel the next morning.
Ivan Maisel is a senior writer for ESPN.com. Send your questions and comments to Ivan at ivan.maisel@espn3.com.
3-Point Stance

Meyer
1. Two years ago, fans and coaches complained about the clock rules that shortened the game. This year, it took four weeks for someone to speak loudly. Florida coach Urban Meyer said, "I'm not a fan of the clock rule. I feel like they are cheating the fans." Meyer didn't point out that the more plays there are, the better chance that talent wins out. Then again, fewer plays or no, the Gators haven't been in a tight game this season.

2. Iowa fired its general counsel and a vice president after finding that they bungled the school's handling of a case of alleged sexual assault against two former Hawkeyes football players. Think about this: When is the last time you remember higher-ups taking the fall in an investigation? Maybe I'm confusing Iowa City with Washington, D.C., but it's refreshing to see blame assessed no matter the job title.

3. Given the starts of Oklahoma and Missouri and the caliber of competition that No. 7 Texas has played, the Longhorns won't get any credit until they play the Sooners and the Tigers on Oct. 11 and Oct. 18, respectively. Ignore the Horns at your peril. Quarterback Colt McCoy has put the mediocrity of last season behind him, and defensive coordinator Will Muschamp is working his magic. As much as Texas has improved, I'm trying to figure out how Mack Brown won 10 games last year.
Fighting On
There are no bigger Ohio State Buckeyes fans in the nation than the ones wearing cardinal and gold and chanting, "Fight On!"

Think about it: Is the USC brand strong enough to withstand the collapse of the Pac-10? It seems that way now, in the wake of the 35-3 defeat of Ohio State. But as the weeks go on, and the memory of the Buckeyes game fades, and the Trojans have the inevitable sloppy week that all college teams have, USC will need evidence that it deserves to play for the national championship. The Pac-10, with only USC in the polls, has fewer ranked teams than both the Mountain West Conference (three) and the Western Athletic Conference (two).
That's why USC needs Ohio State to climb back into the top 10 and steamroll its way to the Big Ten championship. That game may be all the evidence the Trojans have to present.
Finding A Way
Northwestern is 4-0, and spare us the qualifier that the beaten teams are a combined 1-5 against other FBS opponents. The Wildcats are 4-0 for the first time since 1962, when Ara Parseghian coached them. That's also 12 years before current head coach Pat Fitzgerald entered this world.

"They need to let it go and move on," said Fitzgerald, who prefers to keep his team in the dark about this achievement. So does Ryan Fitzgerald, age 2, who turned out the lights that illuminate half the team's indoor practice facility during the Monday workout. They take time to come back on, so the team practiced in the gloaming for several minutes.
The Wildcats have gotten this far on the strength of their defense. In the 16-8 victory over Ohio, the Bobcats ran 72 plays. They had 14 plays end in negative yardage, 17 incompletions, four turnovers and two plays for no gain. On more than half its plays -- 37-of-72 -- Ohio either lost the ball or failed to gain.
Northwestern has 27 tackles for loss in its past two games and 36 so far this season. That's an average of nine per game, compared with 63 tackles for loss last season, an average of 5.3 per game.
Fitzgerald said it's a byproduct of a more aggressive scheme up front installed by veteran defensive coordinator Mike Hankwitz and first-year defensive line coach Marty Long. The line "is probably deeper than we've been since I was playing [1993-96]," Fitzgerald said. "We use a six- , seven-, sometimes eight-man rotation."
Among the starters, junior defensive end Corey Wootton is drawing double teams, and senior tackle John Gill is occupying blockers. Wootton and senior linebacker Malcolm Arrington lead the team with 6½ tackles apiece behind the line.
"The linebackers are making more plays because they are unblocked," said Fitzgerald, a two-time All-American linebacker at Northwestern who made plays pretty much the same way when he helped lead the Purple to Pasadena in 1995.
"We're winning with defense and special teams," Fitzgerald said. "I guess there are some parallels there. There's an attitude around here that we're not very good right now. We've just found a way."
Podcast: Ivan and Beano
Beano Cook joins Ivan in the ESPNU College Football Podcast to discuss Florida State's woes, trouble in the Big East, the state of the Big Ten and more. Listen

Words Of Wonder
Ohio State freshman quarterback Terrelle Pryor started and played most of the game in the Buckeyes' 28-10 defeat of Troy. Fifth-year senior Todd Boeckman, who had started the previous 16 games, didn't get the benefit of a 50-50, or even a 60-40, split of the playing time. He barely played.
Columbus Dispatch columnist Bob Hunter referred to Ohio State head coach Jim Tressel as a master of obfuscation for his explanation. Here it is verbatim:

Tressel
"Going into the game, we knew that we were going to start him [Pryor] as long as the situation wasn't back on our own 3 or something. And we also felt as if there were some things that Todd had been doing better in practice that we wanted to get him in there early for and he went in there for an early one and had to check out of it because the look wasn't right and a little bit later he went in to do something that we had planned for and just didn't execute it, and it was feeling to me like Terrelle was having some rhythm, making some plays with his feet and wanting to get to throw the ball a little bit. And I like to ease guys into those things. I don't like to practice on game days, if you know what I mean, but I thought he did a good job and I just -- like we do all the time, we feel the situation and make decisions accordingly."
Two questions later, Tressel proved he can give a direct answer. Someone asked if Pryor was the new starting quarterback. The questioner meant "from here on out" but didn't say it.
Tressel's reply: "Weren't you at the game?"
Nothing obfuscatory there.