Thanksgiving Weekend Menu
Thanksgiving is my favorite holiday of the year, next to the last Thursday in August, which college football has anointed Opening Day. A proclomation from President Abraham Lincoln set the precedent for the former; Lee Corso, who knew Lincoln, proclaimed the latter.
OK, I made up that bit about Corso. He never proclaimed anything about Opening Day.
But here's the thing about Thanksgiving -- if you don't have a plan, the holiday can overwhelm you. The food, like the college football, arrives Thursday and stays for the weekend. While I can't promise you won't get tired of the turkey and stuffing by Saturday night, I can guide you toward which games can't be missed. Here is the weekend's football menu, arranged by course, if not exactly by clock (all times ET):
APPETIZERS
UCLA at Arizona State
Friday, ESPN2, 9:30 p.m.
Both teams are 4-6, so the winner stays in the running to become the Pac-10's sixth bowl-eligible team. Since UCLA plays USC on Dec. 6, and Arizona State plays Arizona that day, neither team is likely to get there. But still, there is something at stake in this game, other than seventh place in the conference standings.
Miami at NC State
Saturday, ESPN360.com, noon
The Wolfpack (5-6, 3-4) need a win to become bowl-eligible. The Hurricanes (7-4, 4-3) need a win to claim a share of the ACC Coastal. But this is an appetizer because both of these teams have improved so much over the course of this season that by next season they should be making a lot more noise. If you like train wrecks, root for NC State to win and Virginia to beat Virginia Tech. That would mean eight teams in the ACC could finish with 4-4 records in league play.
Baylor at No. 7 Texas Tech
Saturday, 3:30 ET
This game is interesting because Oklahoma can't go to the Big 12 championship game if the Red Raiders lose and Texas wins. That would leave the Longhorns and the Sooners (with a win) in a two-way tie for the South Division. Texas would win that bake-off. Texas Tech should beat Baylor, provided that the Red Raiders are paying attention after they lost their shot at a national championship and, in all likelihood, a BCS berth this past Saturday night. The Bears are good enough to embarrass any team that doesn't take them seriously.
MAIN COURSE
All of the top four teams play their in-state, public-university rivals this weekend. These rivalries share many characteristics: passion, hatred, jealousy, etc. In other words, all the traits that make you get out of bed and put on your favorite sweatshirt, grab a cold beverage and open it with the bottle opener that plays your fight song.
Texas A&M at No. 2 Texas
Thursday, ESPN, 8 p.m.
The Aggies are still in transition, searching for an identity in coach Mike Sherman's return to college football. The Longhorns are fighting mad, angry that their victory over Oklahoma has been devalued and ignored as the Sooners try to go around them to get to the Big 12 championship game. We should see Texas at its best, which means junior quarterback
Colt McCoy
will put on a show that will make Texas A&M fans doze off long before the game is over. If nothing else, the story of how Bevo, the Longhorns' mascot, got his name is worth the time it takes the guys in the booth to tell it.
No. 4 Florida at No. 20 Florida State
Saturday, ABC, 3:30 p.m.
We get all of the rivalry and maybe, just maybe, a competitive game. The Seminoles have the speed on defense to neutralize what is usually one of the Gators' biggest advantages. The inexperience on the Florida State offense should be too big a hurdle for an upset. But given that the game is in Doak Campbell Stadium, where Florida's drive to the 2006 national championship nearly hiccupped against a mediocre Seminole team, an upset is plausible. In reality, Florida State is probably a year away.
Auburn at No. 1 Alabama
Saturday, 3:30 p.m.
The Iron Bowl rarely disappoints as spectacle, as theater and as a punishing but clean recital of the art of smashing one's opponent in the mouth. Again and again and again. Any thought of Alabama looking past Auburn to the SEC championship game disappears as soon as you recall that Auburn has won six straight games in this rivalry. A Tigers offense that couldn't find the red zone with a Garmin will have trouble scoring against the Crimson Tide's underrated unit.
No. 3 Oklahoma at No. 12 Oklahoma State
Saturday, ABC, 8 p.m.
Let's see, Texas and Oklahoma scored 80 points. Texas and Texas Tech scored 72. Texas Tech and Oklahoma State scored 76. And Oklahoma and Texas Tech scored 86. What that means is the Bedlam Game won't be quick and won't be offering any tutorials on defense. There is no room for equivocation. The Sooners must dominate and hope that their momentum will carry them past the Longhorns. The Cowboys have allowed only two teams to score more than 28 points. But past performance might not mean much against the Oklahoma offensive machine.
DESSERT
South Carolina at Clemson
Saturday, ESPN2, noon
The fact that these two teams really don't like each other applies to this game, because some clichés are actually true.
Kansas at No. 13 Missouri
Saturday, 12:30 p.m.
Even without last season's hype, the game between the Jayhawks and the Tigers would be emotional. It has been for more than 100 years.
Notre Dame at No. 5 USC
Saturday, ESPN, 8 p.m.
An Irish victory would be a bigger upset than Stanford's shocker over the Trojans in 2007. Not as measured by the Las Vegas point spread, mind you. But given what USC still can achieve, and given that Irish immolation this past Saturday and, finally, given that the Irish have to carry that embarrassment across the country on a holiday weekend, the game's outcome is not at stake. Enjoy the spectacle.
BETTER-THE-NEXT-DAY LEFTOVERS
Mississippi State at Ole Miss
Friday, ESPN360.com, 12:30 p.m.
The Egg Bowl. It's not a smart idea to name a rivalry after food when your centerpiece meal of the weekend will pack a 5,000-calorie wallop (at least it does at Mom's house). But this rivalry becomes more relevant every year.
No. 22 Georgia Tech at No. 11 Georgia
Saturday, noon
Two wannabes bidding to be taken seriously. Georgia, the preseason No. 1, got overcome by injuries and the weight of the rankings on its shoulder pads. Georgia Tech seemed to be a year away, if coach Paul Johnson could prove that his option football could win in the ACC circa 2008. To quote Rachel Maddow, "Duh."
No. 23 Oregon at No. 17 Oregon State
Saturday, 7 p.m.
This is what a rivalry should have at stake: not just bragging rights, not just a Jan. 1 bowl berth, not just the Granddaddy Of Them All, but the Beavers' first trip to Pasadena since 1965. And the Ducks can take that all away just by winning the game. Calling this rivalry the Civil War is politically incorrect. And military terms are used in football way too much. But for the love of Rece Davis, let it go.
Garden Party
Georgia will dedicate a walk-through garden to former coach and athletic director Vince Dooley on Saturday. The garden will feature a sculpture of Dooley on the shoulders of his players after they won the 1980 national championship and will serve as a focal point for the Vince Dooley Athletic Complex.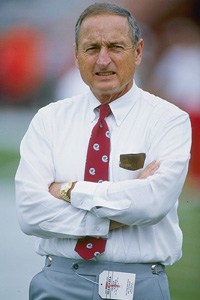 Allen Dean Steele/Getty Images
Vince Dooley coached Georgia to a 201-77-10 record, winning six SEC titles and one national title from 1964 to 1988.
That's what the university will call the physical plant that encompasses virtually all things athletic for the Bulldogs. It's a well-deserved and overdue tribute for the man who arrived as coach in 1964 and retired as athletic director 40 years later.
But, come on, a garden?
Yes, a garden. The fact is, Dooley has become so interested in horticulture in recent years that he helped design the garden that will house his sculpture. It's another piece of a man who not only won 201 games and is a member of the College Football Hall of Fame, but also holds a master's degree in history.
"The great thing about being at a university," Dooley said Monday, "is that if you get a curiosity about anything, you can satisfy it. You really can. There's an expert on everything. I have taken a lot of courses, leadership courses, about war, the Civil War in particular. I took some political science courses, which I enjoyed.
"I've always been interested in horticulture. All I intended to do was take a survey course. But a great teacher inspires his students."
In Dooley's case, professors Michael Dirr and Allan Armitrage led him to a passion he didn't know he had. Since taking that introductory course a decade ago, Dooley has traveled twice to England and once to Belgium to see gardens and attend a conference on hydrangeas (no word on whether he won the conference championship).
"It's been good for the body. It's been good for the mind, and it's been good for the soul," Dooley said.
Dooley's son Derek, who has done a masterful job of coaching a rebuilding Louisiana Tech team to a 7-4 record and no worse than a second-place tie in the Western Athletic Conference, said his family has shared in his father's passion, whether they at first wanted to or not. You see, Vince Dooley is known throughout every generation of his family for cooking up "projects" when the family assembles at its lake house.
"I'm 40. My brother is 45," Derek Dooley told me earlier this season. "It would be our fifth hour of pulling weeds. We'll look at each other and ask, 'At what age do you tell your dad you're not doing this anymore?'"
Whatever that age, Derek said, "We haven't gotten there yet."
Ivan Maisel is a senior writer for ESPN.com. Send your questions and comments to Ivan at ivan.maisel@espn3.com.
3-Point Stance

1. It's a nice story, Bill Snyder returning to Kansas State. But Wildcats fans should be careful what they wish for. They might assume they're getting the coach who built K-State into a national power. But they could get the coach who seemed stale as he went 9-13 in 2004-05. Yeah, I know -- Joe Paterno just won a Big Ten title. But something tells me Snyder is not the answer. Maybe it's how John Robinson and Johnny Majors flamed out when they returned to USC and Pittsburgh, respectively.

2. Several Florida State fans objected to my item about safety Myron Rolle and former UCLA center Chris Joseph winning Rhodes Scholarships over the weekend. And they're right. I didn't intend to suggest that Rolle had asked for the publicity that surrounded his quest to become a Rhodes Scholar. I meant to say only that Joseph had asked not to be publicized. I'd run stadium stairs if I had a stadium.

3. The BCS overvalued Big Ten champion Ohio State in each of the past two seasons. The Buckeyes did not play as well as their standing in the BCS. But this season, Penn State is paying the price. The Nittany Lions are undervalued this season, stuck at No. 8 in the BCS standings. For whatever reason, that 45-14 victory over could-be Pac-10 co-champ Oregon State hasn't made a dent in the computer ratings or with the voters.
Podcast: Ivan and Beano
Beano Cook joins Ivan in the ESPNU College Football Podcast this week. Both are thankful about the importance of the big rivalry games on this Thanksgiving weekend.Listen

Common Bond

Texas and North Carolina might have more in common than employing Mack Brown. Or it might be that Texas and Boston College have something in common. Those schools could share the honor of having beaten both division champions in their respective leagues.
Here's how that would work:
If Oklahoma defeats Oklahoma State, hops over the Longhorns in the BCS and is declared the Big 12 South champion, Texas will have beaten the Sooners and Missouri, the North Division winner.
In the ACC, the Tar Heels have beaten both Boston College and Georgia Tech. The Eagles will win the Atlantic if they beat Maryland, and the Yellow Jackets will win the Coastal if Virginia defeats Virginia Tech.
Boston College has defeated Florida State and Virginia Tech. The Seminoles will win the Atlantic if the Eagles lose Saturday, and the Hokies will take the Coastal if they beat the Cavaliers.
Spotlight: Weekend preview
Forget Me Nots
With award finalists being announced every five minutes this week, success clouds our vision. Some of the best players are not recognized because they play on teams that have faltered.
As this season winds down, here are 10 top players from losing teams. And sorry, players from 5-6 teams aren't here. They might salvage bowl-qualifying records yet.

1. Eric Berry
Tennessee
Safety
In the 20-10 defeat of Vanderbilt on Saturday, Berry returned an interception 45 yards for a touchdown and played quarterback in a "Wildcat" package for the 4-7 Vols, his first time behind center since he played at Creekside High in Fairburn, Ga. Berry leads the nation with seven picks. If anyone has any questions, listen to defensive coordinator John Chavis, who said, "I think he's the best defensive player in the country."

2. Michael Tauiliili
Duke
Linebacker
If the four-year starter hasn't been the best defensive player in the ACC this season, he's on the short list. At 5-foot-11, 235 pounds, he never fit the mold recruiters try to fill. Yet Tauiliili leads the ACC with 120 tackles, 10 more than anyone else in the conference, for the 4-7 Blue Devils.

3. Arrelious Benn
Illinois
Wide receiver
In a disappointing 5-7 season, the sophomore blossomed into the field-stretching threat the Illini needed. Benn caught 67 passes for 1,055 yards, the latter number leading the Big Ten. His average gain of 15.75 yards per reception is more than 3 yards per catch better than his 2007 stat.

4. Julian Edelman
Kent State
Quarterback
The senior has rushed for 1,203 yards, best among the nation's quarterbacks, and 13 touchdowns, and he has thrown for 1,706 yards and 12 scores for the 3-8 Golden Flashes.

5. Joe Burnett
UCF
Cornerback
The senior, an All-Conference USA player last season, has played well again in 2008. He is second in the conference with 14 passes defended. He does pretty well with the ball in his hands, too. Burnett leads C-USA in kickoff returns (29.87 yards per return) and punt returns (14.54 yards). Burnett has taken two kickoffs for scores this season for the 4-7 Knights.

6. Jammie KirlewIndiana
Defensive end
Kirlew finished second in the Big Ten in sacks (10.5) and tackles for loss (19.5) as his team went 3-9. That sounds a lot like …

7. Brandon GrahamMichigan
Defensive end
He led the conference with 20 tackles for loss and finished third in sacks (10) as his team went 3-9, too. Given the outstanding season Penn State's Aaron Maybin had, Graham didn't make the first-team All-Big Ten team announced Monday night. That's how it goes when your team wins three games.

8. Chase Holbrook
New Mexico State
Quarterback
The Aggies began the season 3-2 and have lost six straight. Yet this senior is 20th in the nation in passing efficiency (145.03 -- he has completed 284 of 420 passes, a .676 completion percentage, for 3,198 yards, 25 touchdowns and 13 interceptions), ahead of such stars as
Daryll Clark
of Penn State,
Todd Reesing
of Kansas and
Dan LeFevour
of Central Michigan.

9. Rodney Ferguson
New Mexico
Tailback
This senior rushed for 1,105 yards and 13 touchdowns for the 4-8 Lobos. In three seasons, Ferguson has rushed for 3,564 yards and 34 scores. That's dependability personified.

10. Derek Epperson
Baylor
Punter
Five of the top 10 punters play for losing teams (they get a lot of practice, right?). Epperson, a sophomore who averages 44.31 yards per attempt, gets the edge over the other four because he kicks outdoors (three of them don't) and the Bears, 4-7, finished seventh in net punting (43.4-yard average).