Home is where the heart is? Not this season
Home Unsweet Home
By Ivan Maisel, ESPN.com
Strategy goes in and out of fashion, just like hair length, tattoos and helmet designs. The pass used to be viewed with disdain, and the punt used to be a weapon, not an admission of offensive failure.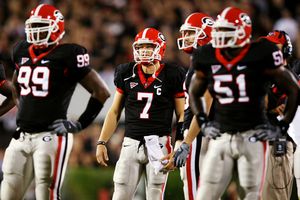 Doug Benc/Getty Images
Georgia was dressed in black at home but was probably better off in road unis.
Through the history of the game, however, the home field always provided an advantage. Oddsmakers said three points, and that always sounded low.
But after Saturday, even the sanctity of the home field is in question. With September in the record books, the national championship race and several conference races look a lot different than they did on Friday. Five ranked teams -- No. 3 Georgia, No. 4 Florida, No. 16 Wake Forest, No. 20 Clemson and No. 23 East Carolina -- all lost in their own stadiums Saturday. Nebraska and Miami, two teams on the fringe of the rankings, also lost at home, the Hurricanes by blowing a 10-point lead in the fourth quarter.
There may be no place like home. Just don't make me play a game there.
"College football is crazy right now," Penn State wide receiver Derrick Williams said Saturday night.
Many of the Nittany Lions gathered at quarterback Daryll Clark's apartment Thursday night and watched No. 1 USC lose 27-21 at Oregon State, a team that Penn State beat earlier this month by 31 points. The lesson hit the 12th-ranked Nittany Lions smack upon their collective forehead. They responded with a solid victory.
Even as Williams emphasized that the Nittany Lions aren't looking beyond the next Saturday, he said his team is thinking about winning the national championship.
"If we're not thinking about that right now, we shouldn't be playing," Williams said.
Oklahoma defensive back Brian Jackson hewed closer to conventional wisdom after the No. 2 Sooners smoked No. 24 TCU 35-10.
"No. 1 is just a number," Jackson said, according to the OU website. "Coach [Bob] Stoops never discusses rankings, so it is never on our minds going into a game. Our main focus is one team each week."
Among the ranked teams losing at home, only Georgia lost to a ranked team. On the other hand, the Bulldogs took the biggest beating. No. 8 Alabama thrust itself into the national championship picture with its 41-30 victory. The Crimson Tide had been seen as being at a disadvantage this season because they had to play at Georgia, at Tennessee and at LSU.
Maybe Alabama is onto something. Its toughest games aren't at home.
Some Things Never Change
By Chris Low, ESPN.com
ATHENS, Ga. -- It was vintage Nick Saban.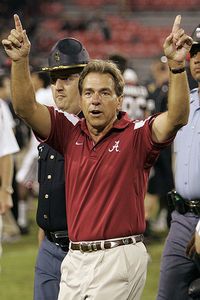 AP Photo/John Bazemore
This was probably the closest thing to a smile for Nick Saban.
He'd just won his biggest game, his highest-profile game since coming to Alabama, and he was, well ... peeved. And that's saying it nicely.
As flawlessly as Alabama played in the first half Saturday in taking apart No. 3-ranked Georgia, the Crimson Tide didn't come close to finishing the 41-30 win the way Saban would have liked.
So there he was in his postgame press conference, grim-faced and his voice rising with each question about where Alabama should be ranked, how far ahead the Tide is in Saban's rebuilding project and how good this team really is.
"We got beat out there in the second half 30-10 or whatever," Saban lamented. "That's not how we want to play. That's not how we play a game. That's not how we should play a game, and we should not be happy about playing that way in the second half. I hope we learned from that. I hope our players learned, 'What did I do when I played well? And what happened when I didn't play well?'
"That, my friends, will be the answer to why you're successful and why you aren't. I know everybody is going to be all over me in the press about what I'm saying now, but I'm being honest."
That's why his players swear by him, even though their ears were ringing right after the game by a little swearing from Saban.
To read the rest of Chris Low's story, click here.
Sooner D Sets Tone
By Tim Griffin, ESPN.com
NORMAN, Okla. -- A hustling Lendy Holmes was determined not to let Aaron Brown score. Even after spotting the TCU kick returner a 10-yard edge in a foot race to the end zone.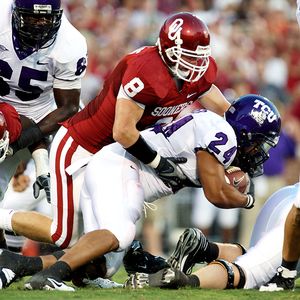 Matthew Emmons/US Presswire
Oklahoma's defense has been just as potent as its offense.
"The only thing I was thinking was that I had to get him; I wasn't going to let him beat me down the field," Holmes said. "He wasn't going to get there faster than me."
After stopping Brown at Oklahoma's 15-yard line, Holmes' resolve carried over to his defensive mates on the ensuing possession. They limited TCU to minus-4 yards on the next three plays -- TCU's first offensive possession -- and held the Horned Frogs to a field goal. That determination set the tone for a strong effort that helped fuel the Sooners' 35-10 victory.
"He gives up there and lets that guy score, who knows? It could have been a different ball game," Oklahoma defensive coordinator Brent Venables said. "It was a great teaching tool for our football team on why you don't give up. And it carried over to our team the rest of the night."
The Sooners allowed TCU only one touchdown, twice turning the Horned Frogs away inside Oklahoma's own 11-yard-line. The Sooners' opportunistic defense contributed four turnovers, two fourth-down stops that forced possession changes on their side of the 50 and three sacks.
In the process, they snuffed out TCU's running game, limiting the Horned Frogs to only 102 yards in their worst rushing effort of the season.
To read the rest of Tim Griffin's story, click here.
Living With Regret
By Adam Rittenberg, ESPN.com
ANN ARBOR, Mich. -- A 2-point conversion attempt with 13 seconds left on the clock encapsulated the type of day Wisconsin had.
Opportunity presented. Opportunity lost.
And the Badgers could only blame themselves.
After wide receiver David Gilreath atoned for several dropped passes with an acrobatic touchdown grab, Wisconsin tried to tie the score at 27. The Badgers succeeded. And then they didn't.
All-American tight end Travis Beckum, a player the Badgers hoped to hold out of the game because of a lingering hamstring injury, hauled in the conversion from Allan Evridge. But officials flagged Wisconsin for having an ineligible man downfield. Beckum should have lined up off the line scrimmage rather than next to another tight end, Mickey Turner.
"It was improper alignment on our part, which was kind of the story for us all day," head coach Bret Bielema said. "We missed opportunities on our end."
Most of those opportunities took place in the first half, when the Badgers had chances to bury Michigan.
To read the rest of Adam Rittenberg's story, click here.
What's Clemson's Problem?
By Heather Dinich, ESPN.com
CLEMSON, S.C. -- They started to leave before the game was over, a steady stream of downtrodden fans who trudged up the very same hill the Clemson players had stood on before the game, beating their chests wildly.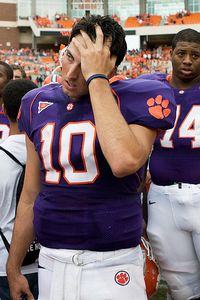 Rex Brown/Getty Images
Clemson hasn't come close to living up to preseason expectations.
Now, the Tigers can join their fans in that uphill climb. That is, if the fans are still with them.
The secret has been out now for five weeks: Clemson is not the No. 9-ranked team many thought it was heading into the preseason. The expectations were too high, and those within the program will admit it. The one team shouldering an entire conference's hopes of having a member win the big games on the national stage already has two losses, and it's not even October.
But Clemson, with all of its talented playmakers, is still capable of more than it has shown -- even with a depleted offensive line -- and the Tigers' 20-17 loss is just the latest evidence of the program's ability to underachieve.
Clemson coach Tommy Bowden said it wasn't what Maryland did. Running back James Davis said it's not a question of talent. And offensive coordinator Rob Spence said it wasn't for a lack of effort. Quarterback Cullen Harper said it wasn't the game plan.
Then what, on Earth, is the problem with Clemson?
To read the rest of Heather Dinich's story, click here.
Maturation Process
By Graham Watson, ESPN.com
SOUTH BEND, Ind. -- For the first time this season, Notre Dame quarterback Jimmy Clausen had a perfect game.
Brian Spurlock-US Presswire
Jimmy Clausen threw for a career-high 275 yards against Purdue.
OK, he didn't complete every pass or lead the Irish to a score on every possession, but he did make it through a game without an interception. And for a young quarterback who has thrown two in every other game this season, throwing none is huge progress.
But more than that, Clausen managed the game.
After a shaky first quarter, Clausen got the offense moving. He made precise throws that only his receivers could catch, and when crunch time came and the game could have gone either way, Clausen drove his team up and down the field to give it a commanding lead.
"I thought he grew up a lot," receiver David Grimes said of Clausen. "He was making some calls at the line of scrimmage that Brady [Quinn] used to make. He grew up a lot today."
Clausen completed 57 percent of his passes for a career-high 275 yards and tied a career-high with three touchdown passes. Clausen, who has been oft-criticized for inconsistent play, said once the offense got into a rhythm he started feeling comfortable in his game.
"Yeah, I played good out there," Clausen said. "I felt comfortable. I was reading the coverages pretty good. I felt like I knew what to do coming into the game, and the coaches helped me and got me ready to go."
To read the rest of Graham Watson's story, click here.
Three Weekend Observations
By Ivan Maisel, ESPN.com

1.
October begins with 18 undefeated teams. Vanderbilt and Northwestern are among them. USC and Georgia are not. The Big 12 has five unbeatens, all 4-0, but don't get too excited. The teams with losses have exactly one victory against a team from an automatic-bid conference among them. TCU, which is 4-1 after its 35-10 loss at No. 2 Oklahoma, has beaten Stanford.

2.
The calendar says that USC is not out of the race for No. 1. But if I'm a Trojan fan, I'm worried that my team doesn't take the little guys seriously. USC lost to Stanford lost year. It lost at Oregon State in 2006 and again last week. And what about the four personal-foul penalties the Trojan defense incurred against the Beavers? One kept alive an Oregon State drive that ended in a touchdown. That's a lack of discipline, pure and simple, and lands at the feet of coach Pete Carroll.

3.
The Big Ten might not have any great teams -- Penn State? Ohio State? Michigan State? -- but it's going to have an interesting race. Look at the teams that lost Saturday. Iowa gave up a fourth-quarter lead for the second straight week. Wisconsin is a solid team that fell apart on the road. Illinois has an offense that no team looks forward to facing. The Big Ten race is going to be two months of turmoil. Can't wait to see it.
GameDay Crew Recap
GameDay Crew Final Thoughts
RECE DAVIS

Michigan's problems aren't gone overnight, but every new regime needs a galvanizing moment it can look back on and say that's where it started ... and the Wolverines got theirs in that epic rally against Wisconsin. Sure, Rich Rodriguez had the big money, the big office and the title of head coach. But Saturday the Michigan Wolverines truly became his team.
Helmet Stickers Go To:
• QB
John Parker Wilson
, Alabama
13-16, 205 yards, TD, 0 TO vs. Georgia
• QB
Chase Clement
/WR
Jarett Dillard
, Rice
Became most productive QB-WR tandem in FBS history
---
LOU HOLTZ

I think Penn State is the team to beat in the Big Ten because the Nittany Lions are so balanced. The skill position players are excellent; the special teams are excellent. And then look at the skill on that defense. Joe Paterno's teams know how to win. They don't beat themselves and they don't do foolish things and commit foolish penalties.
Helmet Stickers Go To:
• QB
Jevan Snead
, Mississippi
185 total yards, 3 total TDs vs. Florida
• DE Brandon Graham, Michigan
3 sacks, 2 forced fumbles vs. Wisconsin
---
MARK MAY

If you dominate a game up front, you're going to win that game nine times out of 10. Alabama dominated the line of scrimmage, committed just one penalty, didn't turn the ball over and played smart and played hard. That's how you beat the nation's third-ranked team on the road.
Helmet Stickers Go To:
• S Trimane Goddard, UNC
2 INTs in final minute, 8 tackles vs. Miami
• WR/KR
Derrick Williams
, Penn State
241 all-purpose yards, 3 TDs (rush, rec, KO) vs. Illinois
Blog Network: Helmet Stickers
Every week our bloggers will hand out helmet stickers to the week's top players, coaches, teams or anything else worth this honor.
Highlights: Alabama-Georgia
Blog Network: What We Learned

The ACC's fall to mediocrity is now complete for 2008, but Virginia is just bad.
ACC

Texas' defense finally is playing up to Will Muschamp's standards, and the J-Train is back.
Big 12

South Florida can play a complete game, and the West Virginia offense isn't dead.
Big East

Penn State is the league's best team, but don't count out Michigan.
Big Ten

We learned that USC can't take anything for granted, that Oregon and California might still be relevant and that Washington and Washington State are not.
Pac-10

Nick Saban said it best: If you get ahead of yourself in this league, then you're not real smart.
SEC

Non-BCS:
East Carolina still has a hangover, and Ball State and Tulsa are looking for respect.
Around the nation
Highlights: Illinois-Penn State
Dynamic Duo
By Brett Edgerton, ESPN.com
Montana-Rice. Marino-Clayton. Manning-Harrison. Clement-Dillard? Hey, why not? On Saturday, Rice QB Chase Clement and WR Jarett Dillard -- two woefully underrecruited kids from San Antonio who went to the only FBS school that offered them a scholarship -- became the most prolific QB-WR tandem in major college football history. In the Owls' 77-20 win over North Texas (the most points scored by Rice since 1916), Clement and Dillard connected for three TD in the team's 56-point first half, upping the duo's career TD total to an FBS-record 41.
Highlights: Ole Miss-Florida
Fun With Standings
By Brett Edgerton, ESPN.com
Of the 13 remaining unbeatens in the BCS conference, a whopping nine are from the Big 12 (five) and SEC (four). Penn State, Northwestern, South Florida and Connecticut are the others. There are no unbeatens left in the ACC or Pac-10. ... Vanderbilt and Kentucky are the only teams in the SEC East that haven't lost a league game. Former East overlords Steve Spurrier and Phillip Fulmer lead the only teams that haven't won one. Let that sink in for a minute. ... Speaking of the SEC, the West met the East three times Saturday. In those games, Auburn beat Tennessee while Ole Miss (at Florida) and Alabama (at Georgia) beat a pair of Top 5 teams on the road.