Are the early-season results an indication of things to come?
Nobody Is Safe … Again
By Mark Schlabach, ESPN.com
Is this 2007 all over again?
The first two weeks of the 2009 college football season looked a lot like two years ago, when ranked teams seemed as safe as Virginia coach Al Groh's job.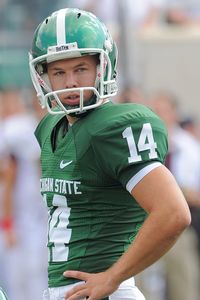 Mark Cunningham/Getty Images
Michigan State could not believe what it saw Saturday against Central Michigan.
The 2007 season opened with defending FCS national champion Appalachian State shocking Michigan 34-32 in the Big House. Over the next 14 weeks, the country's No. 2-ranked team would lose six times. Nontraditional powers such as Boston College, California and South Florida briefly climbed to the sport's penthouse, and Stanford -- a 41-point underdog -- shocked USC at the Coliseum.
In the end, LSU climbed from No. 7 to No. 2 in the BCS standings in the span of a week because everybody in front of the Tigers kept losing. LSU became the first BCS national champion with two losses.
After two weeks of games this season, it seems like we're headed toward that same craziness. In Week 1, BYU upset No. 3 Oklahoma and Boise State ran over Oregon on its blue turf. A pair of ACC teams lost to FCS opponents, and Ohio State narrowly avoided a stunning loss to Navy at home.
Then came Saturday.
Oklahoma State, which looked so impressive in its opening 24-14 victory over Georgia, lost to Houston 45-35 at home. The Cowboys, who were ranked in the top five of The Associated Press Top 25 poll for the first time since 1985, lost after the Cougars scored a touchdown on a batted pass in the end zone and returned an interception for a score on another tipped ball. Houston beat a top-five foe for the first time since 1984.
Florida State, which looked so impressive in its 38-34 loss to Miami on Monday night, narrowly avoided the most embarrassing loss of coach Bobby Bowden's storied tenure. The Seminoles trailed FCS opponent Jacksonville (Ala.) State for 38 minutes before scoring two touchdowns in the final 35 seconds of a 19-9 win. The Seminoles missed two extra points and a field goal and fumbled five times.
"Who won that darn game?" Bowden asked reporters afterward. "I feel lucky to have won that one. I never played a ballgame in my life where so many things went wrong."
Michigan State's players were feeling the same way after losing to Central Michigan 29-27. The Spartans had a 27-20 lead in the final minute until Chippewas quarterback Dan LeFevour threw an 11-yard touchdown pass to Paris Cotton with 32 seconds to play. The Chips tried to take the lead with a two-point conversion, but LeFevour's pass was incomplete.
But Central Michigan recovered the ensuing onside kick, then lined up for a 47-yard field goal with eight seconds to go. Andrew Aguila missed the kick, but the Spartans were penalized for being offsides. Aguila drilled a 42-yard field goal to give the Chippewas an improbable victory.
"When we came up short on the two-point conversion, the belief didn't stop on the sideline," Central Michigan coach Butch Jones told reporters in East Lansing, Mich. "We knew that if we could get to the fourth quarter that anything could happen. Everyone on our bench believed we still had a chance."
Nowadays, every college football team has to believe it has a chance against anyone.
UCLA's New Chapter
By Gene Wojciechowski, ESPN.com
KNOXVILLE, Tenn. -- Old Tennessee coach, new Tennessee coach; doesn't matter. UCLA's Rick Neuheisel is happy to ruin the day of whoever is overseeing the Vols' program.
Last year it was an opening-game upset at the Rose Bowl that began the Neuheisel era at Westwood -- and began the end of the Phillip Fulmer era at Tennessee. And this year at Neyland Stadium, it was a 19-15 upset of the Vols, coached now by former USC assistant Lane Kiffin.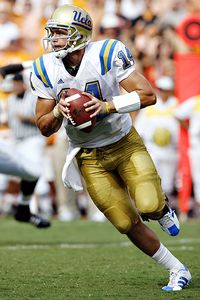 Joe Murphy/Getty Images
Kevin Prince threw the game's lone touchdown pass.
"I'm very, very pleased with the resiliency of our football team," Neuheisel said.
He should be. Bruins redshirt freshman quarterback Kevin Prince took a beating, but still threw the only touchdown pass of the game. And he did it in front of 102,239 fans, almost all of them wearing orange.
The Bruins fumbled six times, but recovered five of them. Prince didn't throw an interception. And the UCLA defense, exhausted by the end of the game, gulped enough air during a UT injury timeout to stop the Vols from scoring on a third-and-goal from the UCLA 3, and again on fourth-and-goal from the UCLA 2.
Now the Bruins are 2-0 and play Kansas State on Saturday night at the Rose Bowl. Tennessee, only a week removed from a 56-point win against Western Kentucky, gets to visit No. 1-ranked Florida, where hardly anyone remembers that Kiffin said some not-so-nice things about Gators coach Urban Meyer.
"I told the team before the game: The world is against us," said UCLA safety Rahim Moore. "We've got all of our fans [in California] and we're up against their fans. Our job is to keep them quiet."
Didn't work. UT fans were too busy booing the Vols' offense (208 total yards a week after putting up 657; three Jonathan Crompton interceptions, three sacks given up, 4-of-16 on third-down attempts) to keep quiet.
"That's embarrassing," said Kiffin of the Vols' yardage totals.
Last season, UCLA followed its upset victory against Tennessee with a 59-0 loss to BYU. The Bruins finished the year 4-8.
"We're hungry," Moore said. "By us going through what we went through last year, it was tough. It was a long offseason of having people not believe in us. We are trying to come out every day and every weekend to prove to the world that UCLA is who UCLA is."
If the world needs references, simply call Tennessee.
A Season Saver
By Chris Low, ESPN.com
ATHENS, Ga. -- As Georgia's Mark Richt was dissecting his club's thrill-a-minute 41-37 win over South Carolina late Saturday night, a cell phone rang during the middle of his news conference.
"Whoever's phone that is, that's a $500 fine," barked Richt, wearing a sheepish smile.
Kevin C. Cox/Getty Images
Joe Cox threw for 201 yards and two touchdowns despite playing through an injury.
It rang again, and he reached down in his pocket only to admit that it was actually his cell phone ringing. He even answered it and politely told the person on the other end that he was in the middle of a news conference.
There's nothing like bringing a little levity to the situation after what had clearly been a trying week for the Bulldogs -- and a trying game.
Nobody inside the Georgia locker room wanted to think about what the rest of this month would have been like (or the rest of the season, for that matter) had the Bulldogs not survived Saturday night in Sanford Stadium and avoided an 0-2 start.
"There were a lot of teams that would have crumbled after what happened last week to us," Georgia senior quarterback Joe Cox said. "We've got a group of guys that just weren't going to let it happen. We'd worked too hard not to play well and not to make the plays we needed.
"We know people are going to mess up in games, but we've got to play harder than we did last week. We've got to play more together and we need to help each other out. The offense needs to help the defense out, and the defense needs to help the offense out. Today was a pretty good example of that."
To read the rest of Chris Low's story, click here.
Expectations Too Much For Cowboys
By Tim Griffin, ESPN.com
STILLWATER, Okla. -- So much for the displays of national sports magazines that highlighted Oklahoma State's quick ascent into the national title hunt after only one week this season.
Five Too High
Maybe Oklahoma State should stay out of the top five. Saturday marked the third consecutive time the Cowboys lost after reaching the top five in the polls. Only once has Oklahoma State won as a top-five team, defeating Iowa State in 1984 before losing the next week to Oklahoma.

Meanwhile, Houston ended an 11-game losing streak against top-five teams, dating back to 1984.
-- ESPN Stats & Information
Coming into stores across Stillwater earlier Saturday, fans were buying anything that had a Cowboy on it in a moment of exultation and pride for the long-suffering program.
The national attention -- along with the top-five national ranking after last week's convincing victory over Georgia -- was hopefully going to mark this season as different. So different than all those previous long years in the football wilderness.
But all that excitement was punctured a few hours later after the kind of loss that has typified Oklahoma State so often during its football history.
On a dank, gloomy day that matched coach Mike Gundy's postgame attitude, Houston claimed a 45-35 victory that will cease most of the early buzz about Oklahoma State.
"Now they get to see the other side of it," Gundy said. "Everybody's been telling them how they've been and how good they are. They're going to see the other side of it."
Oklahoma State has been ranked in the top five of The Associated Press poll five times previously. Four of those times, the Cowboys lost their next game to fall out of the high ranking. In the other instance, they lost after two weeks.
Excitement after the season-opening triumph over Georgia and all the resulting media attention would be an easy rationalization for Gundy. But he wasn't buying any of it.
"I don't believe in the SI jinx, and I don't believe in being ranked really high and everybody telling them they are good and then not preparing," Gundy said. "I thought this team prepared well. I was disappointed that we made mistakes and turned it over. And I think Houston played a good football game."
To read the rest of Tim Griffin's story, click here.
Big Ten Still Has Critics
By David Bearman, ESPN Stats & Information
The early slate of games did nothing to mollify the Big Ten's critics. Four schools hosted teams from non-automatic qualifying conferences, and the largest margin of victory in those games was four points. Penn State was the lone bright spot, beating up on Big East doormat Syracuse.
Big Ten vs. Non-AQ
Team
Opponent
Result
Indiana
Western Michigan
Won by 4
Michigan State
Central Michigan
Lost by 2
Northwestern
Eastern Michigan
Won by 3
Wisconsin
Fresno State
Won by 3 (2OT)
All four played at home
Michigan took center stage midafternoon, pulling off an upset versus rival Notre Dame and positioning itself for a return to its former glory. It's the Wolverines' biggest win in the brief Rich Rodriguez era. Freshman QB
Tate Forcier
, who threw the game-winning TD pass with 11 seconds left, said after the game he never felt the pressure in front of more than 100,000 fans.
Ohio State took the national stage in prime time. The Buckeyes have been the face of the conference of late, having won a share of the past four conference crowns. The team was one defensive stop away from erasing the ghosts of two BCS title-game blowouts and redemption from last year's 31-point loss to USC; one drive away from restoring the pride in the Big Ten. Ultimately, though, USC pulled off the win. Breaking it down by the numbers:
• seventh consecutive loss to USC (most consecutive losses vs single opponent)
• sixth straight loss vs. top-five team
Now the Big Ten's national title hopes are squarely with JoePa and the Penn State Nittany Lions, a team that lost to Iowa at home last year to end its title run.
Three Weekend Observations
By Ivan Maisel, ESPN.com

McKnight
1.
Yes, USC has a "stable" of running backs, and head coach Pete Carroll's philosophy appears to be that the backs are all so good that each has to make room for the others. But watching
Joe McKnight
get the ball for 54 yards (five rushes, one reception) on the final, game-winning drive against Ohio State makes you wonder what he could do if the Trojans gave him 25 touches per game. He had 18 for 105 yards against the Buckeyes.

Weis
2.
Notre Dame may emerge from its heartbreaking loss at Michigan and fall on its face. But it's hard to believe anyone watching the Fighting Irish on Saturday would use that game as evidence that Weis is leading Notre Dame in the wrong direction. The Irish gained 490 yards of total offense. Twice they overcame 11-point deficits to take the lead. There's a spark there. Let's see if the Irish turn it into something hotter.

3.
Futility, thy name is the Miami RedHawks. Under the new head coach, former Notre Dame offensive coordinator Mike Haywood, Miami has two losses by a combined score of 90-0. Senior quarterback
Daniel Raudabaugh
, if his stats are any indication (34-69-4, 282 yards, 4.1 yards per attempt), isn't comfortable in Haywood's offense. The RedHawks, already minus-five in turnover margin, don't play their first home game until Oct. 3. That's against defending Big East champ Cincinnati.
GameDay Crew Recap
GameDay Crew Final Thoughts
RECE DAVIS

Keenum
I know football is a team sport, but if you don't have a good quarterback, you're not going to win at a high level.
Case Keenum
and
Dan LeFevour
both gave their teams chances to win, and they did, on the road. Michigan didn't have one last year; now they do. USC appears to have a special one, and UCLA appears to, as well.
Helmet Stickers Go To:
• QB
Tate Forcier
, Michigan
310 total yards, 3 total TDs in 38-34 win vs. Notre Dame
• LB Nate Triplett, Minnesota
17 tackles, 52-yard fumble return TD in 20-13 win vs. Air Force
---
LOU HOLTZ

Moore
Coming into this week, there weren't many matchups that stood out. But the games wound up being tremendous. There were lots of great performances, great finishes and shocking upsets. That is why college football is so great.
Helmet Stickers Go To:
• FS Rahim Moore, UCLA
6 tackles, 2 interceptions in 19-15 win at Tennessee
• QB
Dan LeFevour
, Central Michigan
33-46, 328 pass yards, 3 TDs in 29-27 win at Michigan State
---
MARK MAY

It was gut-check time in the Horseshoe for USC and they stepped up to the challenge. That is what great teams do. This is why they win all those conference titles and make all those BCS games, because of games and moments like this.
Helmet Stickers Go To:
• QB
Case Keenum
, Houston
32-46, 366 pass yards, 4 total TDs in 45-35 win at Oklahoma State
• USC offensive line
Led 14-play, 86-yard TD drive to win game
Highlights: USC-Ohio State
Blog Network: What We Learned

It wasn't a very revealing week in the ACC, but the conference did pick up some wins.
ACC

Losses by Colorado, Iowa State, Kansas State and Oklahoma State and a near-defeat for Missouri stamped this as a disappointing weekend for the Big 12.
Big 12

West Virginia can be as good as it wants, Pitt can be explosive, and UConn is at a crossroads.
Big East

Maybe the Big Ten isn't that bad. Michigan is back, and a new group of running backs has emerged.
Big Ten

USC and its freshman QB are good enough to compete for the national title, and the Pac-10 is just as good as the SEC.
Pac-10

Auburn made a little history. Tennessee came crashing back to reality, and Georgia lived to see another day.
SEC

Non-AQ:
Non-AQ's are not a Week 1 wonder thanks in large part to Houston, Toledo and Central Michigan.
Around the nation
Highlights: Notre Dame-Michigan
Blog Network: Helmet Stickers
Every week our bloggers will hand out helmet stickers to the week's top players, coaches, teams or anything else worth this honor.
Highlights: Houston-Oklahoma State
Odds And Ends
By David Bearman, ESPN Stats & Information
In the first week of the college football season, the games involving ranked teams were decided by an average of 25.9 PPG. This week, the margin was virtually identical (26.4). Eight teams won by 30-plus points.
• Congrats to the Washington Huskies, who ended a 15-game losing streak with a 19-point win over the Idaho Vandals. The longest active FBS losing streak now belongs to Tulane and Western Kentucky, each with 10 consecutive losses.
Highlights: UCLA-Tennessee