Gators' world turned upside down with Tebow injury
Florida's Uncertain Future
By Mark Schlabach, ESPN.com
LEXINGTON, Ky. -- With No. 1 Florida finally hitting on all cylinders in Saturday night's SEC game against Kentucky at Commonwealth Stadium, Gators sophomore quarterback John Brantley was on the sideline, beginning to prepare for mop-up duty.
With the Gators leading the Wildcats 31-7 late in the third quarter (they'd scored all their points during an impressive first-quarter barrage), Gators coach Urban Meyer was close to pulling star quarterback Tim Tebow from the game.
"It was getting close," Meyer said Saturday night. "It's not over 'til it's over, but it was getting close."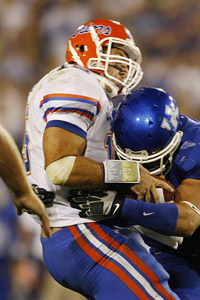 Andy Lyons/Getty Images
Tim Tebow never saw the hit that sent him to the hospital coming.
Meyer never got a chance to pull Tebow from the field. On a third-and-6 play at the Kentucky 9, Wildcats defensive end Taylor Wyndham ran at Tebow without being touched. Tebow never saw the pass-rusher, who hit him squarely in the chest. As Tebow fell to the ground, the back of his head hit Gators tackle Marcus Gilbert's knee.
Tebow, the 2007 Heisman Trophy winner, lay on the field motionless for several minutes. He was eventually helped to his feet and walked to the sideline. Tebow was taken by ambulance to University of Kentucky Chandler Hospital, where tests confirmed a concussion. He stayed overnight for observation, before flying back to Gainesville, Fla., on Sunday morning.
While several of the country's top teams saw their BCS national-title hopes take serious hits this week (four top-10 teams lost), the defending national champion Gators nearly suffered a worse fate. Tebow, arguably the greatest player in Florida history, was seriously injured. And anyone who saw the devastating hit knows the outcome might have been worse.
"Obviously, all that's going through my mind is my concern for Tim," Gators offensive coordinator Steve Addazio said Saturday night, several minutes after Florida beat Kentucky 41-7, extending the country's longest winning streak to 14 games. "I really can't get it out of my mind. I'm worried for him. Any time you see a play like that, it's the worst part of the game."
What was most surprising to Tebow's teammates was the fact that he didn't get up after being hit. Tebow had arrived in Lexington, Ky., on Friday night, hours after most of his teammates flew here for the game. Tebow and three other players -- defensive backs Joe Haden and Major Wright and receiver Riley Cooper (Tebow's roommate) -- had been quarantined from the rest of the Gators because they were suffering from respiratory illnesses.
Meyer said he wasn't sure if Tebow would play against the Wildcats after seeing him Thursday. Tebow had been kept in isolation for most of Friday.
But he was able to start against Kentucky, and played very well. He ran 16 times for 123 yards and two touchdowns and completed 5 of 10 passes for 103 yards and one score before he was hurt.
"You'd have to shoot him to hold him out," Meyer said. "He's going to play."
But now the Gators will spend the next two weeks wondering whether Tebow will be able to play in their Oct. 10 SEC showdown at No. 4 LSU. The Gators don't play Saturday, and Meyer had already planned on giving the team's veteran players a couple of days off this week.
Tebow will be monitored closely by Florida's medical staff, and a Gators official said he won't do much of anything this week.
"Tim's a tough guy," Brantley said. "He'll pull out a quick recovery. It was a shock. I've never seen Tebow not jump back up after a big hit. The whole sideline was stunned. It was a nasty hit."
State Of Belief
By Brian Bennett, ESPN.com
TALLAHASSEE, Fla. -- South Florida defensive coordinator Joe Tresey could point to schemes and personnel for his team's defensive domination of Florida State on Saturday. But he had a simpler explanation.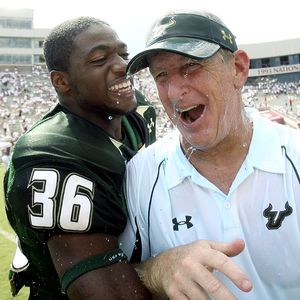 AP Photo/Phil Coale
South Florida coach Jim Leavitt can celebrate beating one of Florida's Big Three.
"Most of our kids weren't good enough to play for these guys," Tresey said. "They came into this game and they had a little chip on their shoulder. They didn't talk about it a lot. But just kind of deep down inside, they wanted to show up and show them they could play."
There's no doubt about that anymore. South Florida's 17-7 win was no fluke. The Bulls didn't just benefit from Florida State mistakes or lucky bounces. They dictated the outcome with a faster, stronger, hungrier group of players.
We've seen them do this before. Two years ago, they won at Auburn and beat West Virginia to rise to No. 2 in the nation. Last year, they beat Kansas and made another brief top-10 appearance.
But this was the first time South Florida had ever taken down one of the Sunshine State's holy triumvirate of FSU, Miami and Florida. Now the 13-year-old program can say with a straight face that it deserves a membership in that exclusive club. After all, the Bulls just nailed the interview.
"It's only one game," head coach Jim Leavitt said. "We haven't done what those guys have done. They've won national championships.
"But now when people ask me, 'Should you be in the Big Four?' I can say, 'Well, at least we should be talked about once in a while.'"
To read the rest of Brian Bennett's story, click here.
Canes Still Confident
By Heather Dinich, ESPN.com
BLACKSBURG, Va. -- Miami lost 31-7 to the Hokies in what was the Canes' worst performance in three games this season, and offensive tackle Jason Fox still doesn't believe Virginia Tech is the better team.
In fact, he said the Hokies made plays early in the game that got their confidence up and "let them feel like they could play with us."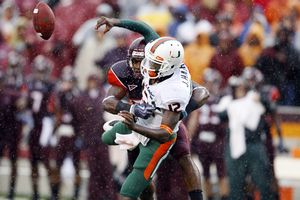 Bob Donnan-US PRESSWIRE
Jacory Harris couldn't get anything going for Miami against Virginia Tech.
"In all reality, I don't think they're a better team than us," Fox said. "I think they played better than us."
And the scoreboard reflected it. So will the Coastal Division standings.
Miami had the hype and the No. 9 ranking in the country, but Virginia Tech had the more complete effort, leaving the Canes looking up at the Hokies in the ACC's pecking order, and with much room for improvement heading into next weekend's game against Oklahoma. With or without Sam Bradford, the Sooners are still the runners-up for the national title, and that's a postseason destination that -- at least for the time being -- popped out of the picture for Miami as quickly as it appeared.
Miami couldn't stop the run, it couldn't run the ball, and it couldn't protect quarterback Jacory Harris for the first time this season. That doesn't mean, though, that the Hurricanes doubt their abilities. Miami tight end Jimmy Graham said the Hurricanes are "10 times better" than they played Saturday, and that they never even practiced that poorly before.
"We're going to go watch film, get graded on this, then turn right back around, and we've got another great opportunity against another ranked team at home," Graham said. "I just see it all as opportunities for us. We've been given three great opportunities in a row, and next week is just another opportunity we can really do something and get back to winning and the way the U is supposed to be."
To read the rest of Heather Dinich's story, click here.
Cal Needs To Shake It Off
By Ted Miller, ESPN.com
EUGENE, Ore. -- California needed only to look across the field at a euphoric Oregon squad celebrating inside Autzen Stadium on Saturday to see that a team can overcome a dreadful defeat.
Four weeks ago, the Ducks were ridiculed nationally for their performance at Boise State. But after handing the sixth-ranked Bears a 42-3 whipping, they have re-established their presence in the Pac-10 race and will surely return to the national rankings Sunday.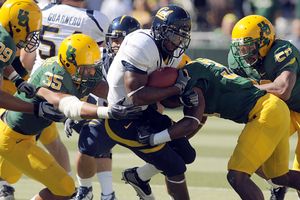 Steve Dykes/Getty Images
Jahvid Best was held to less than 100 yards for the first time since this past season's USC game.
Now Cal needs to prepare to be a punchline. The Bears started the day as the Pac-10 front-runner. They finished it as roadkill.
Said offensive tackle Mike Tepper, "This team [Cal] is good; we just got beat. We got beat bad."
Yep. In every way.
Oregon outgained Cal 524 yards to 207 -- and 50 of those yards came on one play. Cal had been giving up only 273 yards per game while gaining 489 yards.
Quarterback Kevin Riley was the Pac-10's No. 1-rated passer this week, but he only completed 12 of 31 for 123 yards.
Running back Jahvid Best entered the game as a Heisman Trophy front-runner but he only rushed for 55 yards on 16 carries.
"The game wasn't what I expected at all," Riley said. "I expected to pick up 40 points. We didn't."
To read the rest of Ted Miller's story, click here.
Tide Locks It Down
By Chris Low, ESPN.com
TUSCALOOSA, Ala. -- Alabama's defense looks the part, plays the part and sounds the part.
It's the real thing and only going to get better.
"As a defense, we haven't arrived yet," Alabama sophomore defensive end Marcell Dareus said. "We still have a lot more to prove. We still have a lot more to go and a lot more to work on.
"We haven't played our best defensive game."
That's the scary part for the rest of the SEC.
On Saturday, the Crimson Tide took Arkansas' offense and shook it around like a rag doll in a 35-7 beatdown at Bryant-Denny Stadium.
Other than a touchdown drive coming out of halftime, Arkansas never really threatened. Quarterback Ryan Mallett spent the afternoon on the run, finishing 12-of-35 for 160 yards, and the Hogs managed just 63 yards on the ground.
Keep in mind this was the same offense that put up 41 points last week against Georgia and looked as explosive as any offense in the SEC.
"Watching our defense is something," Alabama receiver Marquis Maze said. "I know how good those guys are. I go against them every day in practice. They're relentless."
To read the rest of Chris Low's story, click here.
Three Weekend Observations
By Ivan Maisel, ESPN.com

1.
The first eight plays in which Oregon touched the ball Saturday included two lost fumbles and a three-and-out. But Cal corner
Josh Hill
, after recovering the second fumble, gave it right back to the Ducks. From there, Oregon looked nothing like the team that uglied its way to a 2-1 start.
Jeremiah Masoli
abandoned his arrhythmic start to complete 15 of his last 16 passes. The Ducks embarrassed the Bears 42-3, and go from Most Overrated to Most Improved in four weeks.

2.
The beauty of the Georgia Tech offense when it clicks is that the Yellow Jackets just hog the ball. Their time of possession in the 24-7 victory over North Carolina on Saturday: 42:06. The Tar Heels got the ball for five snaps in the entire third quarter -- and that included a punt. Georgia Tech scored its insurance touchdown in the fourth quarter on a 17-play, 76-yard drive that took 8:20. North Carolina just plumb wore out.

Harris
3.
Maybe it's a sophomore jinx. The two second-year passers who looked great in the opening weeks got embarrassed by two very good defenses Saturday.
Jacory Harris
of Miami (9-25-1 INT) never had time to throw, and it rained so hard at Virginia Tech that time might not have mattered.
Ryan Mallett
of Arkansas (12-35-1 INT) didn't appear to know what -- or who -- hit him at Alabama. The Tide had three sacks and six hurries. Storybook start, meet the reality of conference play.
GameDay Crew Recap
GameDay Crew Final Thoughts
RECE DAVIS

Tebow
Tim Tebow
takes so many hits and is so durable you think he's indestructible. Saturday proved that he wasn't. When he went out of the game, my first concern was for his health. Florida is immensely talented and they can still win games, but they just aren't the same team without him. The mighty Gators will need Tim Tebow to be himself and be 100 percent in order to defend their national championship.
Helmet Stickers Go To:
• QB
B.J. Daniels
, South Florida
341 total yards, 2 pass TDs in 17-7 win at Florida
• DE Adrian Clayborn, Iowa
2 tackles, blocked punt return TD in 21-10 win at Penn State
---
LOU HOLTZ

There are only three teams in the country that are consistent: Florida, Texas and Alabama. The rest of the teams are very inconsistent. Florida State is the perfect example of that. The Seminoles looked great against BYU and terrible against South Florida. However, those inconsistencies provide for exciting football games because you never know what's going to happen from week to week.
Helmet Stickers Go To:
• WR
Mardy Gilyard
, Cincinnati
9 rec, 177 yards, 2 TDs in 28-20 win vs. Fresno State
• LB Cody Grimm, Virginia Tech
11 tackles, 1.5 TFL, 1 pass breakup in 31-7 win vs. Miami
---
MARK MAY
Just when you think you've figured a team out, they go out and lay an egg. Teams like Cal, Miami, Pitt and Ole Miss on Thursday just didn't handle the task at hand. This looks like another crazy season, and I wouldn't be surprised if every team had at least one loss before the bowl season.
Helmet Stickers Go To:
• QB
Russell Wilson
, NC State
21-35, 413 total yards, 4 TDs in 38-31 win vs. Pittsburgh
• RB
Toby Gerhart
, Stanford
27 rushes, 200 rush yards (career-high), TD in 34-14 win vs. Washington
Highlights: Iowa-Penn State
Blog Network: What We Learned

Maryland reinforced what we already knew, Virginia had the week off and Duke beat up on NC Central like it was expected to.
ACC

Texas A&M's defense is improved, but still untested. Meanwhile, Mike Leach's decision was an inexplicable gamble.
Big 12

South Florida is back in the national picture, but Pitt has a major defensive crisis.
Big East

Iowa is for real. Wisconsin QB Scott Tolzien is also for real. And Tressel ball still works.
Big Ten

Oregon might get the last laugh, and Arizona and Washington State found their QBs of the future.
Pac-10

A month into the season, the pecking order in the SEC is starting to take shape. And at this point, it's hard to argue that Alabama isn't tops.
SEC

Non-AQ:
Houston's not a pretender, as the Cougars are one of three BCS-busters still in the hunt.
Around the nation
Highlights: Miami-Virginia Tech
Blog Network: Helmet Stickers
Every week our bloggers will hand out helmet stickers to the week's top players, coaches, teams or anything else worth this honor.
Highlights: Texas Tech-Houston