A weekend of returns sparks victorious teams
Many Happy Returns
By Ivan Maisel, ESPN.com
To celebrate the return from injury of Heisman Trophy winners Tim Tebow of Florida and Sam Bradford of Oklahoma on Saturday, teams across the nation employed the return -- of kickoffs, punts and interceptions -- as the focal point of their victories.
So much of the appeal of college football is captured by the return. The financial and emotional foundation of the sport depends on graduates returning to campus. There's no other way to fill 100,000-seat stadiums. Thirteen FBS schools have hired former players to return to their alma mater as head coach.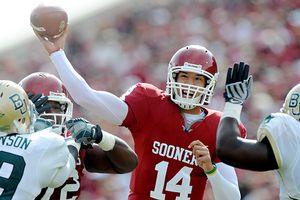 Jerry laizure/US Presswire
Heisman Trophy winner Sam Bradford made his return to the Oklahoma lineup Saturday.
Bradford and Tebow returned to the field after being helped off it earlier this season. You could see Bradford scrape off the rust as the Sooners' 33-7 defeat of Baylor progressed. By the end of his 27-for-49, 389-yard performance, Bradford didn't look like a quarterback playing his first full game of the season.
The effect of Tebow's return on the Gators in their 13-3 road victory isn't fully captured by his statistics (11-16-1, 134 yards, one touchdown passing; 17 carries for 38 yards). It could be seen in the rush of high fives and hugs he gave when he ran onto the field before the game.
The returns of Bradford and Tebow didn't cause many hearts to pound. Elsewhere, one team after another demonstrated why the return is the most exciting play in the game. Returns captivate because they include instant excitement, open-field running and sudden change.
No. 2 Texas pulled away from stubborn Colorado for a 38-14 victory when, in a seven-minute swatch of the second half, Earl Thomas returned an interception 92 yards for a touchdown and Jordan Shipley took a punt back 74 yards for a score.
No. 9 Ohio State took two interceptions and a kickoff for three of its four touchdowns in a 31-13 victory over previously unbeaten Wisconsin.
Kenjon Barner jump-started a lethargic No. 13 Oregon by taking the second-half kickoff 100 yards for a touchdown at UCLA. Just 13 seconds later, junior Talmadge Jackson III, one of the few healthy corners the Ducks have, returned an interception 32 yards for a touchdown. Oregon scored 21 points in less than four minutes and cruised to a 24-10 victory.
All those returns qualified as instant highlights for the day. At Washington, however, linebacker Mason Foster made a play that will show up on the ESPYS. The Huskies scored with 2:55 to play to pull within 33-28 of the Wildcats. On first down, Arizona quarterback Nick Foles' pass caromed backward off the foot of Delashaun Dean into the arms of Foster. He spun around and took the prize 37 yards for a touchdown that left the fans at Husky Stadium positively giddy.
"It's something that we've been talking about," Washington coach Steve Sarkisian said. "Just keep playing."
You never know what's going to happen. Every Saturday, that's why all of us return.
Sooners Look Ahead
By Tim Griffin, ESPN.com
NORMAN, Okla. -- The numbers had barely been taken down from the scoreboard after Oklahoma's victory Saturday before the Sooners were talking about Texas and their date with the Longhorns in the Cotton Bowl next week.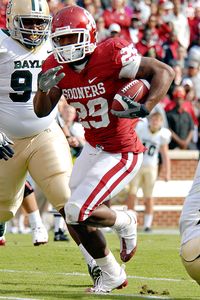 Jackson Laizure/US Presswire
Chris Brown scored twice in the Sooners' 33-7 win over Baylor.
The Sooners' two disappointing one-point losses earlier this season robbed them of much of their national credibility and dropped them to No. 19 in the country.
A 33-7 victory over Baylor might not turn many heads nationally. But the Sooners might not mind that too much.
"With them being undefeated, everybody will pick them to blow us out," Oklahoma cornerback Dominique Franks said. "But if we can go out there and play our game, we'll be fine. We're still a great team and just need to go out and prove it."
There are several areas of concern for the Sooners. Four drives inside the red zone resulted in field goals. Baylor blistered them for 262 yards passing. And while the Sooners rolled up 203 rushing yards, 178 of those yards came in the second half.
Oklahoma defensive tackle Gerald McCoy said the Sooners can't win against Texas playing like they did Saturday.
"We played well, but there were a lot of little things that we gave up," McCoy said. "We've got to be better to beat a team the caliber of Texas."
To read the rest of Tim Griffin's story, click here.
Heat On Bowden
By Mark Schlabach, ESPN.com
TALLAHASSEE, Fla. -- Bobby Bowden's week started with the chairman of Florida State's board of trustees calling for a coaching change.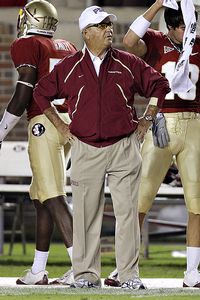 AP Photo/Phil Coale
After falling to Georgia Tech, Bobby Bowden faces some tough decisions.
Bowden's week ended the same way it has each of the past three Saturdays: with his Seminoles losing another game. FSU's third loss in a row will only fuel debate about whether one of college football's greatest coaches should step down after his 34th season at the school.
Florida State's defense never figured out how to stop No. 22 Georgia Tech's vaunted triple-option offense in a 49-44 loss at Doak Campbell Stadium. The Yellow Jackets had a whopping 401 rushing yards. Georgia Tech quarterback Josh Nesbitt ran for 140 yards and three touchdowns and added a scoring pass, helping the Yellow Jackets pull away in the second half.
Florida State lost to an opponent from a BCS conference for the fourth straight time and fell to 2-4, 0-3 in ACC play. It is the Seminoles' worst start since going 2-4 in 1976, which was Bowden's first season in Tallahassee. His first season was also the only losing campaign in his illustrious FSU career.
"I think the critics will keep criticizing," Bowden said. "The good folks won't."
Bowden, 79, could silence his critics by simply walking away at the end of the season, which some suggest he should have done a long time ago.
To read the rest of Mark Schlabach's story, click here.
Pressing The Clutch
By Adam Rittenberg, ESPN.com
IOWA CITY, Iowa -- Maybe everything changed for Iowa when Daniel Murray's toe struck the football on that frigid November night against No. 3 Penn State.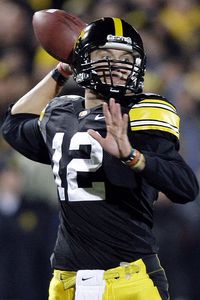 AP Photo/Charlie Neibergall
Quarterback Ricky Stanzi threw for 284 yards and two touchdowns against Michigan.
Before Murray's kick sailed through the uprights, Iowa couldn't buy a close win. The Hawkeyes had lost 11 of their previous 13 games decided by five points or fewer, including four contests during the 2008 season. The sour streak stretched all the way back to the 2005 Capital One Bowl, the final game of a magical three-year run for Kirk Ferentz's team.
But since the Penn State upset Nov. 8, Iowa has been fail-safe in tight games. The Hawkeyes have won four straight games decided by five points or fewer, including Saturday night's 30-28 triumph against Michigan.
Suddenly, clutch is spelled I-O-W-A.
"We know we can do it," Murray said. "That's the main thing, is believing in yourself. Until you can get that elusive first one, it's harder to believe in yourself. For a while, we knew we'd get close and I don't know if people thought we'd screw it up somehow, but we're finally getting to the point where we can actually be comfortable in those tight situations."
The clutch play has sparked Iowa to its first 6-0 start since 1985. The Hawkeyes own a 10-game win streak, the second longest in the country and the team's longest in Ferentz's 11-year tenure.
Iowa should be sniffing the top 10 on Sunday, and as the Big Ten's only unbeaten team, there are lofty goals on the table. Things don't get much easier with upcoming trips to rival Wisconsin and surging Michigan State, but the Hawkeyes are starting to believe.
To read the rest of Adam Rittenberg's story, click here.
Different Script, Same Result?
By David Bearman, ESPN Stats & Information
One year ago in December, undefeated Alabama and 11-1 Florida met for the SEC championship in a de facto national championship semifinal game, with the winner (Florida) going on to play for and winning the BCS title the next month. This season, many expected Florida to be right back in position and Alabama to be good, but challengers LSU and Ole Miss were lining up in August for a shot. On Saturday, the Gators and Crimson Tide went on the road in the SEC and disposed of LSU and Ole Miss. Halfway through the season, we are staring at a repeat Florida-Alabama SEC title game/national semifinal matchup, with a good chance both teams will be undefeated.
Florida survived its toughest date on the schedule, and barring a huge upset should cruise to Atlanta at 12-0. The Gators' remaining home games are vs. Arkansas, Vanderbilt, FIU and struggling rival FSU. The road tilts are only interesting because they are against former Florida coaches in Mississippi State (former offensive coordinator Dan Mullen) and South Carolina (Steve Spurrier). Of course, there is always the neutral-site party versus Georgia, but in case you missed it, the Bulldogs fell to 3-3 with a 26-point loss to Tennessee on Saturday.
Florida's remaining games
Home: Arkansas, Vanderbilt, FIU, FSU
Away: Miss State, South Carolina
Neutral site: Georgia (Jacksonville, Fla.)
Looking at Alabama's remaining games, the Tide have three games with teams that entered the weekend ranked, but two of them are at home. LSU and South Carolina come to Tuscaloosa, while the big test could be the Iron Bowl at Auburn. However, much like Georgia, Auburn was blown out Saturday as well. The game versus LSU will most likely decide the West, but this is the same Tigers team that barely beat Mississippi State and Georgia and scored three points Saturday night at home. Tennessee, Miss State and Chattanooga fill out Alabama's schedule.
Alabama's remaining games
Home: South Carolina, LSU, Tennessee, Chattanooga
Away: Miss State, Auburn
On any given Saturday, either the Gators or Crimson Tide could lay an egg and lose, but each will be heavily favored in almost every game the rest of the way. And it's not like anyone should be surprised: Florida and Alabama have already met six times to decide the SEC title since 1992, with at least one of the teams ranked in the top 10 in every matchup.
Three Weekend Observations
By Ivan Maisel, ESPN.com

1.
"The Road," a film coming out next month, is a scary postapocalyptic place where thoughts rarely stray beyond the simple act of survival. (No, it wasn't filmed at LSU.) The road in college football isn't as frightening as the film. But conference victories by Florida, Alabama, Oregon and TCU at the other guys' houses can't be underlined enough. That's what champions do.

2.
Ask any Iowa Hawkeyes fan which is the most magical victory of that magical 1985 Rose Bowl season, and the answer will be the 12-10 victory No. 1 Iowa gained over No. 2 Michigan. That victory became so iconic that if it's not taught in the public schools, it should be. On Saturday, No. 12 Iowa beat Michigan by the same margin, 30-28, for its first 6-0 start since 1985. Neither team is as highly ranked, but if you like omens …

3.
We all take for granted that Boise State will be atop the WAC. But the rest of the league is going through quite a transition. Idaho, which began the season with 23 victories in this decade, has reached the halfway point with a 5-1 record, 3-1 on the road. New Mexico State, under first-year coach DeWayne Walker, is 3-3. And Hawaii, which played in the Sugar Bowl two seasons ago, is 0-2 in the WAC for the first time since 2001.
GameDay Crew Recap
GameDay Crew Final Thoughts
RECE DAVIS

Shipley
It's time for some fresh thinking when you fill out your Heisman ballot. You have to give
Tim Tebow
consideration for what he means to Florida and what he means to college football. But at this point, all Heisman ballots need to include
Jordan Shipley
from Texas and
Mark Ingram
from Alabama. They've been critically important to the early-season success of their teams.
Helmet Stickers Go To:
• WR
Kerry Meier
and WR
Dezmon Briscoe
, Kansas
Combine for 28 rec, 328 yards, 4 TDs in win vs. Iowa State
• WR
Freddie Barnes
, Bowling Green
22 rec, 278 yards, 3 TDs in win vs. Kent State
---
LOU HOLTZ

Spikes
Helmet Stickers Go To:
• LB Brandon Spikes, Florida
11 tackles, 2.5 sacks in win vs. LSU
• WR
Alshon Jeffery
, South Carolina
7 rec, 138 yards, 3 TDs in win vs. Kentucky
---
MARK MAY

In my opinion, the two best teams in the nation (Alabama and Florida) came up huge on the road Saturday. Both played physical games and rode their defenses to huge conference wins. At this point, I think Alabama has an edge on Florida for the best team in college football.
Helmet Stickers Go To:
• QB
Jonathan Crompton
, Tennessee
20-27, 310 yards, 4 TDs, int in win vs. Georgia
• LB Rolando McClain, Alabama
7 tackles, 1 tackle for a loss, int in win vs. Ole Miss
Highlights: Florida-LSU
Blog Network: What We Learned

Wake Forest is the team to beat in the Atlantic Division, and emotion can't overcome X's and O's.
ACC

Texas and Oklahoma need to improve their running games -- fast. But is Kansas the nation's worst undefeated team?
Big 12

West Virginia isn't going away quietly, and Pitt's running game can be special.
Big East

Jim Heacock's defense once again has made the Buckeyes the team to beat in the Big Ten.
Big Ten

Oregon State is back, and so is Jacquizz Rodgers. Plus, there's no reason to doubt Oregon's defense any longer.
Pac-10

There's no doubt which the best two teams in the SEC are. We had a pretty good idea going into Saturday's games. Now we know for sure.
SEC

Non-AQ:
Ever since coach Dave Christensen named freshman Austyn Carta-Samuels the starting quarterback, Wyoming has been unstoppable.
Around the nation
Highlights: Michigan-Iowa
Blog Network: Helmet Stickers
Every week our bloggers will hand out helmet stickers to the week's top players, coaches, teams or anything else worth this honor.
Highlights: Georgia Tech-Florida State
Odds & Ends
By David Bearman, ESPN Stats & Information
• Navy had nine touchdown runs Saturday in its 63-14 win over Rice. The nine rushing touchdowns are as many or more than 83 teams had for the season entering this weekend
• Duke earned a rare road conference win at NC State, ending a 20-game ACC road losing streak. Coupled with a win at Army earlier this season, Duke has won two road games in a season for the first time since 1999.
• Ole Miss QB Jevan Snead completed 11 of 35 passes Saturday versus Alabama, a 31.4 completion percentage. It's the lowest completion percentage by a QB this season with at least 35 pass attempts.
• The Georgia Bulldogs are now 3-3. Last time Georgia had three losses through six games was 1996, when the Bulldogs finished 5-6 and missed a bowl.