Forget Style
So you're still not impressed with No. 1 Florida's sputtering offense? Or No. 2 Alabama's passing game? Or No. 3 Texas' slow starts?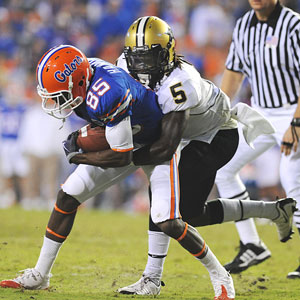 Al Messerschmidt/Getty Images
Without the major receiving threats it had last season, Florida has struggled to put points on the board through its passing game.
At this point in the 2009 college football season, with only three regular-season games left to play, it's not as much about style points as survival for the country's top three teams.
Another unpredictable weekend in the 2009 college football season actually brought clarity to the race for the BCS title. As long as the aforementioned teams keep winning, two of them will play in the Jan. 7 BCS National Championship Game in Pasadena, Calif.
And while the top three teams haven't exactly played like juggernauts at various times this season, they're still in better position than Iowa, LSU and Oregon, which were knocked out of the national championship race by losses this weekend.
"The best thing about being 9-0 is having the chance to go 10-0," Gators coach Urban Meyer said, after his team won its 19th consecutive game by defeating Vanderbilt 27-3 at the Swamp in Gainesville, Fla., on Saturday night.
If the Crimson Tide and Gators both win their final three regular-season games, the winner of the SEC championship game in Atlanta's Georgia Dome on Dec. 5 will play for the national championship.
So will No. 3 Texas, as long as it beats Baylor, Kansas, Texas A&M and then the Big 12 North winner in the Big 12 championship game on Dec. 5.
It really doesn't matter that Florida's offense sputtered through another game. The Gators led 13-0 at halftime against the SEC's worst team, after mustering only 163 yards of offense in the first half against a Commodores defense that was shredded by Georgia Tech the week before.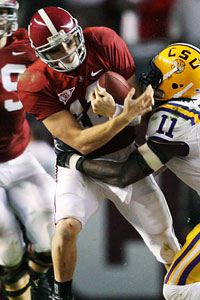 Marvin Gentry/US Presswire
Saturday's game against LSU was the first time Greg McElroy managed more than 150 yards passing since September.
This Florida team isn't as good as the one that beat Oklahoma 24-14 to win the 2008 BCS title. Without receivers Percy Harvin and Louis Murphy, the Gators lack proven playmakers in their passing game. Florida's offensive line struggles to protect quarterback Tim Tebow, and the running game remains inconsistent.
"We had four sacks and didn't have any home run shots," Meyer said. "That's always a concern. You are concerned about something every game you play. We have to get a little more production than 27 points, but we're working on it. We're just trying to make things happen. We need big plays."
Florida will spend the next three weeks -- at South Carolina on Saturday, followed by home games against Florida International on Nov. 21 and Florida State on Nov. 28 -- trying to jump-start its offense.
Still, Florida is capable of winning every game it plays -- as well as a third BCS title in four seasons -- because its defense and special teams are so good. The Gators aren't going to give up many yards, and they yield even fewer points. Their defense and special teams are capable of scoring anytime, too.
"I think we have the No. 1 defense in America," Meyer said. "If not, it should be."
Actually, the No. 1 defense in the country resides in Texas. The No. 3 Longhorns are allowing only 230.8 yards per game, including an FBS-low 55.3 rushing yards.
Texas sputtered through a 35-3 victory over Central Florida on Saturday, scoring only two touchdowns in the first half. Quarterback Colt McCoy eventually passed for a career-high 470 yards, and Jordan Shipley set a school record with 273 receiving yards.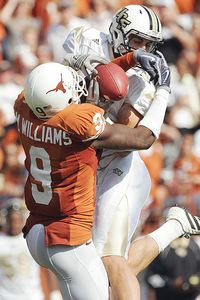 Brian Bahr/Getty Images
Will Texas' slow starts on offense eventually catch up to the Longhorns?
The Longhorns still don't run the football especially well, but they might not have to as long as their defense keeps stuffing opponents.
"Each game from now until [Texas] A&M, we have to approach it as if it's a championship game because that's what's on the line," Texas running back Fozzy Whittaker told reporters after beating Central Florida.
The No. 2 Crimson Tide's 24-15 victory over No. 9 LSU sure looked and felt like a championship game. The Crimson Tide won the SEC West for the second season in a row, but still face a couple of tough tests. Alabama plays at Mississippi State on Saturday, hosts FCS foe Chattanooga on Nov. 21 and then plays at rival Auburn in the Iron Bowl on Nov. 27.
Quarterback Greg McElroy finally broke out of his monthlong slump, throwing for 276 yards with two touchdowns and one interception. It was the first time in five games he passed for more than 150 yards. Receiver Julio Jones also had his best game of the season, scoring a 73-yard touchdown that helped the Tide break away.
"We wanted to play our best game today," Alabama coach Nick Saban told reporters after beating LSU. "We kind of knew our destiny was ours."
Alabama, Florida and Texas each control their fate. And at this point, it doesn't matter how they win, only that they win in the end.
On The Mark: Precision Passers

Keenum
1. Case Keenum, Houston
Add yet another Heisman-like moment to Keenum's résumé. He led the Cougars to two scores in the final 21 seconds of a 46-45 victory at Tulsa and completed 40-of-60 passes for 522 yards with three touchdowns.
2. Zach Collaros, Cincinnati
Will Tony Pike get his starting job back? Collaros completed 29-of-37 passes for 480 yards with one touchdown and ran 13 times for 75 yards with two scores in a 47-45 win over Connecticut.
3. Colt McCoy, Texas
McCoy's Heisman Trophy campaign is picking up steam. He threw for a career-high 470 yards with two touchdowns on 33-for-42 passing in a 35-3 rout of Central Florida.
4. Nick Florence, Baylor
The freshman started the season as a third-stringer, but passed for a school-record 427 yards with three touchdowns and one scoring run in a 40-32 upset of Missouri.
5. Joey Elliott, Purdue
Elliott threw for 367 yards with two touchdowns on 28-of-39 passing in the Boilermakers' 38-36 win over Michigan, becoming the first Purdue QB to win in Ann Arbor since Bob Griese in 1966.
Off The Mark: Coaches On The Hot Seat
1. Rich Rodriguez, Michigan
The Wolverines have lost to Illinois and Purdue in consecutive weeks and might be headed toward a second straight losing season (after going four decades without one).
2. Charlie Weis, Notre Dame
The Fighting Irish lost to Navy 23-21, their second defeat to the Midshipmen in the past three seasons. Notre Dame beat Navy 43 straight times until 2007.
3. Al Groh, Virginia
AD Craig Littlepage won't decide Groh's fate until after the season, but Saturday's 52-17 loss at Miami couldn't have helped the coach.
4. Ralph Friedgen, Maryland
AD Debbie Yow faces a difficult decision in deciding Friedgen's future. Maryland fell to 2-7 after a 38-31 loss at NC State.
5. Mike Price, UTEP
Price might have needed a big season to save his job, but the Miners are 3-6 after losing 45-38 at Tulane.
On The Mark: Ground-Churning Tailbacks

Gerhart
1. Toby Gerhart, Stanford
The Cardinal's bruising senior ran 38 times for a school-record 223 yards with three touchdowns in a 51-42 upset of Oregon.
2. Keith Toston, Okla. St.
The Cowboys have hardly missed injured Kendall Hunter because of Toston, who ran 25 times for 206 yards with three touchdowns in a 34-8 rout at Iowa State.
3. Jonathan Dwyer, Georgia Tech
The Yellow Jackets have run for 300 yards or more in five straight games and Dwyer is a big reason. He ran 23 times for 189 yards, including a 59-yard touchdown, in a 30-27 overtime win over Wake Forest.
4. C.J. Spiller, Clemson
There probably isn't a more explosive player in the country than Spiller. He had 312 all-purpose yards in the Tigers' 40-24 victory over Florida State, running for 165 yards and catching a 58-yard touchdown.
5. Mark Ingram, Alabama
Ingram helped the Crimson Tide take control in the second half of a 24-15 win over LSU, finishing with 22 carries for 144 yards.
Off The Mark: Ugly Injuries
1. Jahvid Best, California
You won't see many images more scary than Best's falling into the end zone against Oregon State. He was released from the hospital Sunday after suffering a severe concussion.
2. Christian Ponder, Florida State
The Seminoles will be without their star quarterback for at least a week (and probably longer) after he injured his shoulder in the loss at Clemson.
3. Charles Scott, LSU
A broken collarbone ended Scott's regular season, in which he never matched his production from 2008.
4. Ricky Stanzi, Iowa
Iowa's BCS National Championship hopes were dashed when Stanzi sprained his ankle in the first half of a 17-10 loss to Northwestern.
5. Shaun Draughn, North Carolina
The Tar Heels will be without their leading rusher for the rest of the season after Draughn fractured his shoulder blade in a 19-6 win over Duke.