Don't miss these games in 2006
Updated:
August 28, 2006, 3:23 PM ET
By
David Duffey
| ESPN.com
The 2006 season is loaded with great games. Narrowing it down to the top 25 games isn't easy. In fact, we had to cheat a little bit to make it work. So, here are 24 games and one great day you don't want to miss this season.
Northwestern at Miami (Ohio) (Aug. 31)
One of the first games of the year definitely will be one of the most emotional. Northwestern will play its first game under coach Pat Fitzgerald, who took over the Wildcats this summer after the death of Randy Walker. Miami University will honor Walker, a former RedHawks head coach and player, before the game.
Notre Dame at Georgia Tech (Sept. 2)
The Irish have been plastered across preseason magazine covers. Yellow Jackets WR Calvin Johnson is everybody's preseason All-American. But has the ND defense improved? Will Georgia Tech quarterback Reggie Ball be better? Tune in to find out.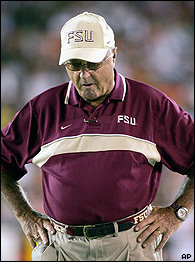 AP PhotoFSU coach Bobby Bowden has some bad memories from previous trips to Miami.
Florida State at Miami (Sept. 4)
Both the 'Noles and the Canes expect improvement after disappointing 2005 campaigns. One of them will take an important early step in that direction.
Ohio State at Texas (Sept. 9)
Brutus and Bevo. The Buckeyes' offense and the Longhorns' defense. Ted Ginn Jr. and Jamaal Charles. Last season's 25-22 thriller won by Texas in the Horseshoe. National title hopes. Not that you really needed any more reasons to watch this clash of the titans.
Penn State at Notre Dame (Sept. 9)
Paul Posluszny leads one of the nation's best linebacking corps into South Bend. Slowing down Brady Quinn, Darius Walker and Jeff Samardzija is the ultimate challenge.
Eight reasons not to leave the couch (Sept. 16)
Christmas Day comes early for college football fans in 2006. Whether you're from the South, Midwest, West Coast or are just a rabid football fan, the third Saturday in September delivers a stocking stuffed with treats.
1. LSU at Auburn: Which SEC West Tiger roars the loudest?
2. Clemson at Florida State: Bowden bragging rights and ACC Atlantic supremacy at stake.
3. Miami at Louisville: The first Saturday in May isn't the only time thoroughbreds will be on display in Louisville this year.
4. Michigan at Notre Dame: Division I-A's all-time winningest programs meet for the 34th time.
5. Florida at Tennessee: One of the best rivalries in a conference known for its rivalries.
6. Oklahoma at Oregon: Rhett Bomar didn't get the invite to the Holiday Bowl reunion in Autzen, but Adrian Peterson did.
7. Texas Tech at TCU: Big 12 South buster versus BCS buster?
8. Nebraska at USC: Cornhuskers seeking a return to glamour status. Trojans plan to stay on the A-list.
Arizona State at Cal (Sept. 23)
The winner emerges as a challenger to USC's hold on the Pac-10 conference.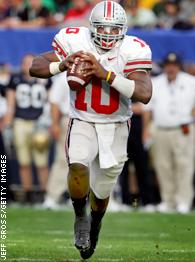 Jeff Gross/Getty ImagesTroy Smith and the Buckeyes will try to sprint past Iowa at Kinnick Stadium.
Ohio State at Iowa (Sept. 30)
The Kinnick Stadium scoreboard operators had better have some spare lightbulbs handy when
Drew Tate
,
Albert Young
and the Hawkeyes host
Troy Smith
,
Antonio Pittman
and the Buckeyes.
SMU at Tulane (Sept. 30)
The Mustangs provided the Green Wave with their first home in the days after Katrina. It seems right that SMU is the guest in Tulane's first Superdome home game since the hurricane hit last year.
Oklahoma vs. Texas (Oct. 7)
Mack Brown and the Horns finally broke through against Bob Stoops and the Sooners last year. Does Texas start building a win streak of its own against Oklahoma, or was 2005 just a one-year blip?
Florida at Auburn (Oct. 14)
SEC title game preview on the Plains?
Texas at Nebraska (Oct. 21)
The Huskers can make a statement in front of a sea of red with a win over the defending national champs.
Iowa at Michigan (Oct. 21)
Meeting the Wolverines in The Big House is the Hawkeyes' toughest road challenge. Survive it and Iowa can start thinking Pasadena. Or maybe Glendale.
Florida vs. Georgia (Oct. 28)
The SEC might not want the annual Gators-Dawgs matchup in Jacksonville referred to as the World's Largest Outdoor Cocktail Party anymore, but the rivalry's always at least 100 proof.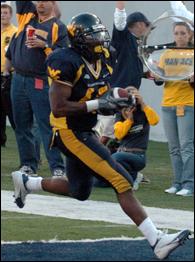 Steve Slaton scored a school-record six touchdowns for WVU against Louisville in 2005.
West Virginia at Louisville (Nov. 2)
The Mountaineers' comeback win over the Cardinals sparked their 2005 run. Louisville has been counting the days until the rematch. And chances are that more than a Big East title will be on the line this time.
Virginia Tech at Miami (Nov. 4)
Either the Hokies or Canes will be making plans for Jacksonville after this one.
South Carolina at Florida (Nov. 11)
Steve Spurrier's return to The Swamp was always going to be a big event. The Gamecocks' win over the Gators last season only made it bigger.
West Virginia at Pittsburgh (Nov. 16)
The Backyard Brawl is one of the most underappreciated rivalries.
Auburn at Alabama (Nov. 18)
The Iron Bowl is one of the most bitter rivalries.
Michigan at Ohio State (Nov. 18)
Speaking of bitter and rivalries, the Wolverines are 1-4 against the Buckeyes since Jim Tressel arrived in Columbus.
Cal at USC (Nov. 18)
The Bears beat the Trojans in 2003. USC hasn't lost a Pac-10 game since. Can Marshawn Lynch and Co. end that streak?
Texas A&M at Texas (Nov. 24)
The Horns have won six in a row against the Aggies. If the streak reaches seven, Texas could be in position for another national title.
Florida at Florida State (Nov. 25)
Urban Meyer led the Gators past the Seminoles in his first try. Getting seconds at Doak Campbell Stadium won't be easy.
Notre Dame at USC (Nov. 25)
Topping last season's 34-31 win by the Trojans isn't possible. Or is it? Strange things have happened when the Irish and Trojans meet in the Coliseum.
Army vs. Navy (Dec. 2)
Winning this game is more important to the Black Knights and Midshipmen than any BCS bowl bid ever could be.
David Duffey is the college football editor at ESPN.com. He can be reached at david.duffey@espn3.com.
SPONSORED HEADLINES
MORE COLLEGE FOOTBALL HEADLINES
MOST SENT STORIES ON ESPN.COM
EDITORS' PICKS
Which schools stand to gain the most on signing day?
Class ranks »

Breaking down each SEC recruiting class.
Story »