Commentary
Hokies' Lane Stadium entrance will be special
It didn't take Chris Fowler 25 hours to come up with 25 reasons to be excited about the 2007 season.
Originally Published:
August 30, 2007
By
Chris Fowler
| Special to ESPN.com
STARKVILLE, Miss. -- Greetings from the Barbecue Belt! If I am in Starkville (and I am as I type this), it must be college football season. Starkville ain't on the global tennis circuit's map, you see. It's time for rib eatin', head knockin' and cowbell ringin' (the outlawed but still popular custom at Mississippi State's Scott Field).
In the spirit of ESPN's "25-hour countdown to kickoff" thing that someone here cooked up, I submit 25 reasons why I am particularly excited about the launch of the '07 season. I guarantee it didn't take me 25 hours to come up with these. They are in no particular order. So here goes:
1. The Hokies' entrance Saturday
Virginia Tech has never played a game with such a complex emotional backdrop. Has any college team, in fact? Virginia Tech's tight, tough community will balance respectful remembrance with unleashed enthusiasm Saturday against East Carolina (ESPN, noon ET).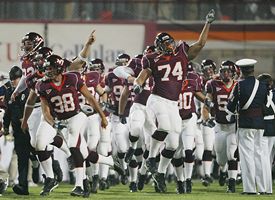 Doug Pensinger/Getty ImagesSaturday's Virginia Tech entrance will be special.
Each Tech run out into Lane Stadium is special. The Hokies emerge from a dark, narrow, claustrophobic tunnel at one corner of the field. As the leaders appear, the frenzy begins from the student section. Metallica's "Enter Sandman" is cranked to "11" on the PA.
The team starts jumping up and down in the tunnel's mouth as the drum beats and crowd noise builds. Finally, the Hokies enter -- propelled out into the light, heat and noise of Lane Stadium -- and 66,000 roar as one. It is something to experience.
Saturday will feel familiar, but also quite different. The team's entrance will follow a somber tribute video and the release of balloons honoring the victims of the deadliest shooting spree in U.S. history on campus April 16. Tears will be flowing. The Hokies will provide a temporary cathartic release … a reason to let loose that the Tech community says it desperately needs. This is a run-out we can all join in cheering.
2. Fewer touchbacks
Nothing keeps the pregame or post-touchdown frenzy going like a 170-pound kicker booting the ball through the end zone as 10 guys do a pointless sprint to the other end of the field and we all wait another minute for the next meaningful action. The new 30-yard line kickoff rule will create more coaching and, more importantly, more colliding on what can be a very exciting play. The smart coaching staffs have spent time with NFL teams this summer studying how to better cover kickoffs. There is a lot more strategy than you think. Unlike the NFL, we will continue to see more specialization between who handles kickoffs and field goals. Most importantly, you will see faster, better players on the coverage and return teams than ever before. Average starting field position after a kickoff will be around the 32- to 35-yard line, which will create a better chance of scoring.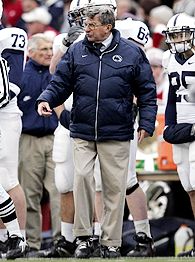 Jeff Hanisch/US PresswireJoe Paterno's 42nd season in charge at Penn State starts Saturday against FIU.
3. JoePa!
It's season 42 for Joe Paterno at Penn State, vaulting him past Amos Alonzo Stagg for longest tenure at one school. I attended my first college football game in 1972 at Beaver Stadium. I was barely 10. Joe had already been there awhile. Now that makes
me
feel real old. Not
him
, apparently. Joe is as amped up as he ever has been entering a season. He suspects he may have a special group, with a tight chemistry capable of pulling through the tight games they will certainly face.
4. Whiteout
While I am at it, I will put in a plug for the most impressive student section in college football. Penn State sold all 20,000 student season tickets in 59 minutes one morning in May. A total of 27,000 plus were in a virtual "line" via the Ticketmaster Web site. Some of the sob stories from those shut out are humorous. Like the mother who was supposed to go online and get the tickets for her daughter who had to be in class that morning, but couldn't quite navigate nimbly enough to score the tickets. Talk about mother/daughter tension! The mother called Penn State begging and pleading.
What could they do? Tickets were gone.
For the Notre Dame game on Sept. 8 (ESPN, 6 p.m. ET), the goal is to involve the nonstudents in the coordinated wearing of white and waving of white shakers. If the traditionally staid residents of the stands on the press-box side buy in, it will be great-looking: 100,000-plus forming a sea of white shirts for this twinight collision.
5. Post-Brady bunch
Charlie Weis, aka "The Inventor of Offense," as Mr. Corso playfully calls him, will have to really show his stuff this year. New QB is just the start of it.
Notre Dame has a puny senior class totaling eight scholarship players. Eight! And that includes long snapper J.J. Jansen, who walked on but earned a scholarship this year. Weis has more assistant coaches than scholarship seniors, points out Notre Dame observer John Lukacs. Amazing.
Young talent has been brought in, but it'll be tricky navigating September while new guys sort out their roles. Saturday's opponent, Georgia Tech, has some guys who were a part of road wins at Auburn in 2005 and at Virginia Tech last year. Dangerous. Remember, Brady Quinn & Co. lit up Tech for a big 14 points in last season's escape.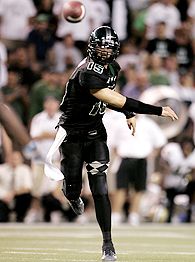 Marco Garcia/WireImage.comColt Brennan will make it worth staying up late on Saturdays this fall.
6. Late night with Colt Brennan
I like Hawaii's QB -- even though he left the beloved alma mater, Colorado, before ending up on the islands.
I will be finding a satellite dish late Saturdays to find the Warriors' games; Nov. 23 is circled. That Friday night Boise State visits Aloha Stadium (ESPN2, 9 p.m. ET) for one of the season's tastiest matchups. Viewers have four chances to see Hawaii on the Disney family of networks.
7. Long nights for Glenn Dorsey's foes
LSU's studly D-tackle is NFL-ready, but Dorsey told me that he wanted to be in "a position of power" for the draft. A shin injury that hampered him last season and flared up during artificial-turf practices for the Sugar Bowl would have kept Dorsey from working out for the scouts last winter.
He has dreamed of walking across the stage in New York as a real early first-rounder and wants to show why he should be the first defensive player taken by destroying all in his path this season. He is joined up front by a two-deep of 300-pound, quick, fast, nasty guys. Opponents can't just focus in on big Glenn, not with Tyson Jackson next to him on the edge.
8. Nick's old recruits visit Nick's new team
Need I explain how much fun it should be when LSU, with many veterans who went there to play for Nick Saban, travel to T-town to play Alabama on Nov. 3?
The Tigers all told me the company line: no bitterness toward Saban, who "did what he had to do to watch out for himself" when he left to coach the Dolphins two year ago. But you know they don't want to lose to him. It would be embarrassing for LSU coach Les Miles, too.
By the way, Saban was 4-1 versus the Crimson Tide while with LSU.
9. Dollars per win
It will be fun, for those of you who concern yourself with value, to chart the wins for Alabama and Texas. With Saban pulling in a record $4 million or so and Mack Brown settling for about $3 mil in his new deal, you can easily calculate the price of each win. Eight Bama wins equals a half-mil per. Pretty pricey. On the other hand, a return to SEC supremacy … and owning Auburn … and collecting the national title the faithful now envision … would be priceless.
10. The Hawks
Even if I were not an alum, the story of Cody Hawkins' playing quarterback for his dad's Colorado team would be very compelling. It has a few precedents, but rarely has the son been the starter, much less the starter as a freshman. Both Dan and Cody are extremely likable, and no one likes to see family tension, so here's hoping it works out well. But the Buffs are still sorely lacking in firepower, so I don't expect much in the way of offensive fireworks this year.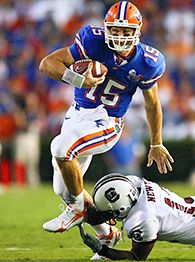 Jimmy DeFlippo-US PRESSWIRE Tim Tebow is ready to take over for the defending champs.
11. Tebow's time
Florida does not lack firepower. Coach Urban Meyer told me he would be very disappointed if his Gators' offense is not significantly more productive than last year's Chris Leak-led group. When Urban speaks, I have learned to believe. QB
Tim Tebow
has looked superb in practice, I'm told. Can't wait to see a whole season of him running the show. Florida may be too green on defense to survive the SEC slate unscathed, but the Gators will be very good again.
12. Orange Bowl's time is over
I have so many wonderful memories of watching Miami classics in the ole horseshoe in Little Havana. But the time came for the "U" to make its' move, with city politics stalling a desperately needed renovation yet again. After all, we humans have to relieve ourselves from time to time. The facilities had become a bit gnarly a long time ago.
The Canes will never have a raucous home atmosphere in Dolphins Stadium. Those wild nights in the OB -- when FSU, Virginia Tech or some other heavyweight came calling and the wackos came out to holler, the PA blasted DMX and other noise, and the Canes' defense fed off it and fueled it at the same time -- will never be duplicated in Broward County. I just hope the Miami students bother to take the free bus rides up north offered for the games, or it will be really quiet and lonely up there. Yes, "U" fans, that is a challenge.
13. In the meantime, the challenge is in Norman
Miami coach Randy Shannon's debut against now-mediocre Marshall does not get me that charged up. But the first Miami-Oklahoma meeting in 20 seasons surely does. The first real test of Shannon's regime comes Week 2 at Owen Field. Yards, first downs and points will be very hard-earned for the two new starting quarterbacks involved.
14. The schneid
Can the 25th-ranked team on Steve Spurrier's preseason ballot for the umpteenth straight year end its streak of 20 straight losses? Duke had better embrace the challenge quickly by beating UConn at home Saturday. I'll be keeping an eye on the Blue Devils and Huskies -- and Christian Laettner, Tate George, Rip Hamilton and Elton Brand will be nowhere in sight.
If Duke's streak reaches 21, it could very well be at 32 by season's end. Check the Dukies' other home games: Wake Forest, Virginia Tech, Clemson and Georgia Tech. Those are L's. Road trips include Miami, FSU and Notre Dame. Those are all big L's. I would like to see the efforts of Ted Roof's players pay off, but it seems his plan to have Duke bowl-ready by next season is far-fetched.
15. Big East rematches
Several of last season's best moments came courtesy of the three-team round robin at the top of the Big East. My favorite was the Rutgers celebration (aka "Pandemonium in Piscataway!") after the Scarlet Knights rallied late to stun Louisville. It was a thrill to be in the booth for that scene. The Knights have to journey to Papa Johns for the Nov. 29 finale against the Cardinals (ESPN, 7:30 p.m. ET). Before that, though, comes the Big East game of the year: Louisville's journey to Morgantown to face West Virginia on Nov. 8 (ESPN, 7:30 p.m. ET). Both games are on Thursday nights, with the college football nation looking in. Mmm. I am getting excited just thinking about it.
16. Rematch of a dud
USC's slow, steady beatdown of Nebraska last year was no fun to watch. Cornhuskers coach Bill Callahan seemed happy to stay conservative as the deficit grew, as though just avoiding an embarrassing score was a desirable goal. Nebraska looked light years from the level of the Trojans, who have most of their defense back.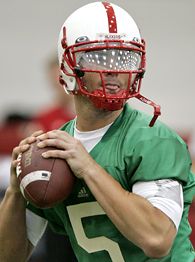 AP Photo/Nati HarnikSam Keller and the Huskers face top-ranked USC on Sept. 15.
So, why is their Sept. 15 encounter (
ABC, 8 p.m. ET
) on my radar? Well, if the Huskers can survive a September trip to Wake Forest -- a tough test, no doubt, because Wake is not going to rapidly retreat to mediocrity -- it would at least set up a "big game" in Lincoln for the first time in awhile. That would reawaken some strong memories and allow a trip to Misty's on Friday night. Relax, Misty's may sound like a naughty place, but it is a classic, clean-scrubbed steak house that has been packing them in (at two locations) for decades.
Besides the Friday feed, it could be fun to see Nebraska QB Sam Keller take on Troy again. Before everything went south for him at ASU, I watched Keller carve up USC in the first half and jump on the bench to wave at the ASU student section. By the end of a big SC rally, Keller had calmed down. At his new school, he will be in the Trojans' sights again. And I hope Nebraska will attempt to do more than just avoid national TV humiliation.
17. Speaking of USC road trips
Berkeley is at the top of our list of campuses that have yet to host "GameDay." We would love to watch the Cal Bears entertain the Trojans there Nov. 10. Plus, we love a nice preshow production meeting at 5 a.m. local time for a 7 a.m. start! Both teams have to do their parts in the meantime. Like most things in life that you hope for but have no control over, it's probably best to just put it out of our minds and see where the Pac-10 race and national-title race stand that week.
18. Bad to the bone
As an old Big Eight fan, I am a sucker for a well-run wishbone. A last-second pitch to a downhill running tailback … oh, a thing of beauty. So I want to see West Virginia coach Rich Rodriguez break out the wishbone at least a couple of times this year, to utilize the skills of QB Pat White, bruising fullback Owen Schmitt, running back Steve Slaton and the speedy super-recruit Noel Devine. Defenses would have trouble with that.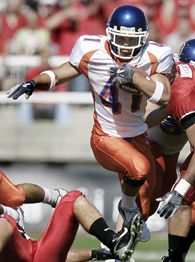 AP Photo/Douglas C. PizacBoise State RB Ian Johnson had a busy offseason.
19. Boise's blue rug
The first time I saw Boise State's blue turf in person, I really could not believe it. So bright. So lurid. So weird. I need to have a second visit there to take it in. I will get the chance when Southern Miss visits on Sept. 27 (
ESPN, 7:30 p.m. ET
). That, plus I think Boise is a cool town. I also want to congratulate coach Chris Petersen in person for the epic play calling in Boise's huge Fiesta Bowl win over Oklahoma and congratulate running back
Ian Johnson
on his recent marriage. What's left on their registry? Anybody know?
20. Terminology 101
The NCAA brain trust fully expects me as an employee of an organization with which it does ample business to understand and utilize the preferred terminology for the football divisions formerly known as I-A and I-AA. It has something to do with "subdivisions" labeled as "bowl" and "championship." Sorry, that's a big ask. The next time I run into a proud father who says his kid is a prospect, I don't think that I will ask: "Is he a potential student-athlete at a Bowl Subdivision institution?"
21. Red River Shootout
Love that this rivalry will be staying put in Dallas. Moving it to campus sites would cost it its special place in the sport. Too bad the '07 edition is the same day as Florida's visit to Baton Rouge. Two of the year's biggest and best in the same slot! Can't be two places at once and can't choose one over the other right now.
22. Turkey dinner in Scottsdale
OK, it is a ways off. But can I be blamed for peeking ahead to the USC visit to Arizona State on Thanksgiving (ESPN, 8 p.m. ET)? After hitting many of the backwater towns that dot the college football landscape during the season (no names named … you know who you are … places where the Waffle House is five-star dining and Hampton Inns are luxury spots), I get to spend Turkey Day poolside at the lovely Phoenician resort waiting for the Trojans and Sun Devils.
23. Big Ten bowl redemption
That should be the league's goal, anyway -- and a more immediate one than finding a 12th member and staging its version of a silly "championship game" between east and west divisions. Bowl meltdowns by Ohio State and Michigan overshadowed nice efforts by Wisconsin and Penn State and made my statements about the strength of the Buckeyes and Wolverines look silly. I don't like to look silly. Losses by the Gophers, Boilers and Hawkeyes made it two up and five down in bowl play. The league has decent depth this year, but I don't really see an elite team there.
24. Thirty-one bowl games!
Because 30 just wouldn't be enough. There might be a 7-5 C-USA team left out. That does not include the BCS Championship Game. Sixty-four teams in the postseason. Has critical mass been reached?
25. The sack
As in hitting it. Now. OK, this didn't take 25 hours to ponder. But it did take me until the wee hours here in Starkville as we prepare for Thursday's LSU-Mississippi State opener (ESPN, 8 p.m. ET). Football season means about four-five hours of sleep most nights. When I was younger, I thought sleep was overrated. Not anymore. I need to pace myself. New Orleans on Jan. 8 feels like a long way off.
Chris Fowler is the host of ESPN's "College GameDay." Kick off each Saturday with "College GameDay" at 10 a.m. ET to get the latest news on college football.
College Football
Since 1989, Chris Fowler has been ESPN's primary college football and men's college basketball studio host. He's anchored College GameDay, the network's award-winning Saturday morning college football preview show, since 1990.
SPONSORED HEADLINES
MORE COLLEGE FOOTBALL HEADLINES
MOST SENT STORIES ON ESPN.COM
2007 College Football Preview
The long wait for the start of the 2007 college football season is finally over. Get ready for the season with an in-depth look at the teams, trends, players and coaches. Index

Features
• Forde: Arkansas' favorite son also rising
• Forde: Welcome to Trickeration Nation
• Albright: Glanville has Portland State all shook up
• Maisel: Boise State part of quiet revolution
• Edwards: BCS system needs update


• Forde: QBs face burden of proof in '07
• Schlabach: Biggest shoes to fill this season
• Maisel: (Southern) State of the Game
• Schlabach: Hot or Not for 2007
Awards Watch
•
Ivan Maisel's preseason All-America team
•
Heisman Watch: Voters go Hog wild
•
SportsNation: Rank the Heisman contenders
Fearless Forecasts
•
Experts: Conference title projections
•
Maisel/Schlabach: Bowl predictions
•
McShay: Don't sleep on these teams

•
Games to watch:
National
|
Conference
Campus Confidential
•
Forde: Woodson stepping out of the shadow
•
Schlabach: Shhhh! Uncovering 2007's secrets
•
McShay: Seven secrets from the film room

•
Feldman: Saturday's secret agents revealed
•
EA Sports: Trick play simulations
•
Arkansas: Wildhog formation
•
Boise State: Statue of Liberty
•
LSU: Flea flicker
•
Texas: Wide receiver pass
•
USC: Halfback pass
ACC Features
•
Schlabach: ACC needs quality Miami, FSU
•
Schlabach: Wright, Freeman still battling at Miami
•
Schlabach: Wake sets bar high for encore
•
Schlabach: Five ACC predictions
Big East Features
•
Maisel: What's next for the Big East?
•
Maisel: USF's QB exudes old school cool
•
Maisel: Five Big East predictions
Big Ten Features
•
Schlabach: Michigan seniors return on a mission
•
Schlabach: Downsized Hill means supersized play
•
Schlabach: Big Ten at the crossroads
•
Schlabach: Five Big Ten predictions
Pac-10 Features
•
Forde: Now is the time for UCLA
•
Forde: Five Pac-10 predictions
•
Maisel: After long wait, Turner ready for stardom
•
Maisel: Ten Little Trojans running backs
•
Feldman: DeSean Jackson's born identity

SEC Features
•
Maisel: Saban snapshot reveals double feature
•
Higgins: Spurrier, Gamecocks thinking big
•
Schlabach: SEC balance of power shifts East
•
Schlabach: Five SEC predictions
Coaching Corner
•
Schlabach: Coaches on the hot seat
•
Schlabach: Rise of the assistants
•
McShay: Assistant coaches on the rise

•
McShay: Position coaches who deliver

Rule Changes
•
Kickoffs, timing rules highlight changes
•
McShay: Changes put premium on specialists

•
College Football Live: Impact of kickoff rule

•
Joe Tiller: Kickoff changes raise safety issues

•
College Football Live: Matter of time

Campus Call
ESPN.com will hit eight practice sessions to get an early pulse on the season. Check out what's happening on campus.
•
Aug. 7:
Gators looking for bite on D
•
Aug. 6:
ND's Weis plays respect card
|
McKnight makes USC debut
•
Aug. 5: Brown resolute in face of Texas' troubles
•
Aug. 4: WVU has speed to burn
•
Aug. 3: Taylor made Jacket
•
Aug. 2: Hokies begin road back to normalcy
•
Aug. 1: Report day is still a thrill for Tuberville