Commentary
Savory Southern fare highlights 2007 season cookbook
Originally Published:
August 6, 2007
By
Ivan Maisel
| ESPN.com
My fellow Americans, as tempting as it may be to don the coat and HD-ready tie in order to deliver this State of the Game address before the cameras, I know better. As Brad Paisley sings on his latest album, "I'm so much cooler online."
The ideas for this annual essay to kick off the ESPN.com college football preview flowed like frat-house beer, which is to say they were cheap and spilled all over the floor. The 2007 season will be better than 2006, if only because there will be more of it. A year ago, the NCAA Football Rules Committee made two rule changes in the interest of speeding up the game. These changes went over like Kobe burgers at a vegan banquet.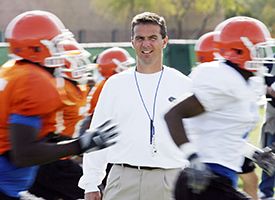 AP/Ross D. FranklinUrban Meyer and the defending champion Gators won't be the only Southern stars in 2007.
To its credit, the rules committee rectified its mistakes. This season the clock once again will start when a kickoff is received, rather than when it is kicked, and the clock will not start so quickly on a change of possession.
However, kickoffs have been moved back five yards, to the 30, which will force more returns. (Thus forcing the clock to run. Clever, huh?) Special teams might decide a lot of games, because coaching strategy will come straight out of another new Paisley lyric (almost), I'd like to check you for kicks.
Paisley sings with a twang, which is why he's appropriate for this college football season. The sun coming up over the 2007 college football season rises from the south. It's a Southern football world. As the Southeastern Conference begins its 75th year, the power shift is noticeable.
Eight-figure budgets, glamorous settings -- and that's just for the head coaches. The SEC has four coaches who have won national championships -- the greatest aggregation of coaching know-how since Eddie Robinson dined alone.
Steve Spurrier, Phil Fulmer, Nick Saban and Urban Meyer have given lie to the idea that a conference championship game is too daunting a hurdle on the road to No. 1. In six of the past 10 seasons, the national champions played and won a conference championship game -- three of the six (Tennessee, 1998; LSU, 2003; Florida, 2006) from the SEC.
There will be more of the same this season, if the preseason prognostications are correct. Six SEC teams are in the preseason coaches' poll, more than from any other conference. Only one conference has talent so deep that a team with 15 returning starters, including the best quarterback in the league, from an eight-win season is considered an afterthought. That may speak more to Kentucky's losing legacy than to the wisdom of the predictions, but there you have it. And seriously, keep an eye on Wildcats QB Andre' Woodson.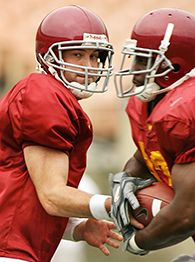 Christian Petersen/Getty ImagesSouthern California QB John David Booty has Southern roots.
The reach of the South extends all the way to No. 1. Take a look at the team that is a consensus pick to win the national championship. The quarterback is from Shreveport. The best wide receiver is from Nashville. The top recruit is from New Orleans.
So what's the campus doing in Los Angeles? Hey, it is the University of Southern California.
USC lost two Pacific-10 Conference games a year ago, the first time that had happened in five seasons, and university officials withstood the urge to form blue-ribbon panels to unearth the cause of such a disaster. Instead, the Trojans gathered themselves and routed Michigan, 32-18, in the Rose Bowl.
USC's losses at Oregon State and at UCLA last year should have given pause to those who question the Pac-10's football prowess (such as, without naming names, L.M. from Baton Rouge). The league only got deeper this season; Dennis Erickson is taking over an Arizona State team that never quite got out of its own way under his predecessor, Dirk Koetter.
Erickson will resume his quest to become the first coach to win a national championship at two schools. Both he and Spurrier, now in his third season at South Carolina, returned to college football at schools with lower profiles than where they won their titles.
That isn't the case for the third coach looking for the national championship double. You may have missed this, but NASA reported the astronauts on the space shuttle last spring made contact with what can only be described as beings from another galaxy.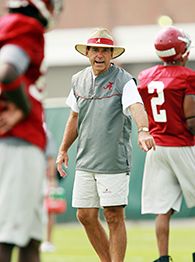 Marvin Gentry-US PRESSWIRENick Saban is focused on leading a second SEC power to the national title.
The leader of the aliens said, "We come in peace," followed by, "So how do you think Nick Saban will do at Alabama?"
The public is reacting to the new Crimson Tide coach as if he is the Barry Bonds of college football -- beloved at home for what his fans believe he is going to do, hated on the road for his intimidating attitude and for what his detractors believe he did (bend NCAA recruiting rules). I made this comparison from the dais at a charity dinner in Mobile, Ala., last month, and the chill that washed over me didn't come from the air conditioning.
Saban will attempt to prove that he can remake in Tuscaloosa what he built in Baton Rouge, much like another member of the national championship fraternity. Bobby Bowden is attempting to remake at Florida State what he built at, um, Florida State. Bowden rebuilt his offensive staff, bringing in four new coaches led by Saban's former offensive coordinator, Jimbo Fisher, to jump-start an offense that has been dead for a couple of years.
The Atlantic Coast Conference is expected to show new signs of life, too. That is said with no disrespect toward last season's champion, Wake Forest, which provided one of the best story lines of 2006. The Demon Deacons begin this season in their customary position, overshadowed by the Virginia Techs, Miamis and Florida States.
It's not that Wake will find it difficult to duplicate its success in 2006 as much as the feeling that success engendered. Surprising success is the narcotic of sport. It never feels quite so euphoric the next time. Big East commissioner Mike Tranghese has figured this out. He refers to 2006, when a league looked down upon by fans and foes alike took three undefeated teams into November, as "Cinderella."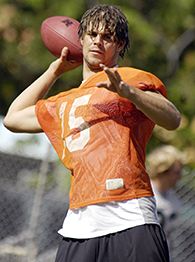 AP Photo/Ronen ZilbermanHawaii QB Colt Brennan threw 58 TD passes in 2006 for the nation's southernmost team.
The fairy tale may be over, but the Big East has four genuine Heisman Trophy candidates in Louisville quarterback
Brian Brohm
, West Virginia tailback
Steve Slaton
and quarterback Pat White, and Rutgers tailback
Ray Rice
. Rutgers, as did Wake Forest and, of course, Boise State, proved last season that the have-nots in college football occasionally have quite a lot.
The Broncos' rousing 43-42 overtime victory over Oklahoma in the Fiesta Bowl has raised the profile of all schools in conferences that don't get automatic BCS bids. This season, TCU and Hawaii are the preseason favorites to burst through the BCS doors and earn an at-large bid. The Warriors return 14 starters from an 11-3 team, including quarterback Colt Brennan.
Brennan not only broke the single-season record with 58 touchdown passes in 2006, but he also led Division I-A in passing efficiency (186.0). The senior is expected to contend for the Heisman Trophy, and neither his success nor the rise of his team should come as any surprise in the 2007 season.
After all, Hawaii is the southernmost team in the country.
Ivan Maisel is a senior writer at ESPN.com. He can be reached at ivan.maisel@espn3.com.
Senior Writer, ESPN.com
ESPN.com senior college football writer
Four-time FWAA award winner
27 seasons covering college football
SPONSORED HEADLINES
MORE COLLEGE FOOTBALL HEADLINES
MOST SENT STORIES ON ESPN.COM
2007 College Football Preview
The long wait for the start of the 2007 college football season is finally over. Get ready for the season with an in-depth look at the teams, trends, players and coaches. Index

Features
• Forde: Arkansas' favorite son also rising
• Forde: Welcome to Trickeration Nation
• Albright: Glanville has Portland State all shook up
• Maisel: Boise State part of quiet revolution
• Edwards: BCS system needs update


• Forde: QBs face burden of proof in '07
• Schlabach: Biggest shoes to fill this season
• Maisel: (Southern) State of the Game
• Schlabach: Hot or Not for 2007
Awards Watch
•
Ivan Maisel's preseason All-America team
•
Heisman Watch: Voters go Hog wild
•
SportsNation: Rank the Heisman contenders
Fearless Forecasts
•
Experts: Conference title projections
•
Maisel/Schlabach: Bowl predictions
•
McShay: Don't sleep on these teams

•
Games to watch:
National
|
Conference
Campus Confidential
•
Forde: Woodson stepping out of the shadow
•
Schlabach: Shhhh! Uncovering 2007's secrets
•
McShay: Seven secrets from the film room

•
Feldman: Saturday's secret agents revealed
•
EA Sports: Trick play simulations
•
Arkansas: Wildhog formation
•
Boise State: Statue of Liberty
•
LSU: Flea flicker
•
Texas: Wide receiver pass
•
USC: Halfback pass
ACC Features
•
Schlabach: ACC needs quality Miami, FSU
•
Schlabach: Wright, Freeman still battling at Miami
•
Schlabach: Wake sets bar high for encore
•
Schlabach: Five ACC predictions
Big East Features
•
Maisel: What's next for the Big East?
•
Maisel: USF's QB exudes old school cool
•
Maisel: Five Big East predictions
Big Ten Features
•
Schlabach: Michigan seniors return on a mission
•
Schlabach: Downsized Hill means supersized play
•
Schlabach: Big Ten at the crossroads
•
Schlabach: Five Big Ten predictions
Pac-10 Features
•
Forde: Now is the time for UCLA
•
Forde: Five Pac-10 predictions
•
Maisel: After long wait, Turner ready for stardom
•
Maisel: Ten Little Trojans running backs
•
Feldman: DeSean Jackson's born identity

SEC Features
•
Maisel: Saban snapshot reveals double feature
•
Higgins: Spurrier, Gamecocks thinking big
•
Schlabach: SEC balance of power shifts East
•
Schlabach: Five SEC predictions
Coaching Corner
•
Schlabach: Coaches on the hot seat
•
Schlabach: Rise of the assistants
•
McShay: Assistant coaches on the rise

•
McShay: Position coaches who deliver

Rule Changes
•
Kickoffs, timing rules highlight changes
•
McShay: Changes put premium on specialists

•
College Football Live: Impact of kickoff rule

•
Joe Tiller: Kickoff changes raise safety issues

•
College Football Live: Matter of time

Campus Call
ESPN.com will hit eight practice sessions to get an early pulse on the season. Check out what's happening on campus.
•
Aug. 7:
Gators looking for bite on D
•
Aug. 6:
ND's Weis plays respect card
|
McKnight makes USC debut
•
Aug. 5: Brown resolute in face of Texas' troubles
•
Aug. 4: WVU has speed to burn
•
Aug. 3: Taylor made Jacket
•
Aug. 2: Hokies begin road back to normalcy
•
Aug. 1: Report day is still a thrill for Tuberville