Commentary
Have-nots make headway against BCS haves
Originally Published:
August 8, 2007
By
Ivan Maisel
| ESPN.com
There is a quiet revolution afoot in college football. The have-nots may not be storming the gates of the powerful, but they are coming through one and two at a time.
The gates in question guard the BCS bowls, the lucrative (payouts of $14 million to $17 million per team) season-ending games that define success in college football. One season it's Utah. Another it's Boise State and Louisville. This season, it may be TCU or Hawaii.
Given the opportunity, the meek are inheriting the turf. To wit: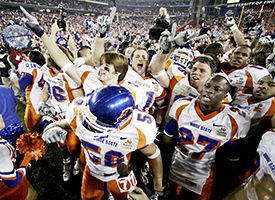 AP Photo/Matt YorkBoise State's Fiesta Bowl win gave all the have-not teams a reason to celebrate.
• Utah, from the Mountain West Conference, went to the Fiesta Bowl three seasons ago and beat Pittsburgh in a 35-7 rout.
• Louisville crossed over from Conference USA to the Big East, in which it won the 2006 league championship and followed with a 24-13 Orange Bowl victory over Wake Forest.
• Boise State, from the Western Athletic Conference, became the national sweetheart with its 43-42 overtime victory over Oklahoma in the Fiesta Bowl in January.
They are, really, the most American of stories, or at least the story of America that we like to read to our children, the one in which the little guys rise above the obstacles and succeed.
The odds and the marketplace may be against the Boise States. But with pluck and grit and a little red, white and blue ingenuity, they reach the top anyway. All we're missing is Frank Capra to direct the movie and Jimmy Stewart to star in it: "Mr. Petersen goes to the Fiesta Bowl."
"All we've been asking for is a chance," Boise State coach Chris Petersen said last month. "They give us a chance and we capitalize. Utah did the same thing. But I know there's a handful, more than a handful, of other teams out there that are very close to doing the same thing."

All we've been asking for is a chance. They give us a chance and we capitalize. Utah did the same thing. But I know there's a handful, more than a handful, of other teams out there that are very close to doing the same thing.
Boise State coach Chris Petersen
The chance that Petersen spoke of came in the form of liberalized standards for reaching a BCS game. In the first six years of the BCS, no teams from the nonguaranteed leagues reached the BCS. When members of Congress cleared their throat in the direction of college football and threatened to look into restraint of trade, the conference commissioners responded by (A) adding a fifth BCS bowl, and (B) making it easier to qualify for them.
A champion from a league without a guaranteed bid may qualify for one by finishing in the top 12 of the final BCS standings, or in the top 16 if the team is ranked higher than the champion from a conference with a guaranteed bid. Boise State qualified for the BCS pool last season by finishing eighth in the final BCS standings.
And when the Broncos beat the Sooners, they captured the imagination of the nation. The outpouring of affection has been so overwhelming that Petersen now wishes it would just go away. He refused to answer questions about it in his media conference at the WAC football preview in San Jose, Calif., last month.
"I think we signed kids from nine different states," Petersen said. "Everywhere we would go -- it wasn't just the coaches. It would be the administrators, the secretaries -- everybody wanted to talk about the game. If they knew you coached at Boise State, they wanted to talk about the game. So many of our people in Boise -- friends and boosters and fans -- everybody's got their stories. They go and they wear their Bronco gear, and they're in the Chicago airport, and people will come up to them and talk about the game. We just hear that time and time again.
"You just really appreciate the support and what it does for you, but yeah. … When you start feeling too good about yourself, you're very satisfied with what you've done, there are a lot of people who are gunning for you."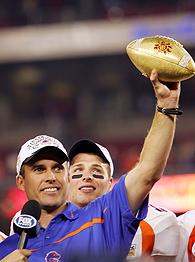 Jonathan Ferrey/Getty ImagesChris Petersen and the Broncos are reaping the benefits of their BCS win.
WAC commissioner Karl Benson campaigned against the creation of the BCS a decade ago because he feared the six guaranteed-bid conferences would increase the gap between their members and the schools in his league. Benson believes the economic gap has continued to widen. However, he says, the competitive gap is narrowing.
"The allocation of that fifth game was not only to protect the bowls," Benson said, "but to protect the six [guaranteed-bid] conferences. They were expecting that one team would [qualify] on a regular basis."
What's funny about that is most NCAA legislation affecting competitive balance in college football did so at the starting line -- that is, how teams are put together. But scholarship limits (25 per season and 85 overall) remain where they have been for almost 20 years. The change in BCS qualification affected the finish line. There is a greater reward available for the have-nots.
Louisville athletic director Tom Jurich, whose team moved into the Big East in 2005, said he believes that difference is significant. Life in Conference USA proved frustrating for the Cardinals.
"You'd see all these bottom-feeders from major conferences recruiting against you and they'd say, 'Well, we're going to play for the national title,' when we all knew they were never even going to get in the upper half of their own conference," Jurich said. "The best thing we could do is shoot for the Liberty Bowl."
The change in the rule has opened recruiting doors, Benson believes, for the Boise States and Hawaiis.
"The recruits that in the past may not have looked at Boise State, now are," Benson said. "Success breeds success."
They are looking at Boise State -- and Utah and Louisville and the others -- because they have more ways to see them. New media has made a huge difference. Every football program has its own Web site, of course. More important, the expansion of college football to six nights a week on television, plus the streaming of Saturday games on the Internet, has made more schools accessible to recruits.
"When they want us to play Sunday mornings at 2, I'm going to play. … If you want to be a great program, as we aspire to be, you want to be a highly ranked program, you play on the nights that are going to help you," Jurich said. "What that did was get us in homes from a recruiting standpoint. Kids aren't watching games on Saturdays. Weekdays, you have a captive audience."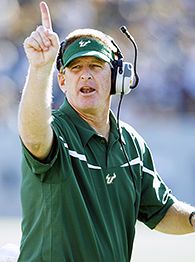 J. Meric/WireImage.comUSF coach Jim Leavitt thinks the more inclusive BCS format gives more teams hope.
The change has given the schools in the nonguaranteed conferences hope, says South Florida coach Jim Leavitt. The Bulls, like Louisville, left C-USA for the Big East two years ago.
"That team is still going to have to be undefeated, top 10, whatever, to have a shot," said Leavitt, whose Bulls went 9-4 last season. "It at least gave a crack to all those other 60 schools [from nonguaranteed leagues]."
Brian Kelly, who left Central Michigan in the Mid-American Conference to coach Cincinnati in the Big East in December 2006, echoed Leavitt's sentiments. The prize may be available to more teams, Kelly said, but the chance for any one team to win it remains markedly easier for the schools in the guaranteed conferences.
Kelly explained his reasoning in dollars: Central Michigan came home from the Motor City Bowl with a $75,000 deficit. Cincinnati, which he coached in the International Bowl, came home to find a $1.6 million check from the Big East.
"Does that not mean you can't once in a while have a team pop out? No, I think you definitely can," Kelly said. "But on a consistent basis? Look at Bowling Green."
The Falcons won 37 games in four seasons (2001-2004), the first two under Urban Meyer and the last two under his successor, Gregg Brandon. They have won 10 games over the past two years.
"Bowling Green was beating Big Ten teams left and right three or four years ago," Kelly said. "Gregg Brandon is a heck of a football coach. He didn't just all of a sudden get dumb. But they're nowhere where they were. It's because you can't keep progressing your program because of the lack of the monies. Cincinnati is able to reinvest its dollars into its program. It's a huge disparity.
"It's a little like the Yankees and their ability to free-spend, compared to a small-market team like the Twins that has to develop its talent. You've got to develop your talent in the MAC and hope that can offset the big-market, high-profile guys."
That may be why Southeastern Conference commissioner Mike Slive remains serene in the wake of Boise State's victory.
"I think it's confirmation of the fact that we made the right decision," Slive said. "It was not only good for the BCS, it was not only good for Boise State, but it was good for college football."
Here's the thing about this quiet revolution: By cracking open the door to the postseason, college football enjoyed the same rise in public adulation that college basketball received when it expanded the NCAA Tournament. The allure of March Madness, as any bracketologist can tell you, is in picking the lower seeds that will advance. George Mason, Wisconsin-Milwaukee, Kent State and Valparaiso all made college hoops fans swoon.
Never mind that college football only agreed to the change to keep Congress from intervening. March Madness has become part of college football, and the BCS did so without upsetting its economic power structure.
That's not exactly the way Capra would have blocked it out. But the public has given it four stars, anyway.
Ivan Maisel is a senior writer at ESPN.com. He can be reached at ivan.maisel@espn3.com.
Senior Writer, ESPN.com
ESPN.com senior college football writer
Five-time FWAA award winner
28 seasons covering college football
SPONSORED HEADLINES
MORE COLLEGE FOOTBALL HEADLINES
MOST SENT STORIES ON ESPN.COM
2007 College Football Preview
The long wait for the start of the 2007 college football season is finally over. Get ready for the season with an in-depth look at the teams, trends, players and coaches. Index

Features
• Forde: Arkansas' favorite son also rising
• Forde: Welcome to Trickeration Nation
• Albright: Glanville has Portland State all shook up
• Maisel: Boise State part of quiet revolution
• Edwards: BCS system needs update


• Forde: QBs face burden of proof in '07
• Schlabach: Biggest shoes to fill this season
• Maisel: (Southern) State of the Game
• Schlabach: Hot or Not for 2007
Awards Watch
•
Ivan Maisel's preseason All-America team
•
Heisman Watch: Voters go Hog wild
•
SportsNation: Rank the Heisman contenders
Fearless Forecasts
•
Experts: Conference title projections
•
Maisel/Schlabach: Bowl predictions
•
McShay: Don't sleep on these teams

•
Games to watch:
National
|
Conference
Campus Confidential
•
Forde: Woodson stepping out of the shadow
•
Schlabach: Shhhh! Uncovering 2007's secrets
•
McShay: Seven secrets from the film room

•
Feldman: Saturday's secret agents revealed
•
EA Sports: Trick play simulations
•
Arkansas: Wildhog formation
•
Boise State: Statue of Liberty
•
LSU: Flea flicker
•
Texas: Wide receiver pass
•
USC: Halfback pass
ACC Features
•
Schlabach: ACC needs quality Miami, FSU
•
Schlabach: Wright, Freeman still battling at Miami
•
Schlabach: Wake sets bar high for encore
•
Schlabach: Five ACC predictions
Big East Features
•
Maisel: What's next for the Big East?
•
Maisel: USF's QB exudes old school cool
•
Maisel: Five Big East predictions
Big Ten Features
•
Schlabach: Michigan seniors return on a mission
•
Schlabach: Downsized Hill means supersized play
•
Schlabach: Big Ten at the crossroads
•
Schlabach: Five Big Ten predictions
Pac-10 Features
•
Forde: Now is the time for UCLA
•
Forde: Five Pac-10 predictions
•
Maisel: After long wait, Turner ready for stardom
•
Maisel: Ten Little Trojans running backs
•
Feldman: DeSean Jackson's born identity

SEC Features
•
Maisel: Saban snapshot reveals double feature
•
Higgins: Spurrier, Gamecocks thinking big
•
Schlabach: SEC balance of power shifts East
•
Schlabach: Five SEC predictions
Coaching Corner
•
Schlabach: Coaches on the hot seat
•
Schlabach: Rise of the assistants
•
McShay: Assistant coaches on the rise

•
McShay: Position coaches who deliver

Rule Changes
•
Kickoffs, timing rules highlight changes
•
McShay: Changes put premium on specialists

•
College Football Live: Impact of kickoff rule

•
Joe Tiller: Kickoff changes raise safety issues

•
College Football Live: Matter of time

Campus Call
ESPN.com will hit eight practice sessions to get an early pulse on the season. Check out what's happening on campus.
•
Aug. 7:
Gators looking for bite on D
•
Aug. 6:
ND's Weis plays respect card
|
McKnight makes USC debut
•
Aug. 5: Brown resolute in face of Texas' troubles
•
Aug. 4: WVU has speed to burn
•
Aug. 3: Taylor made Jacket
•
Aug. 2: Hokies begin road back to normalcy
•
Aug. 1: Report day is still a thrill for Tuberville