Commentary
Brennan to juggle double football major in '07
Originally Published:
August 19, 2007
By
Ivan Maisel
| ESPN.com
SAN JOSE, Calif. -- Colt Brennan is juggling a double major of sorts in football this fall. Not only is the Hawaii senior attempting to lead the Warriors to a Western Athletic Conference championship and a BCS bowl berth -- after Boise State last season, every WAC boy can dream, can't he? -- but Brennan also is trying to learn to read defenses the way that NFL quarterbacks do.
"In our offense," Brennan said, referring to the run-and-shoot espoused by head coach June Jones -- "no pressure is on the quarterback. The receivers know all the audibles. The offensive line calls all the protections. In the NFL, it's the opposite. The quarterback calls all the protections and any audibles to the receivers."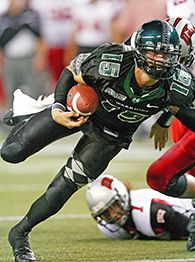 David Allio/Icon SMIColt Brennan threw for 5,549 yards and 58 TDs in 2006.
If there is a knock on Brennan's NFL potential, it is the same knock that every run-and-shoot quarterback must overcome. The concern is that Brennan is a "system" quarterback. Never mind that he is more accurate than a calculator, or that he threw an NCAA-record 58 touchdown passes last season. Take him out of Jones' offense, the thinking goes, and he would be just another guy.
Jones, a former NFL quarterback and head coach, believes that Brennan will succeed in professional football. He likes his attitude and his affinity for work. He likes his quick release. There is a size issue -- Brennan, listed at 6-foot-3, 196 pounds, said he is to "205, fluctuating" and understands that he needs to be diligent in the weight room to acquire the "body armor" he will need in the NFL.
Most important, Jones said, is the way that Brennan can thread a needle.
Accuracy, Jones said, "is God-given. You can improve a quarterback's technique, his fundamentals, all that kind of stuff. but when you get under pressure, you revert … to kind of what comes naturally to you as a quarterback and either you can hit the guy or you can't. He is a very, very gifted player. I've only seen three guys, and this is kind of a thing when I'm watching film. Jeff George, Dan Marino and Colt are the only people I've seen, when they release the ball, sometimes their right foot is off the ground. They're the only three guys on film I've ever seen do that. And that's a God-given thing."
What affect does the right foot in the air have?
"I don't know what it means," Jones said, "but I'm going to start looking for it in a high school kid."
Run-and-shoot quarterbacks have struggled in the NFL. Heisman Trophy winner Andre Ware and his successor at the University of Houston, David Klingler, both were first-round busts.
Timmy Chang, Brennan's predecessor at Hawaii, who set the NCAA career passing record (17,072 yards) under Jones, has bounced from NFL preseason camps to NFL Europe to the CFL, where he's a backup for the Hamilton Tiger-Cats.
To hear Jones talk, blaming their lack of success on the run-and-shoot is like blaming a Nationwide Tour player's missing the cut in the U.S. Open on his clubs. His offense, Jones said, didn't hurt Jim Kelly, Warren Moon, Bobby Hebert, Chris Miller, Jeff George …
"Obviously, average quarterbacks or guys in the middle of the range get better," Jones said, "and the great ones are great no matter what they do. [If] Joe Montana played in our system, he'd figure it out."
Jones believes that Brennan is far from average. And he believes that Brennan will have an advantage when he goes to the NFL next year because defenses blitz him from the time he runs out of the dressing room to the moment the game is over.
"I mean, we see every blitz," Jones said. "We see everything imaginable in the years he has spent with us. He has seen it over and over and knows what to do."
But just in case, Jones has begun tutoring Brennan not only on the run-and-shoot that he will need this season, but what he will need in the NFL next season and beyond. That is the double major in football.
"He's already teaching me [defensive] fronts, ways to break down fronts, stuff I just never needed to know to be in this offense," Brennan said of his head coach. "Instead of film [sessions with Jones] being 30 or 40 minutes, it's now an hour and five [minutes], where I'm getting a lesson on stuff I never knew before."
That is the double major: run-and-shoot on the one hand, defensive tendencies on the other. Look for Brennan to graduate with honors this fall.
Ivan Maisel is a senior writer at ESPN.com. He can be reached at ivan.maisel@espn3.com.
Senior Writer, ESPN.com
ESPN.com senior college football writer
Four-time FWAA award winner
27 seasons covering college football
SPONSORED HEADLINES
MORE COLLEGE FOOTBALL HEADLINES
MOST SENT STORIES ON ESPN.COM
2007 College Football Preview
The long wait for the start of the 2007 college football season is finally over. Get ready for the season with an in-depth look at the teams, trends, players and coaches. Index

Features
• Forde: Arkansas' favorite son also rising
• Forde: Welcome to Trickeration Nation
• Albright: Glanville has Portland State all shook up
• Maisel: Boise State part of quiet revolution
• Edwards: BCS system needs update


• Forde: QBs face burden of proof in '07
• Schlabach: Biggest shoes to fill this season
• Maisel: (Southern) State of the Game
• Schlabach: Hot or Not for 2007
Awards Watch
•
Ivan Maisel's preseason All-America team
•
Heisman Watch: Voters go Hog wild
•
SportsNation: Rank the Heisman contenders
Fearless Forecasts
•
Experts: Conference title projections
•
Maisel/Schlabach: Bowl predictions
•
McShay: Don't sleep on these teams

•
Games to watch:
National
|
Conference
Campus Confidential
•
Forde: Woodson stepping out of the shadow
•
Schlabach: Shhhh! Uncovering 2007's secrets
•
McShay: Seven secrets from the film room

•
Feldman: Saturday's secret agents revealed
•
EA Sports: Trick play simulations
•
Arkansas: Wildhog formation
•
Boise State: Statue of Liberty
•
LSU: Flea flicker
•
Texas: Wide receiver pass
•
USC: Halfback pass
ACC Features
•
Schlabach: ACC needs quality Miami, FSU
•
Schlabach: Wright, Freeman still battling at Miami
•
Schlabach: Wake sets bar high for encore
•
Schlabach: Five ACC predictions
Big East Features
•
Maisel: What's next for the Big East?
•
Maisel: USF's QB exudes old school cool
•
Maisel: Five Big East predictions
Big Ten Features
•
Schlabach: Michigan seniors return on a mission
•
Schlabach: Downsized Hill means supersized play
•
Schlabach: Big Ten at the crossroads
•
Schlabach: Five Big Ten predictions
Pac-10 Features
•
Forde: Now is the time for UCLA
•
Forde: Five Pac-10 predictions
•
Maisel: After long wait, Turner ready for stardom
•
Maisel: Ten Little Trojans running backs
•
Feldman: DeSean Jackson's born identity

SEC Features
•
Maisel: Saban snapshot reveals double feature
•
Higgins: Spurrier, Gamecocks thinking big
•
Schlabach: SEC balance of power shifts East
•
Schlabach: Five SEC predictions
Coaching Corner
•
Schlabach: Coaches on the hot seat
•
Schlabach: Rise of the assistants
•
McShay: Assistant coaches on the rise

•
McShay: Position coaches who deliver

Rule Changes
•
Kickoffs, timing rules highlight changes
•
McShay: Changes put premium on specialists

•
College Football Live: Impact of kickoff rule

•
Joe Tiller: Kickoff changes raise safety issues

•
College Football Live: Matter of time

Campus Call
ESPN.com will hit eight practice sessions to get an early pulse on the season. Check out what's happening on campus.
•
Aug. 7:
Gators looking for bite on D
•
Aug. 6:
ND's Weis plays respect card
|
McKnight makes USC debut
•
Aug. 5: Brown resolute in face of Texas' troubles
•
Aug. 4: WVU has speed to burn
•
Aug. 3: Taylor made Jacket
•
Aug. 2: Hokies begin road back to normalcy
•
Aug. 1: Report day is still a thrill for Tuberville