Commentary
Johnson turning attention to 2007 season
Originally Published:
August 19, 2007
By
Ivan Maisel
| ESPN.com
SAN JOSE, Calif. -- Boise State junior tailback Ian Johnson may have the perfect personality to deal with the sudden fame accorded him and the Broncos.
"I have a gift and a curse: the ability to forget," Johnson said.
The curse grabbed him last month on his way to the WAC media days. Johnson left his camera charger in the Boise airport, and then left his PSP on the plane to San Jose.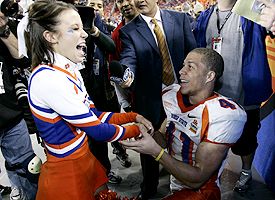 AP Photo/Ted S. WarrenIan Johnson capped of Boise State's Fiesta Bowl win with a proposal to Chrissy Popadics.
Most of the time, however, the gift allows Johnson to put behind him events that might stress him, or, in his role as the unofficial mayor of Boise, swell his head.
Johnson assumed that office largely because of the way he finished the Broncos' magical, undefeated 2006 season. He scored the winning two-point conversion on a Statue of Liberty play in overtime to beat Oklahoma, 43-42, in the Fiesta Bowl, and then got down on one knee on national television and proposed to his girlfriend, Boise State cheerleader Chrissy Popadics.
The upset turned the Broncos into America's darlings. Johnson and Popadics, who got married on July 28, traveled to the ESPYs. Johnson marveled at how many stars spoke to him about the Fiesta Bowl.
"Ben Roethlisberger, Peyton Manning, Tony Dungy," Johnson said. "… LeBron [James] was real nice. Samuel L. Jackson. Everyone knew about the game. It was just so weird."
Boise hasn't provided much in the way of refuge.
"This is just crazy," Johnson said. "You don't go out of your house without knowing you're going to get stopped. We had people camp out in front of the house sometimes. Just random people will come up to the door and say hi. Then people were almost crashing trying to talk to you while you're driving."
It may have been the experience of a lifetime but Johnson still has a life, and a season, ahead of him. He can't wait for the relative peace and quiet of dodging tacklers who are trying to behead him. Maybe, just maybe, he can go back to being the 5-foot-11, 194-pound guy who rushed for 1,714 yards and 25 touchdowns, and not have a meal interrupted.
In his mind, Johnson is the same guy who signed with Boise State because they made him a no-strings-attached scholarship offer when he came out of Damien High in La Verne, Calif.
Oregon State, Washington State and Oregon all spoke to Johnson, but he said all three schools wanted him to hold off until signing day. If another recruit ditched them, "I'm the last-resort guy," Johnson said. He didn't like that idea, and planned to go to junior college.
Boise State came along, thanks to a recommendation from Patrick Chung, a high school rival of Johnson who signed with Oregon, where he's beginning his third season as a starting rover.
Broncos head coach Chris Petersen, who was the offensive coordinator under Dan Hawkins when Johnson signed with them, said, "He committed to us early and he's kind of one of those guys who flew a little bit under the radar and was, you know, a good high school player. But who would know he would do that?"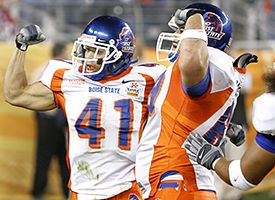 AP Photo/Charles KrupaIan Johnson's ready to help the Bronocs flex their muscles again in 2007.
Being wanted, Johnson said, made all the difference. It still does.
"The worst thing to feel is like I'm on the back burner, like I was reaching for something as they're pulling it away from me," Johnson said. "When they [the Boise State coaches] say, 'Here's your opportunity and we're excited for you,' it makes your life a little bit easier. … When practice is extremely hard, you can't say, 'Well, they didn't want me. I'm out.' Hey, you know what? They wanted me here. They were so good to me. I'm going to stick it out."
The same philosophy works at the other end of the spectrum. Johnson could gasp for oxygen in his suddenly public life. He is determined to enjoy it and then, since it comes naturally for him, forget it.
"Nothing has changed about who I am or what I represent," Johnson said. "Our [his and Chrissy's] lives have changed to the point where we have to constantly remind ourselves who we are and where we came from and what are the we stand for.
"It's easy to do when you have nothing. When you get a lot of attention, that's when it means the most, because that's when people will see it. That's when you really get a chance to say, 'This is what I stand for,' or you get where people see you and say, 'That guy never stood for anything.'"
In other words, Johnson is saying, if anyone is worried about his attitude, forget about it.
Ivan Maisel is a senior writer at ESPN.com. He can be reached at ivan.maisel@espn3.com.
Senior Writer, ESPN.com
ESPN.com senior college football writer
Five-time FWAA award winner
28 seasons covering college football
2007 College Football Preview
The long wait for the start of the 2007 college football season is finally over. Get ready for the season with an in-depth look at the teams, trends, players and coaches. Index

Features
• Forde: Arkansas' favorite son also rising
• Forde: Welcome to Trickeration Nation
• Albright: Glanville has Portland State all shook up
• Maisel: Boise State part of quiet revolution
• Edwards: BCS system needs update


• Forde: QBs face burden of proof in '07
• Schlabach: Biggest shoes to fill this season
• Maisel: (Southern) State of the Game
• Schlabach: Hot or Not for 2007
Awards Watch
•
Ivan Maisel's preseason All-America team
•
Heisman Watch: Voters go Hog wild
•
SportsNation: Rank the Heisman contenders
Fearless Forecasts
•
Experts: Conference title projections
•
Maisel/Schlabach: Bowl predictions
•
McShay: Don't sleep on these teams

•
Games to watch:
National
|
Conference
Campus Confidential
•
Forde: Woodson stepping out of the shadow
•
Schlabach: Shhhh! Uncovering 2007's secrets
•
McShay: Seven secrets from the film room

•
Feldman: Saturday's secret agents revealed
•
EA Sports: Trick play simulations
•
Arkansas: Wildhog formation
•
Boise State: Statue of Liberty
•
LSU: Flea flicker
•
Texas: Wide receiver pass
•
USC: Halfback pass
ACC Features
•
Schlabach: ACC needs quality Miami, FSU
•
Schlabach: Wright, Freeman still battling at Miami
•
Schlabach: Wake sets bar high for encore
•
Schlabach: Five ACC predictions
Big East Features
•
Maisel: What's next for the Big East?
•
Maisel: USF's QB exudes old school cool
•
Maisel: Five Big East predictions
Big Ten Features
•
Schlabach: Michigan seniors return on a mission
•
Schlabach: Downsized Hill means supersized play
•
Schlabach: Big Ten at the crossroads
•
Schlabach: Five Big Ten predictions
Pac-10 Features
•
Forde: Now is the time for UCLA
•
Forde: Five Pac-10 predictions
•
Maisel: After long wait, Turner ready for stardom
•
Maisel: Ten Little Trojans running backs
•
Feldman: DeSean Jackson's born identity

SEC Features
•
Maisel: Saban snapshot reveals double feature
•
Higgins: Spurrier, Gamecocks thinking big
•
Schlabach: SEC balance of power shifts East
•
Schlabach: Five SEC predictions
Coaching Corner
•
Schlabach: Coaches on the hot seat
•
Schlabach: Rise of the assistants
•
McShay: Assistant coaches on the rise

•
McShay: Position coaches who deliver

Rule Changes
•
Kickoffs, timing rules highlight changes
•
McShay: Changes put premium on specialists

•
College Football Live: Impact of kickoff rule

•
Joe Tiller: Kickoff changes raise safety issues

•
College Football Live: Matter of time

Campus Call
ESPN.com will hit eight practice sessions to get an early pulse on the season. Check out what's happening on campus.
•
Aug. 7:
Gators looking for bite on D
•
Aug. 6:
ND's Weis plays respect card
|
McKnight makes USC debut
•
Aug. 5: Brown resolute in face of Texas' troubles
•
Aug. 4: WVU has speed to burn
•
Aug. 3: Taylor made Jacket
•
Aug. 2: Hokies begin road back to normalcy
•
Aug. 1: Report day is still a thrill for Tuberville
MORE COLLEGE FOOTBALL HEADLINES