Commentary
Big East commissioner Tranghese says league's credibility no longer an issue
Originally Published:
August 22, 2007
By
Ivan Maisel
| ESPN.com
NEWPORT, R.I. -- The question that looms over the Big East on the eve of the 2007 season is larger than the Heisman Trophy hopes of the conference's four preseason candidates, larger than the trial balloon that Big Ten Conference commissioner Jim Delany flew over Rutgers last month, larger, even, than the national championship pretensions of West Virginia and Louisville.
Now what?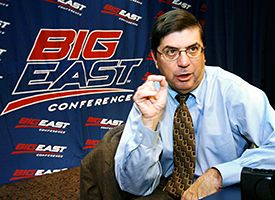 AP Photo/Henny Ray AbramsThe rise of the Big East occurred faster than commissioner Mike Tranghese anticipated.
The Big East began last season defending the legitimacy of its automatic bid to the BCS postseason. It finished last season with three teams ranked in the top 12 of the final Associated Press poll, a 5-0 record in bowl games and a strut that the league hadn't had a right to use since the abrupt departures of Miami and Virginia Tech for the ACC in 2003 (Boston College followed them to the ACC in 2004). The rise of Rutgers captured the imagination of New York City, which hasn't had a local rooting interest in college football since Army gave up its membership in the sport's elite nearly a half-century ago. West Virginia coach Rich Rodriguez, the leader in I-A victories (50) among the Big East coaches, spurned Alabama to remain at his alma mater. The cascade of good news surprised even commissioner Mike Tranghese, who guided the league through the turmoil created by the loss of three strong programs. Tranghese said the answer to "Now what?" is "Life as usual." He believes the league's credibility is no longer an issue. "If you win, they're gonna say this is a continuation of last year," Tranghese said. "But if you lose, then you're going to be criticized. But that's what you get for being one of the six conferences [that earn an automatic BCS bid]. This is what happens with the ACC, the SEC, the Big Ten. That's what we want. We want to be treated like the five of them are. "I think cyclically everybody is going to get bit," Tranghese continued. "But the difference is, if you get bit, it's not the end of the world. You know, the ACC struggled last year, but I didn't hear anybody saying that the ACC wasn't going to be in the football business. It was cyclical. We know the ACC is going to be good again." Tranghese actually traced the turnaround to West Virginia's 38-35 upset of Georgia in the 2006 Sugar Bowl, which gave the league a springboard into last season. "There's no question that the stature of the Big East Conference has changed in the last couple of years," Rodriguez said. "I think it's got the respect back, from a national standpoint, from a recruiting standpoint. The only thing we don't have is a long-standing national-championships tradition. And I think that may come."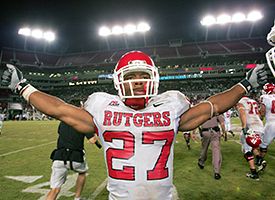 Jimmy DeFlippo/US PresswireTailback Ray Rice played a huge part in Rutgers' resurgence last season.
If tradition doesn't do the trick, TV sets will. Rutgers' success last season brought increased ratings and increased marketability, thanks to the school's proximity to New York City. When the Scarlet Knights began last season 9-0, Tranghese said, they drew a great deal of interest from the Rose Bowl. That's right -- the
Rose Bowl
. The commissioner relayed that information with a sense of wonderment. When the league floundered three years ago and disbandment became a topic of discussion, Tranghese believed Big East football would survive. But he didn't envision it being strong by the end of the 2006 season. "You don't want to be held to a timetable, because if you do and you don't get there in the time allotted…," Tranghese said, his voice trailing off. "But clearly we've gotten where we want to be, we think a lot faster than any of us [believed]." Louisville athletic director Tom Jurich, whose university joined the conference in 2005, believes the league has rebounded because the schools have invested what they have to in order to keep up with the rest of I-A. "In our business, we're in an arms race," Jurich said. "Nobody wants to say that, but it's the truth. We've all got to keep up with the next guy in recruiting. But you really only have those kids for 48 hours on your campus. And that's what they look at. They look at facilities, television and shoe contracts. Those are their three big pieces."

There's no question that the stature of the Big East Conference has changed in the last couple of years. I think it's got the respect back, from a national standpoint, from a recruiting standpoint. The only thing we don't have is a long-standing national-championships tradition. And I think that may come.
West Virginia coach Rich Rodriguez
Facilities have been overhauled, or are about to be, at every Big East school. The conference believes it has benefited from playing weeknight games on ESPN; last season, games on consecutive Thursdays in November between undefeated teams (Louisville-West Virginia, Louisville-Rutgers) gave a boost to the league's flagging reputation. There is a feeling throughout the league that the members must sacrifice for the league's common good. Take the Heisman candidates: tailbacks
Steve Slaton
of West Virginia and
Ray Rice
of Rutgers, and quarterbacks
Pat White
of West Virginia and
Brian Brohm
of Louisville. Most league offices are careful not to promote one member's players over another. The Big East members agreed to film a commercial to be shown during their games that depicts a mock ceremony for the 2007 Heisman (Syracuse, without a preseason candidate, pitched in the actual trophy, the one that the late Ernie Davis won in 1961). "We've got coaches to compete and they've got turf," Tranghese said. "But they really saw the big picture in all of this. We'll run it the first four weeks of the season. It will promote these four kids who are clearly on the early Heisman list. But as we know, Heisman lists quickly change." And, as we know, so can the fortunes of an entire league.
Ivan Maisel is a senior writer at ESPN.com. He can be reached at ivan.maisel@espn3.com.
Senior Writer, ESPN.com
ESPN.com senior college football writer
Four-time FWAA award winner
27 seasons covering college football
SPONSORED HEADLINES
MORE COLLEGE FOOTBALL HEADLINES
MOST SENT STORIES ON ESPN.COM
2007 College Football Preview
The long wait for the start of the 2007 college football season is finally over. Get ready for the season with an in-depth look at the teams, trends, players and coaches. Index

Features
• Forde: Arkansas' favorite son also rising
• Forde: Welcome to Trickeration Nation
• Albright: Glanville has Portland State all shook up
• Maisel: Boise State part of quiet revolution
• Edwards: BCS system needs update


• Forde: QBs face burden of proof in '07
• Schlabach: Biggest shoes to fill this season
• Maisel: (Southern) State of the Game
• Schlabach: Hot or Not for 2007
Awards Watch
•
Ivan Maisel's preseason All-America team
•
Heisman Watch: Voters go Hog wild
•
SportsNation: Rank the Heisman contenders
Fearless Forecasts
•
Experts: Conference title projections
•
Maisel/Schlabach: Bowl predictions
•
McShay: Don't sleep on these teams

•
Games to watch:
National
|
Conference
Campus Confidential
•
Forde: Woodson stepping out of the shadow
•
Schlabach: Shhhh! Uncovering 2007's secrets
•
McShay: Seven secrets from the film room

•
Feldman: Saturday's secret agents revealed
•
EA Sports: Trick play simulations
•
Arkansas: Wildhog formation
•
Boise State: Statue of Liberty
•
LSU: Flea flicker
•
Texas: Wide receiver pass
•
USC: Halfback pass
ACC Features
•
Schlabach: ACC needs quality Miami, FSU
•
Schlabach: Wright, Freeman still battling at Miami
•
Schlabach: Wake sets bar high for encore
•
Schlabach: Five ACC predictions
Big East Features
•
Maisel: What's next for the Big East?
•
Maisel: USF's QB exudes old school cool
•
Maisel: Five Big East predictions
Big Ten Features
•
Schlabach: Michigan seniors return on a mission
•
Schlabach: Downsized Hill means supersized play
•
Schlabach: Big Ten at the crossroads
•
Schlabach: Five Big Ten predictions
Pac-10 Features
•
Forde: Now is the time for UCLA
•
Forde: Five Pac-10 predictions
•
Maisel: After long wait, Turner ready for stardom
•
Maisel: Ten Little Trojans running backs
•
Feldman: DeSean Jackson's born identity

SEC Features
•
Maisel: Saban snapshot reveals double feature
•
Higgins: Spurrier, Gamecocks thinking big
•
Schlabach: SEC balance of power shifts East
•
Schlabach: Five SEC predictions
Coaching Corner
•
Schlabach: Coaches on the hot seat
•
Schlabach: Rise of the assistants
•
McShay: Assistant coaches on the rise

•
McShay: Position coaches who deliver

Rule Changes
•
Kickoffs, timing rules highlight changes
•
McShay: Changes put premium on specialists

•
College Football Live: Impact of kickoff rule

•
Joe Tiller: Kickoff changes raise safety issues

•
College Football Live: Matter of time

Campus Call
ESPN.com will hit eight practice sessions to get an early pulse on the season. Check out what's happening on campus.
•
Aug. 7:
Gators looking for bite on D
•
Aug. 6:
ND's Weis plays respect card
|
McKnight makes USC debut
•
Aug. 5: Brown resolute in face of Texas' troubles
•
Aug. 4: WVU has speed to burn
•
Aug. 3: Taylor made Jacket
•
Aug. 2: Hokies begin road back to normalcy
•
Aug. 1: Report day is still a thrill for Tuberville